We are thrilled to announce that on 14th December we won the 'Best Safari, Wildlife & Nature Holiday Company' category at the British Travel Awards for a second year running, having received more votes than other, much larger travel companies that were also nominated!

In this most difficult of years, we are touched that so many of you, once again, came out in full force to give us your vote! Many of you will have been due to travel with us this year and were unable to, but we hope that this award is a testament to our professional service, flexible policies and our caring and understanding staff, who have worked round the clock to refund or rearrange your holiday plans.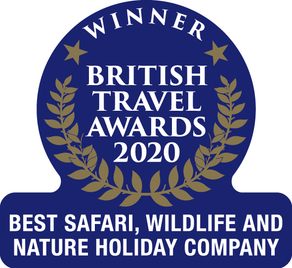 We are grateful that so many of you have entrusted us with your wildlife travel plans over the last 34 years, during which we've grown from carrying just 27 clients in 1987, to offering a greater selection of specialist wildlife holidays than any other operator. We couldn't continue to do this without our expert naturalist guides and suppliers, and we certainly couldn't have done it without all of you, our wonderful customers. Thank you.

With this year now drawing to a close, we are looking positively to 2021. Our new brochure will be out in January, full of all of the old favourites plus around forty new additions for 2021/22, and we are primed and ready to resume operating our expert-led wildlife holidays for you as soon as it is safe to do so within Government and industry guidelines.
Best wishes,
Andy Tucker (General Manager)