Estelle Ingram travelled on our 'Autumn Birding in Southern Portugal' tour and submitted this entry to our writing competition.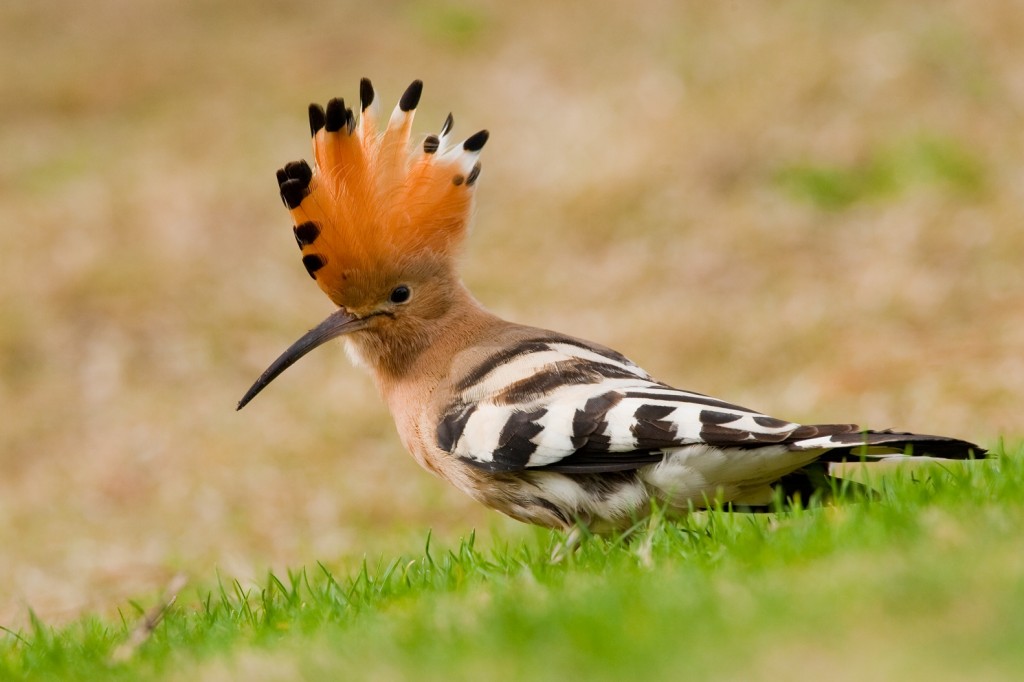 Hoopoe, Portugal
I listened, feeling slightly nervous, as at our farewell dinner each person recalled his or her personal highlight of the trip. 'Probably the raptor viewpoint,' said one. 'Got to be the Audouin's Gulls,' responded another. 'Definitely the pelagic,' said my husband. 'Excellent views of all the Shearwaters: Cory's, Great, Sooty and Balearic, plus European and Wilson's Storm Petrels.' I, something of a wimp, had taken one look at the Zodiac in which it was planned to head straight out into the Atlantic, and chosen instead to walk 15 minutes in the opposite direction to explore the stunningly sited fort where Henry the Navigator devised his 15th century expeditions which initiated the Portuguese Age of Discoveries.
Then it was my turn. 'And don't say the highlight for you was visiting the fort,' warned one of our two tour leaders with what I hoped was mock severity - both of them had soon spotted the non-birder in the group but nonetheless could not have been kinder to me. 'Well, one of the highlights was when I was at the fort,' I admitted. 'It was when I found a Black Redstart unaided by anyone.' It had been most pleasing. But that, as I told the group, was not the highlight of the trip: that had been during our picnic at the raptor viewpoint near Sagres when a Dung Beetle, having stolen my little bit of proffered cheese from a rival, excavated a hole into which it disappeared along with the cheese, throwing up mounds of sand in its wake; it seems stealing is not uncommon in the family Scarabaeinae, and the dung, or in this case cheese, is used for food storage or a brooding ball for egg-laying. Even the birders were impressed by the speed and distance it travelled underground, indicated by tiny movements in the grass above, but they rapidly lost interest when large numbers of Booted and Short-toed Eagles, Sparrowhawks, Black Kites and Peregrines passed overhead, Sagres being a hotspot for autumn migrants.
Accompanying my husband on 'foreign' birding trips (one week maximum - I've a short attention span) has produced memorable experiences, some of which my non-birding friends fail totally to understand. Like sometimes taking wellies ('Most people take swimsuits,' a friend once said pityingly) or going on pre-breakfast walks, when holidays are supposed to be for relaxing. As for the occasional visits to rubbish dumps (good for seagulls), I dare not mention these at all. Also, I've discovered that away from tourist areas vegetarianism is scarcely known, thus on previous trips I've ploughed through unusual items such as a whole cabbage - nothing else, just the cabbage - albeit mercifully small, smothered in butter (Madeira), and a plate of carrots and peas (Camargue). On this trip, though, even the food was to my liking, as the self-service restaurant at our first hotel in the Ria Formosa Natural Park in eastern Algarve had a wide range of dishes, and the chef at the second, in westernmost Sagres, kindly checked to ensure what he had in mind was to my liking.
Being a non-birder does have one advantage: I'm not overly disappointed when a bird on the 'wanted' list fails to materialise (although I think on this trip everyone was well-satisfied), for I'm content just to see places tourists probably seldom see and discover issues of importance to our world. En route to Sagres we understood the fears of an environmentalist we met at a large freshwater lagoon in the process of being 'developed' and partially drained, and as we crossed the boardwalk over the dunes we could only hope, like him, that the Spoonbills and Greater Flamingoes, together with huge flocks of Glossy Ibis and White Storks sheltering from the wind blowing off the sea, would still be present once the diggers had finished their work. Conversely, an unlikely success story for wildlife was revealed when we visited a large unfinished, uninhabited housing development of attractive villas, complete with roads and even lamp-posts. The economic downturn which clearly proved disastrous for the developer enabled us to find what we were looking for: Blue Rock Thrushes living and breeding in the windowless houses!
So are more birding trips planned? Certainly! This visit to southern Portugal, easily reached from most regional airports - a definite plus for us - travelling from one end of the Algarve to the other and into the Cork Oak forests and plains of the hinterland revealed a far different Algarve from the usual image of sun, sea and sand. But on two things I've decided: in future I shall indulge myself in an occasional lie-in whilst the rest take a pre-breakfast walk, and I definitely do not plan on taking any more wellies.
Read more about our 'Autumn Birding in Southern Portugal' holiday.