Humpback Whales, Monterey Bay
An interview with Tour Leader Peter Dunn

By Sara Frost

Media & Marketing Manager
13th May 2019
I first co-led with Peter on our Spitsbergen cruise in 2015. It was my first ever Naturetrek tour, and it was a privilege to be in the hands of one of our longest-standing tour leaders! Peter has led tours for Naturetrek for over 18 years, both in far-flung corners of the globe  – from the Antarctic, Spitsbergen, North and Central America and the Caribbean – to closer to home in remote regions of Iceland, Spain, Poland and Hungary (just to name a few!). Furthermore, he manages the production of all of our tour reports and checklists (for 513 tours!). He is also a bird-ringing trainer and keen wildlife photographer, and has a wealth of expertise and years of experience in the field. We have also had great fun working on the Naturetrek stand at such events as the Photography Show and at Birdfair, plus been on the road together for a week for our annual roadshow across the country! It was great to catch up with him again for this interview. So Peter, please tell us…
When and how did your interest in wildlife begin?
"My fascination with wildlife started at a very early age. Like most boys, I collected anything I could find – be it pond life, feathers, butterflies or birds' eggs. The latter was a particular passion; one day aged eight, I didn't go home after school, and instead went 'egging' with some older boys. We collected along the River Swale, in Yorkshire, finding nests of Yellowhammer and Linnet. My school cap stuffed full (and feeling very pleased with myself), I was on my way home when I was suddenly confronted by a huge policeman – my parents had reported me missing! Once home, I was given a terrible telling-off, though my parents seemed angrier about the egg-collecting than about my disappearance. However, my father felt guilty, as he had previously bought me 'The Observer's Book of Birds' Eggs'. The policeman suggested that I be given the book on the birds themselves instead, and I never looked back; I soon had keen birdwatching friends, and my hobby gradually morphed into an obsession which has grown with me. I still have both books, and while I love watching all wildlife, I retain a dark sense of guilt about my early egging days!"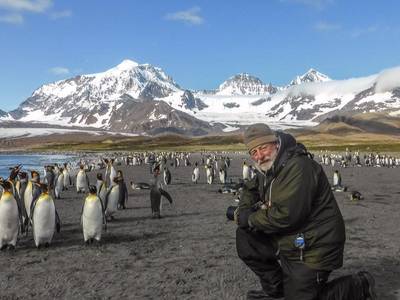 Peter Dunn in South Georgia
When and where was your first tour leading assignment for Naturetrek?
"My first Naturetrek tour was back in 2001, when I travelled to the Greek island of Samos. The wildlife was excellent, but I also learnt a great deal, and realised for the first time that a Naturetrek leader must expect the unexpected! One client, having forgotten his tripod, hurried back into the hotel to collect it. Unbeknownst to him, the glass door had subtly shut after he entered the building – in the rush to re-exit he collided with it full force, shattering the door into a thousand pieces. I will never forget the client's expression as he stood there in horror, muttering dumbfoundedly the immortal words "I don't believe it." Fortunately, the only serious injury was to his pride, and the door cost just £25 to replace. However, having just retired from a pretty demanding job, I wasn't sure if I was up for this kind of stress. Thankfully, such incidents have proved to be very rare!"
What was your 'day job'?
"I retired in 2000 after 25 years with the North Yorkshire Police, where I had various roles; I spent eight years in Scenes of Crime (now known as CSI), and completed several attachments to drugs, traffic and tasks forces, before ending up as a sergeant at a small station outside Scarborough. In the late 1980s I became a Wildlife Liaison Officer, progressing to overseeing wildlife investigations, liaising with NGOs and sitting on the PAW (Partnership for Action against Wildlife Crime) publicity committee. It was the latter that introduced me to Naturetrek, as I set up and manned the first Wildlife Crime stand at the British Birdwatching Fair in 1997. Our stand was directly opposite Naturetrek's, and I spent quite a bit of time chatting to Naturetrek staff, including Paul Dukes and Mike Dale. I had always loved showing people around my local patch at Filey Bird Observatory, and I mentioned that I'd like to be considered for tour leading when I retired; I was introduced to David Mills and my time with Naturetrek started shortly after I left the force."
What other interests do you have outside of wildlife?
"I dabble in technology (computers and software) but photography in all its forms has been my other great love in life. I started back in the days of prints and transparency films, and was lucky that my Scenes of Crime training included a 10-week photography and fingerprinting course, during which I learnt all about f-stops, shutter speeds, lighting and depth of field. In those days we still used huge 8x4 inch plate cameras to photograph footprints and twin-lens reflex cameras for other work. We had to develop and print all our own black and white films (colour was only done at HQ), and that experience helped enormously with my wildlife subjects. I have also ventured into wedding photography for my colleagues (amongst the most stressful of jobs), done studio work with my local photographic club, and recently taken baby portraits of my grandkids. Wildlife photography is a different challenge – animals move a lot, unlike my previous subjects, which often had a chalk line around them – but with digital cameras the results are instantaneous!"
What current conservation projects or issues most interest or concern you?
"Habitat loss and changes are always a contentious issue. Locally, I have spent the last 40+ years helping to put Filey and (since 1998) its bird observatory on the map. I am keen to see it grow, protecting as much habitat as possible for future generations, and I am proud of what has been achieved. However, with age and the amount of time I am away, I have decided to take a back seat from this year, and allow younger members to take over the bulk of the work."
Do you have a favourite bird, mammal or plant?
"Although birds are my main interest, I must admit that some of the largest mammals on Earth now excite me, especially the Humpback Whale. I have been lucky enough to see Humpbacks in quite a few places, but my favourite is Monterey Bay in California, where I set up and lead a Naturetrek tour. The bay is the Serengeti of the sea, with great herds of whales, dolphins, seals and porpoises. Schools of anchovies encourage Humpbacks to employ their awesome group feeding lunges, which are often followed by full breaches. In 2018 we witnessed a cow and calf breaching together, close to our boat. These spectacles stimulate all the senses: the smell of whale breath, the sight of vast gaping mouths packed with anchovies, and the deafening crash of a 30-tonne leviathan slamming back into the water."
What is your most memorable wildlife encounter to date?
"There are so many to choose from, but one of the most memorable experiences I can remember was finding and identifying a new bird for North American waters. I was leading a Naturetrek cruise to Baja California and we were right at the tip of the peninsula, about to enter the Sea of Cortez. We were watching some very active breaching Humpbacks when I noticed a stiff-winged seabird circling the boat. Knowing it was something special, I quickly got as many of the group as possible to look at and photograph it, including some non-birders who dragged themselves away from the performing Humpbacks. All we had to go on was an old copy of 'Seabirds' by Peter Harrison, which suggested we were watching a White-necked Petrel – a species mostly seen off the east coast of Australia, and which breeds in New Zealand's remote Kermadec Islands. Our photos and video proved its identity, and it was accepted as the first North American record."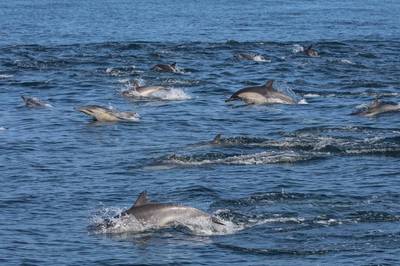 Long-beaked Common Dolphins, Monterey Bay (Peter Dunn)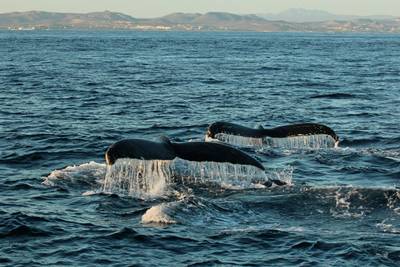 Humpback Whales, Baja (Peter Dunn)
What do you enjoy most about leading wildlife tours?
"The opportunity to show people the most amazing wildlife and fantastic scenery in the world. I have always loved sharing my passion for nature – getting to do that in some of the planet's best wildernesses can't be beaten."
What new destination would you most like to visit next?
"Where I live, on the east coast of Yorkshire, many of our rarest vagrant birds originate from Asia – I'd love to go and see these species where they are abundant. I mostly travel north, south and west for Naturetrek, so my aim is to join a trip to Kazakhstan, or even further afield to China or Japan."
What are you reading at the moment?
"One of my tasks for Naturetrek is keeping checklists up to date, creating new ones, and formatting tour reports. Invariably, I have my head in various field guides, checking on distributions and trying to identify all the unlabelled photographs."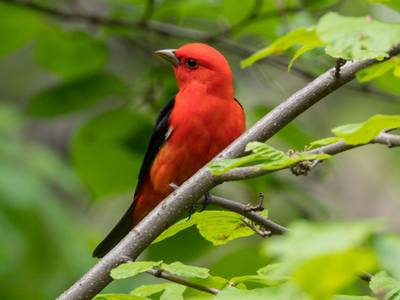 Scarlet Tanager, New York (Peter Dunn)