Trevor Bourgaize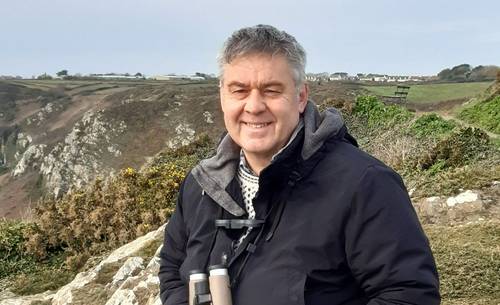 Trevor Bourgaize was born and brought up in Guernsey where his life-long interest in the natural world began at a young age. Although his primary focus is on birds and moths, Trevor is interested in all aspects of natural history and he has good knowledge of the flora and fauna of the Bailiwick. Trevor's interest in bird watching led him to train as a bird ringer and he has held a ringing permit for over 40 years. He bought his first moth trap when aged 19 and has been running traps ever since, including, in recent years, during his regular trips to France. 
His interests led him to join La Société Guernesiaise in 1975, an organisation similar to the UK Wildlife Trusts. Trevor has served on its governing body both as an ordinary member and as Section secretary of Ornithology for 12 years and more recently as Entomology Section secretary. He also serves on La Société's reserves committee and since his retirement has taken on a more practical role, in particular helping to manage 2 orchards owned by the society. He is always keen to pass on his knowledge and helps to organise and lead outings for La Société's 'Nature Guernsey' group, which is aimed primarily at families.
A possible threat to their habitat has led to his recent work in assessing populations of Atlantic Scaly Crickets in the Bailiwick. In addition to organising surveys on Guernsey, he has also been able to confirm their continued existence on Sark and has discovered new populations on Alderney and Herm.
Trevor's birding has taken him to many places, and some of his favourite memories include sitting just inches from Red-necked Phalaropes in Iceland and watching flocks of Rainbow Bee-eaters migrating across the Torres Strait from Cape York in Queensland, Australia.
Upcoming tours with Trevor Bourgaize...
Date
Tour
Availability
Sharing
Price
Availability:

Only 2 left

Sharing:

N/A

Sharing is designed to help those who wish to pair up in order to avoid single occupancy surcharges. M = Male / F = Female / B = Both

Sharing:

N/A

Sharing is designed to help those who wish to pair up in order to avoid single occupancy surcharges. M = Male / F = Female / B = Both

Sharing:

N/A

Sharing is designed to help those who wish to pair up in order to avoid single occupancy surcharges. M = Male / F = Female / B = Both

Availability:

Only 5 left

Sharing:

N/A

Sharing is designed to help those who wish to pair up in order to avoid single occupancy surcharges. M = Male / F = Female / B = Both

Sharing:

N/A

Sharing is designed to help those who wish to pair up in order to avoid single occupancy surcharges. M = Male / F = Female / B = Both

Sharing:

N/A

Sharing is designed to help those who wish to pair up in order to avoid single occupancy surcharges. M = Male / F = Female / B = Both

Sharing:

N/A

Sharing is designed to help those who wish to pair up in order to avoid single occupancy surcharges. M = Male / F = Female / B = Both

Sharing:

N/A

Sharing is designed to help those who wish to pair up in order to avoid single occupancy surcharges. M = Male / F = Female / B = Both

Sharing:

N/A

Sharing is designed to help those who wish to pair up in order to avoid single occupancy surcharges. M = Male / F = Female / B = Both