Matthew Armes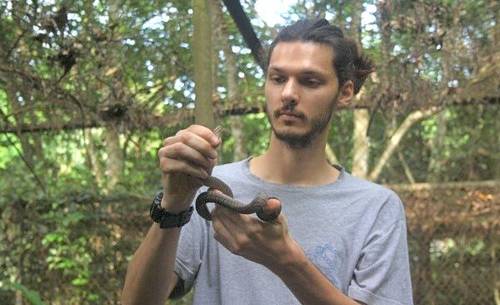 Matt works as a professional ecologist in the West Midlands, specialising in herpetology. As part of this role, he undertakes protected species surveys, including leading reptile and Great Crested Newt surveys in the field. Originally from Norfolk, Matt has had an interest in reptiles and amphibians since childhood, where he would excitedly explore any ponds he came across. At the age of 13 he got his first pet lizard, and this passion grew even more when he started work in an exotic pet shop. Here he was responsible for the care and breeding of dozens of tropical herpetofauna species.
Following his interests, Matt studied for a BSc degree and conducted fieldwork on Amazonian lizards, earning first class honours. He continued his studies, achieving a distinction graded MSc degree after travelling to Vietnam to study the critically endangered Vietnamese Pond Turtle (Mauremys annamensis).
When he isn't working as a professional ecologist, Matt spends his time out in nature. He is a Committee Member of the Birmingham and Black Country Amphibian and Reptile Group, helping to plan and conduct local conservation and monitoring projects. Further afield, Matt has assisted in conservation and research projects on three continents, from catching and measuring caiman in the Peruvian Amazon rainforest, to protecting Loggerhead Turtle (Caretta caretta) nests on the beaches of Greece.
Matt has published two scientific papers on snake feeding ecology and is an avid field herper. Always eager to learn more about reptiles and amphibians, he is a regular delegate of herpetology conferences and symposiums. Where lizards are, Matt won't be too far away, listening out for a rustling in the undergrowth.
Upcoming tours with Matthew Armes...
Date
Tour
Availability
Sharing
Price