Karen Souza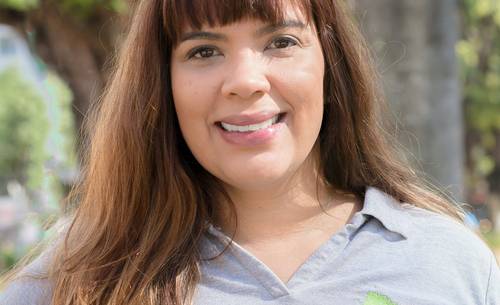 Karen is a 33-year-old naturalist guide from the state of Minas Gerais, Brazil. In 2005, Karen lived and worked for eight months in London, UK, which resulted in fluent English.
While in university, she worked in various key jobs in a travel agency in Belo Horizonte, the capital of that state of Brazil.  In 2011, upon completion of a degree in ecology at the "Centro Universitario de Belo Horizonte", she started guiding wildlife tours in the southern and northern Pantanal.   
With seven years of nonstop guiding for the most demanding wildlife tour companies in the Pantanal, Karen is a highly experienced bird guide and Jaguar guide, in particular. Karen has guided more than 500 travellers in the Pantanal since 2011, and in the last five years, she has guided hundreds of guests in Jaguarland, the one half of one percent of the Pantanal that harbours 60 habituated, visible Jaguars and 6-7 habituated, visible families of Giant Otters.
Upcoming tours with Karen Souza ...
Date
Tour
Availability
Sharing
Price
Availability:

Only 3 left

Sharing:

N/A

Sharing is designed to help those who wish to pair up in order to avoid single occupancy surcharges. M = Male / F = Female / B = Both

Sharing:

N/A

Sharing is designed to help those who wish to pair up in order to avoid single occupancy surcharges. M = Male / F = Female / B = Both

Availability:

Only 3 left

Sharing:

N/A

Sharing is designed to help those who wish to pair up in order to avoid single occupancy surcharges. M = Male / F = Female / B = Both

Availability:

Only 2 left

Sharing:

N/A

Sharing is designed to help those who wish to pair up in order to avoid single occupancy surcharges. M = Male / F = Female / B = Both

Sharing:

F

Sharing is designed to help those who wish to pair up in order to avoid single occupancy surcharges. M = Male / F = Female / B = Both

Availability:

Only 5 left

Sharing:

M

Sharing is designed to help those who wish to pair up in order to avoid single occupancy surcharges. M = Male / F = Female / B = Both

Availability:

Only 3 left

Sharing:

N/A

Sharing is designed to help those who wish to pair up in order to avoid single occupancy surcharges. M = Male / F = Female / B = Both

Sharing:

N/A

Sharing is designed to help those who wish to pair up in order to avoid single occupancy surcharges. M = Male / F = Female / B = Both

Availability:

Only 1 left

Sharing:

N/A

Sharing is designed to help those who wish to pair up in order to avoid single occupancy surcharges. M = Male / F = Female / B = Both

Availability:

Only 2 left

Sharing:

M

Sharing is designed to help those who wish to pair up in order to avoid single occupancy surcharges. M = Male / F = Female / B = Both

Availability:

Only 5 left

Sharing:

N/A

Sharing is designed to help those who wish to pair up in order to avoid single occupancy surcharges. M = Male / F = Female / B = Both

Availability:

Only 6 left

Sharing:

N/A

Sharing is designed to help those who wish to pair up in order to avoid single occupancy surcharges. M = Male / F = Female / B = Both

Availability:

Only 5 left

Sharing:

N/A

Sharing is designed to help those who wish to pair up in order to avoid single occupancy surcharges. M = Male / F = Female / B = Both

Sharing:

N/A

Sharing is designed to help those who wish to pair up in order to avoid single occupancy surcharges. M = Male / F = Female / B = Both

Availability:

Only 5 left

Sharing:

N/A

Sharing is designed to help those who wish to pair up in order to avoid single occupancy surcharges. M = Male / F = Female / B = Both

Sharing:

N/A

Sharing is designed to help those who wish to pair up in order to avoid single occupancy surcharges. M = Male / F = Female / B = Both

Sharing:

N/A

Sharing is designed to help those who wish to pair up in order to avoid single occupancy surcharges. M = Male / F = Female / B = Both

Sharing:

N/A

Sharing is designed to help those who wish to pair up in order to avoid single occupancy surcharges. M = Male / F = Female / B = Both

Sharing:

N/A

Sharing is designed to help those who wish to pair up in order to avoid single occupancy surcharges. M = Male / F = Female / B = Both

Sharing:

N/A

Sharing is designed to help those who wish to pair up in order to avoid single occupancy surcharges. M = Male / F = Female / B = Both

Sharing:

N/A

Sharing is designed to help those who wish to pair up in order to avoid single occupancy surcharges. M = Male / F = Female / B = Both

Sharing:

N/A

Sharing is designed to help those who wish to pair up in order to avoid single occupancy surcharges. M = Male / F = Female / B = Both

Sharing:

N/A

Sharing is designed to help those who wish to pair up in order to avoid single occupancy surcharges. M = Male / F = Female / B = Both

Sharing:

N/A

Sharing is designed to help those who wish to pair up in order to avoid single occupancy surcharges. M = Male / F = Female / B = Both

Sharing:

N/A

Sharing is designed to help those who wish to pair up in order to avoid single occupancy surcharges. M = Male / F = Female / B = Both

Sharing:

N/A

Sharing is designed to help those who wish to pair up in order to avoid single occupancy surcharges. M = Male / F = Female / B = Both

Sharing:

N/A

Sharing is designed to help those who wish to pair up in order to avoid single occupancy surcharges. M = Male / F = Female / B = Both

Sharing:

N/A

Sharing is designed to help those who wish to pair up in order to avoid single occupancy surcharges. M = Male / F = Female / B = Both

Sharing:

N/A

Sharing is designed to help those who wish to pair up in order to avoid single occupancy surcharges. M = Male / F = Female / B = Both