Greg Smith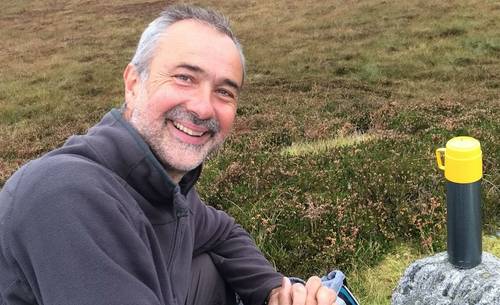 Greg began his professional life as a field botanist but soon branched into other disciplines from moths to geology and has very broad knowledge of the natural world. A typical Naturetrek all-rounder. From those botanical beginnings, Greg went on to carve out a 35-year career in wildlife conservation, most of it spent with English Nature and its successor body Natural England - one of the UK's statutory conservation bodies.
Spending more time of late in a suit looking at spreadsheets than in waterproofs looking at wildlife, Greg decided to head back out into the wild world he loves. Greg has devoted the last few years to getting to know the wildlife and special places of the Isle of Coll and is keen to share that knowledge and passion with his Naturetrek groups. With degrees in philosophy, linguistics and natural sciences, and interests spanning art, politics, sustainability and music, you are always assured of an interesting conversation with Greg.
Upcoming tours with Greg Smith...
Date
Tour
Availability
Sharing
Price
Sharing:

N/A

Sharing is designed to help those who wish to pair up in order to avoid single occupancy surcharges. M = Male / F = Female / B = Both

Sharing:

N/A

Sharing is designed to help those who wish to pair up in order to avoid single occupancy surcharges. M = Male / F = Female / B = Both

Sharing:

N/A

Sharing is designed to help those who wish to pair up in order to avoid single occupancy surcharges. M = Male / F = Female / B = Both

Availability:

Only 4 left

Sharing:

N/A

Sharing is designed to help those who wish to pair up in order to avoid single occupancy surcharges. M = Male / F = Female / B = Both

Sharing:

N/A

Sharing is designed to help those who wish to pair up in order to avoid single occupancy surcharges. M = Male / F = Female / B = Both