Bob Elliot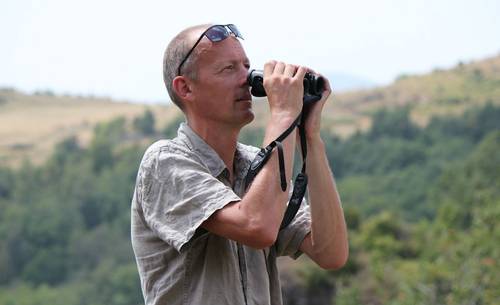 Bob enjoys leading groups and helping people to enjoy the natural world, which serve as a welcome antidote to his challenging day job as Director for OneKind, an animal welfare charity based in Edinburgh. Bob is an experienced naturalist with extensive knowledge of wildlife, nature conservation and animal welfare issues both in Scotland and internationally.
Bob was born in North Yorkshire, and spent much of his childhood in the Yorkshire Dales. His passion for nature led him to join the Harrogate and District Naturalists Society, in which he soon became a prominent member. His career in nature conservation started with two head warden posts on the Farne Islands before moving to Scotland to work for the National Trust for Scotland (NTS), undertaking Countryside Ranger/Naturalist roles at lowland sites in Dumfries and Galloway. A promotion to Countryside Manager for the Highlands and Islands meant overseeing the work of Rangers, as well as being involved with wider countryside management. His work involved the management of reserves including the mountainous areas of Glencoe, Kintail, West Affric and Torridon, and iconic islands such as Iona, Canna, Fair Isle and St Kilda. Bob also managed the Countryside Ranger and Warden Service for Scotland's first National Park, Loch Lomond and the Trossachs, before joining the RSPB in 2007. Bob was the head of the investigations and species protection team for the RSPB for 14 years, fighting wildlife crime both in the UK and internationally. He is now the Director for OneKind, an animal welfare charity based in Edinburgh, which exposes cruelty and persecution to Scotland's animals via investigations, research and campaigning.
Bob has much experience with wildlife overseas, having taken trips to Antarctica, Peru, South Africa and Europe. Bob has assisted in a vulture feeding project in the Spanish Pyrenees, Iberian Lynx watching in Spain and the nest monitoring of Bearded Vultures in France and Spain. In recent years he has worked on trips to Iceland, the Faroe Islands, Portugal, Ireland, Romania, Switzerland and the Scottish Islands, including St Kilda and Fair Isle. He's an expert on birds and mammals, and has specialist knowledge of birds of prey and seabirds, as well as field experience of using camera traps and remote surveillance techniques.
Upcoming tours with Bob Elliot...
Date
Tour
Availability
Sharing
Price