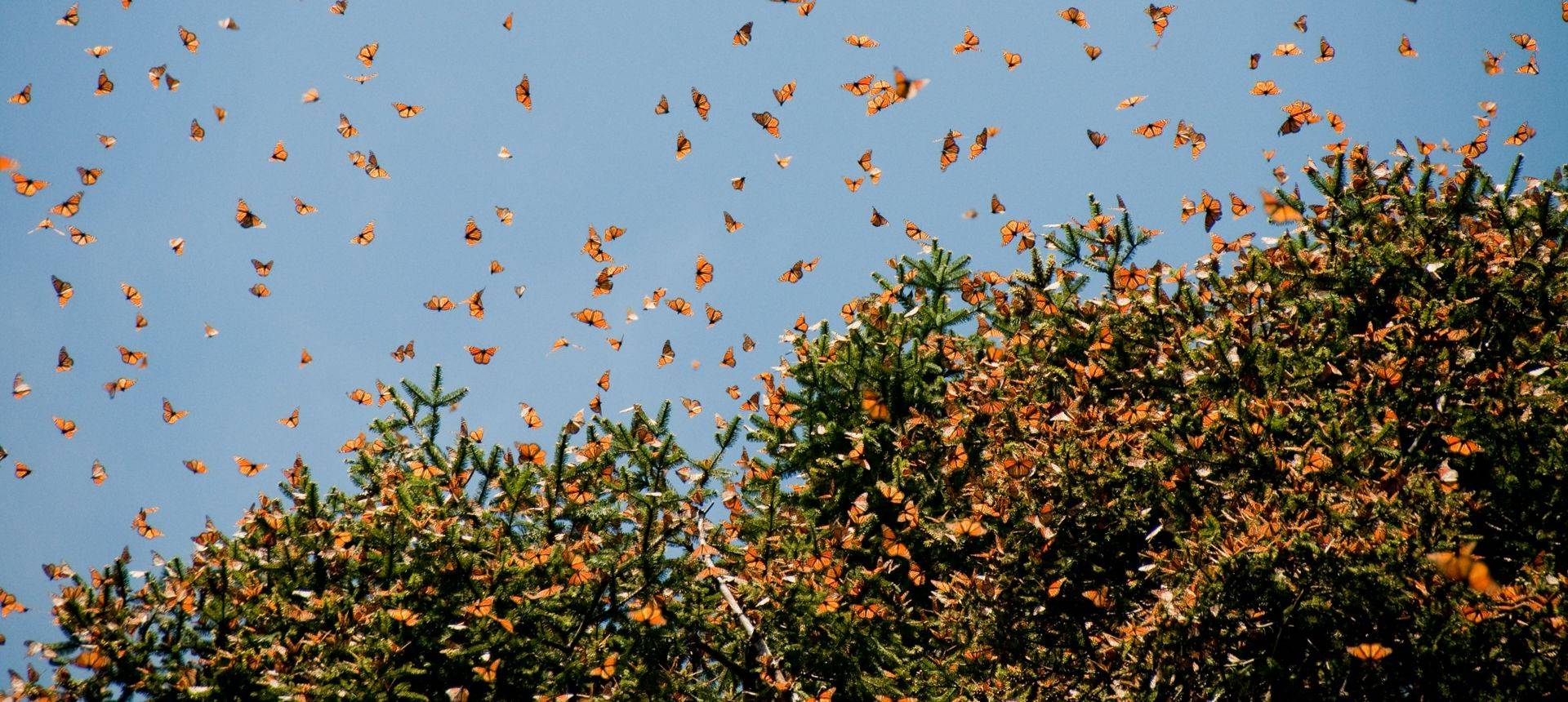 Mexico's Monarchs, Humpbacks & Birds
Tour Code: MEX03
An 11-day wildlife holiday to central and western Mexico, home to millions of wintering Monarch butterflies, plus Humpback Whales and numerous birds.
Mexico is a vibrant country boasting an interesting natural history, as well as some stunning scenery and fascinating culture both past and present. This tour visits central and south-western Mexico. We begin our holiday in the pre-Aztec city of Teotihuacan, enjoying this superb site, home to the third largest pyramid in the world, as well as a variety of endemic and other birdlife. Next we drive to the Oyamel Fir forests of the central Mexican state of Michoacan where the microclimate provides the perfect winter home for millions of Monarch butterflies. We will visit two of the best reserves mid-morning and watch as millions of butterflies take to the wing! After a 3-night stay in this region, we fly to Puerto Vallarta on the Pacific coast where we take to the ocean in search of Humpback Whales. Three days on the western coast allows us time to enjoy the Humpbacks and look for birds such as Bee Hummingbird and Boat-billed Heron before it is time to head back to Mexico City for our flights home.
See the spectacular winter gatherings of Monarch butterflies
Explore the pre-Aztec city of Teotihuacan & see its huge 'Pyramid of the Sun'
Visit two Monarch reserves & watch millions of Monarch butterflies take to the air
Black Phoebe, Vermillion Flycatcher & Canyon Towhee, Teotihuacan
Red Warbler, Slate-throated Redstart & endemic Blue Mockingbird, El Rosario
3-night stay on the Pacific coast looking for Mexican endemics
Boat excursion to look for Humpback Whales
Mexico is home to 1,100 bird species, of which 10% are endemic
Citreoline Trogon & Red-headed Tanager among special birds at San Blas
Led by expert naturalist guide


Can I help you?

Outline Itinerary
Day 1
Fly Mexico City and overnight Teotihuacán
Day 2/4
Monarch butterfly reserves. Overnight Agua Blanca Lodge
Day 10
Depart Mexico City
We saw the phenomenon of the Monarch butterflies. Our first sightings of breaching Humpbacks, & heard them singing through microphones. Released Olive Ridgeback Turtle hatchlings into the sea. Viewed lots of birds & other butterflies in forests, & in the Mangroves. Also visited the archaeological ruins at Teotihuacan.

J.T. Kent, Feb 19
Food & Accommodation
All food is included in the price, except for dinner on Day 1 (allow £20).
We stay in comfortable hotels and lodges throughout, all with private facilities.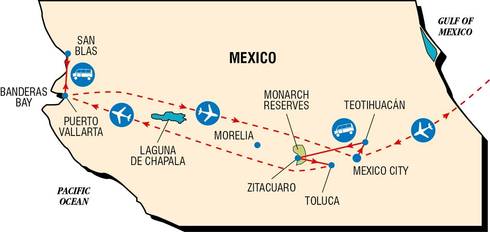 Tour leaders
Dave Smallshire

Dave was an agri-environment adviser to farmers and the government before taking early retirement in December 2006. He has been an avid birdwatcher for over 40 years, travelling extensively in Europe and Africa, with visits to several parts of North America and Asia. Although a competent all-round naturalist, his early career as an agricultural entomologist led him to an interest in butterflies and dragonflies some 30 years ago; the latter have taken up increasing amounts of his time in recent years. He is a trustee of the British Dragonfly Society and convenes its Dragonfly Conservation Group. He has led countless dragonfly training events, which resulted in him co-authoring the highly-acclaimed field guide, 'Britain's Dragonflies'. He has pioneered dragonfly watching holidays to countries such as Bulgaria, South Africa and Sri Lanka. He is heavily engaged in bird, dragonfly and other ecological surveys and conservation in Devon, where he has lived for over 20 years, but above all else, he loves to find and show people wildlife, preferably in exotic places.
Mexico is a fascinating and vibrant country: a colourful land steeped in history, myth and legend. This was the home of the ancient Aztec, Toltec and Maya civilisations, whose great pyramids rival those of Egypt, and landfall for the first of the Spanish Conquistadors as they searched for the fabled Cities of Gold. Today, Mexico is a modern, vibrant and welcoming country, full of natural history, scenic and cultural contrasts. It is also the stage for one of the most remarkable sights in the natural world, the winter gatherings of millions of Monarch butterflies.
Whilst south-eastern Mexico is clothed in thick tropical forests, in the north and west hot cactus deserts dominate. In between these extremes lie the cool Oyamel Fir forests of the central Mexican state of Michoacán. Here, the temperature, humidity and high altitude combine to create the perfect winter microclimate for millions of Monarch butterflies from the US and Canada which migrate south into Mexico every autumn to escape the cold further north. These are the third or fourth generations of butterflies that left Michoacán the previous spring and, to this day, little is known about how these delicate creatures navigate and how they find these small pockets of forest hundreds, if not thousands, of miles south from where they first emerged as adults.
As spectacular as the Monarch gatherings undoubtedly are, Mexico has many other wildlife facets to enjoy. During the same months that the butterflies gather in Michoacán, Humpback Whales congregate in Banderas Bay off Mexico's Pacific coast, and numerous resident and wintering birds — including 25 Mexican endemics — can be found in the nearby wetlands, mangroves and forests. Although our tour takes in all these highlights, it begins with a flight to Mexico City from where we transfer to our first overnight stop at the pre-Aztec city of Teotihuacán ('Place of the Gods'). We will explore the site the following morning, enjoying such birds as Vermillion Flycatcher, Canyon Towhee and Say's Phoebe beneath the imposing triangle of the huge 'Pyramid of the Sun', the third largest pyramid in the world!
Next we drive west into the forested hills of Michoacán for three nights at Agua Blanca Lodge, near the town of Zitacuaro. From here we will visit two Monarch reserves. El Chincua is one of the best of these, attracting huge gatherings of butterflies each winter and less visitors than the nearby sanctuary at El Rosario. We plan on arriving mid-morning, at a time when the sun has warmed the forests sufficiently for the butterflies to start taking flight. It is a breathtaking spectacle. The trees here can become so laden with Monarchs that branches bend under their weight and, once the butterflies take to the air, the forest fills with the delicate sound of a million fluttering wings, turning the air into a whirlwind of orange and black! On our second day we will visit another of the reserves, choosing the one most favoured by the Monarchs during the time of our visit. If we can drag our eyes away from the mesmerising clouds of butterflies for a few moments, we are also sure to find an interesting variety of birds such as Red Warbler, Slate-throated Redstart and the endemic Blue Mockingbird.
For the second part of our holiday, we take a short flight to Puerto Vallarta on the Pacific coast. Once here, we will need to readjust our eyes from watching the small and delicate to the huge and mighty, for the next morning we take to the ocean in search of Humpback Whales. Humpbacks are one of the most entertaining whales to watch and during our time on the water we hope to witness a variety of behaviours, including spy-hopping, tail-lobbing and, for the fortunate, perhaps a full breach, whereby the whale launches itself fully out of the water before falling back with a resounding splash!
Moving on, we turn our attention to the excellent avifauna of Mexico's Pacific coast, and drive north to the fishing village of San Blas. Mexico is home to nearly 1,100 species of birds, 10% of which are endemic. The estuaries, lagoons, mangroves and forests around San Blas attract a wide variety of these, including Boat-billed Heron, Golden-cheeked Woodpecker, White-striped Woodcreeper, Citreoline Trogon and Red-headed Tanager. There is even a chance of finding the rare and elusive Solitary Eagle or perhaps the tiny Bumblebee Hummingbird!
Finally, after three days spent enjoying the birdlife of western Mexico, it will be time to return to Puerto Vallarta for our short flight to Mexico City, where we connect to our onward flight home.
Please contact us on 01962 733051 for details on what extensions either pre or post tour are available for this Tour.
We saw the phenomenon of the Monarch butterflies. Our first sightings of breaching Humpbacks, & heard them singing through microphones. Released Olive Ridgeback Turtle hatchlings into the sea. Viewed lots of birds & other butterflies in forests, & in the Mangroves. Also visited the archaeological ruins at Teotihuacan.

J.T. Kent, Feb 19

My husband and I love nature, and to be able to go on this Naturtrek holiday to Mexico was a dream come true. My husband loves butterflies so we were in awe of the annual migration of Monarch butterflies. To see humpback whales has always been on my bucket list, and our boat trips out fulfilled all my dreams. I can now die happy. These two were the highlights of our holiday, but interspersed with these there was ample opportunities to appreciate the huge variety of birds, a trip into the mangroves to see crocodiles etc. It is a holiday neither of us will forget.

O.T. Lincolnshire

The holiday was targeted at seeing the Monarch butterflies in their winter roost in Mexico - up at over 10,000 feet above sea level. It was quite an expedition to get there, but the sight was phenomenal. We will never forget the sight of so many butterflies, perched on branches in such numbers that the branches bent down under the weight of so many insects. Then it was off to the Pacific where the Humpback Whales were giving birth in the warmer waters there. A totally different scale, from tiny insects to huge whales. Then it was on to another site, and a trip into a Mangrove swamp in late afternoon with so many interesting birds beginning to roost up for the night, and a few crocodiles to be seen, followed by a trip back after dusk. Another memorable event. Lastly there were a few days for birdwatching or butterfly spotting with an expert with us to help find the unusual. We have lots of photos and lots of memories of a wonderful holiday, and will be travelling with Naturetrek again in the near future, as we have found their holidays reliably full of wonderful wildlife, and we are always escorted by experts who add so much value to the trips.

D.G. Cumbria

Cultural visit to Teotihuacan, fantastic experiences with the overwintering Monarch butterflies in Michoacan, various excellent sightings of Humpback whales off Puerto Vallarta and San Blas plus varied birding opportunities throughout, especially with the varied habitats around San Blas.

O.V. Cumbria

The visits to the Monarch reserves were a lifetime highlight – spending two days there was marvellous.

L.D. & I.D. Worcestershire
2020
Departures
Availability
Cost
Mon 3rd Feb - Thu 13th Feb
SPACES
£3,795
Flights:
Most Naturetrek tours include flight costs ex-UK. If flights are not included, we indicate that here.
Flights are included in the tour cost
Regional Departures:

On certain tours it is possible to depart from a regional airport (rather than London). If a regional departure is possible, we indicate that here.
Regional Departures are available. Call 01962733051
Land only cost:

The "Land Only" cost is the tour price you will pay if you choose to arrange your own flights/transport.
£3,195
Single Room Supplement:
£395