'My heart in hiding
Stirred for a bird, -the achieve of; the mastery of the thing!'
(Quote taken from 'The Windhover' by Gerard Manley Hopkins)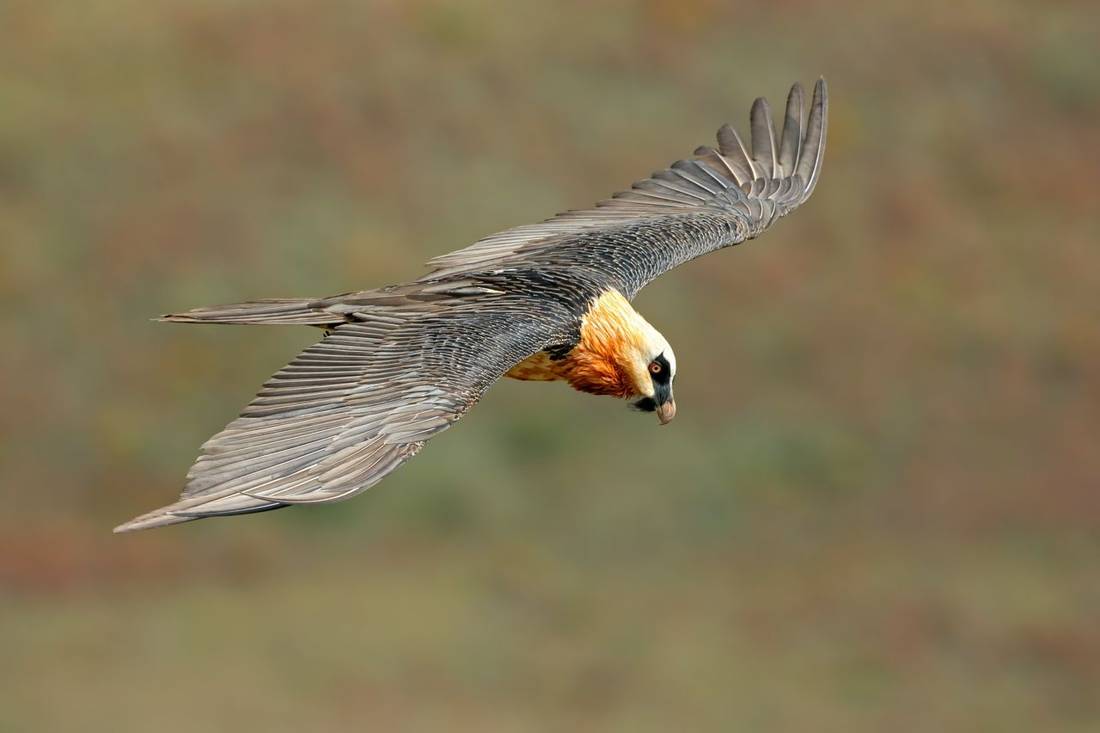 Lammergeier
It was the thought of a bird that had become my ultimate aspiration: a bird that had captured my imagination and held my hopes prisoner for so long. A favoured name for me - the Lammergeier - but as a 'seizer of lambs', unjustly branded and condemned. From my classical education, a more accurate description: ossifragae - and matched in Spanish with mesmerising rhythm: Quebrantahuesos - the Bone Breaker.
My destination in pursuit of this master of the lofty peaks and lonely canyons was the high Pyrenees of Aragon and I was filled with the anticipation of a raptor fanatic's paradise, on the very doorstep of the charming hilltop village of Berdun. I was not to be disappointed: with red kites gliding past my window in the golden light of the late afternoon; short-toed eagles hovering above the welcome shade beneath cicada-singing trees; squadrons of griffon vultures, cruising past with consummate ease and booted eagles soaring across distant views of snow-dusted summits, that called out to me with their beckoning silence.
And so it was, one eager morning that our happy band of comrades wound its way up a mountain road, and everything that I dreamed of when I had hungrily scanned the pages of the Naturetrek brochure was revealed, as the magical Aisa Valley came into view. My boundless optimism had set me the extremely ambitious target of discovering a desman and so I desperately searched the rocky streams for a glimpse of this remarkable mammal. Alas, my search was in vain, but a close encounter with a sleepy brook salamander was no poor substitute.
My eyes then lifted up to the sky and I caught sight of a silhouette that had drifted out from above the precipitous cliff to my right. My heart did indeed stir inside my pounding chest as the reason for my journey was realised. There it was ... a lammergeier. Breathlessly setting up my scope, I was able to settle down and gaze in wonder as it approached, with burnished breast gleaming. I was immediately struck by the languid grace and majesty with which the giant wings of this spectacular bird made use of every gust of wind in the chill mountain air.
Later that afternoon, rather than relax in the company of the resident marmots, I set out to explore the huge fissure in the rock wall at the head of the valley. I hoped to find a way to reach the higher slopes and sure enough, the exposed strata curved gradually upwards, providing a convenient natural staircase. As I emerged into the sunlight once more, I found myself trespassing on a desolate, wind-swept plateau. My heart leapt as I was confronted by the snort of a startled, young chamois. It showed no sign of being frightened by my presence and stamped its hoof, as it fixed me with a defiant glare. I crouched in amazement, hypnotised by its unwavering eyes and privileged to share in its secret solitude.
I had gone to Spain in search of my beloved raptors but I had returned having experienced so much more. The bones of that chamois may now be bleaching in the sun; they may even have been carried off by a lammergeier and expertly despatched in the manner of that wonderful bird's true nature, but whatever the fate of these heart-stirring creatures, that special day will forever linger in my memory.
For further information about our 8-day 'The Spanish Pyrenees' holiday please visit the tour webpage.