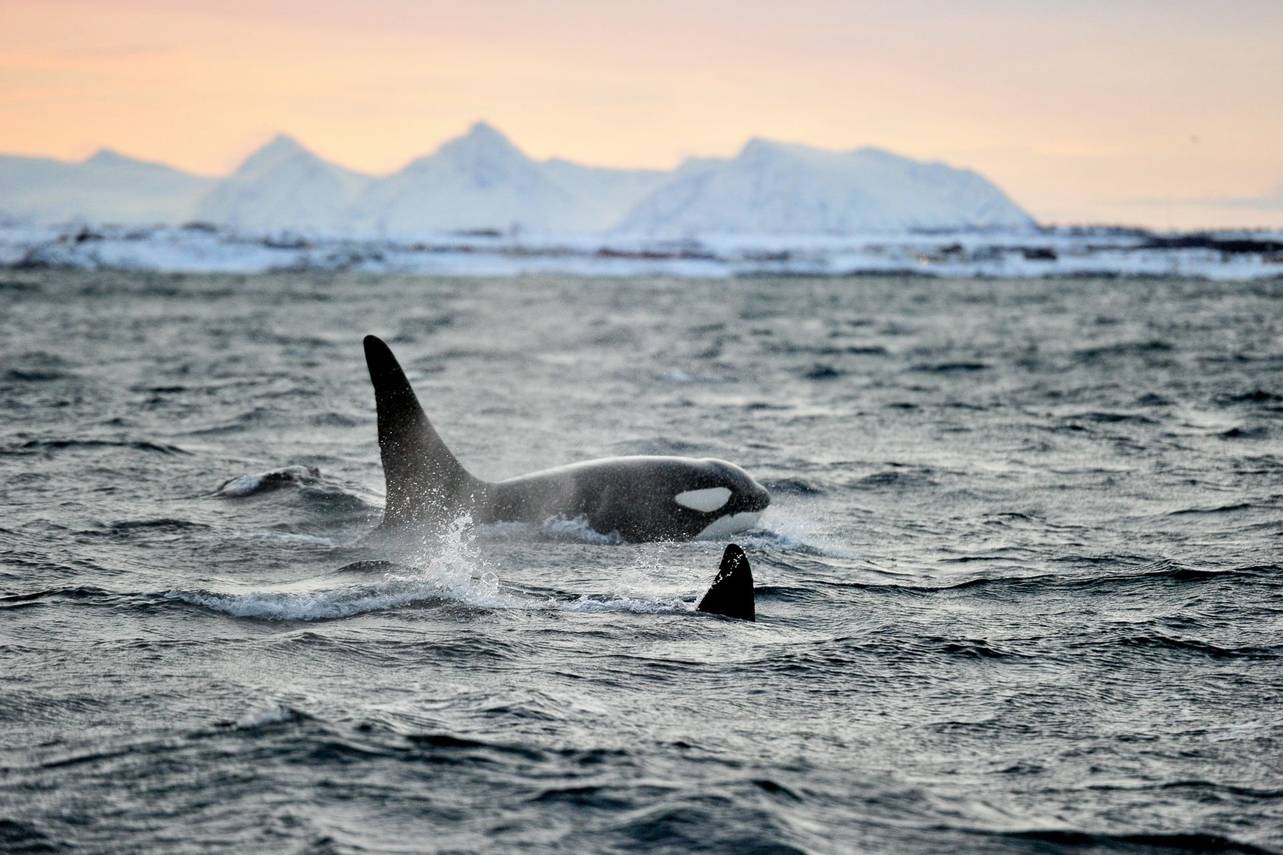 At the end of December 2017, our inaugural whale-watching cruise around Norway's northern fjords set sail (writes tour leader David Phillips) and we were all delighted to be able to see in the New Year with nature's own variation on fireworks – a magnificent display of the Northern Lights!
In order to view the Lights, we all went ashore near a small village at the northern tip of Kvænanagen fjord and gazed skywards in wonder. Above the snow-covered mountains the gently swaying curtains of light ushered in 2018 in spectacular and unforgettable fashion.
New Year's Day was no less memorable – our beautiful old sailing schooner took us into Kvænanagen fjord, where Humpback Whales and Orcas had been congregating over the winter. We sailed across calm water looking for cetaceans and, before long, we caught sight of a Humpback blow in the distance, directly ahead of us. Soon a number of blows were visible and we watched excitedly as a group of four Humpback Whales surfaced, exhaled and, arching their mighty backs, dived with tail flukes aloft! Next, Orcas were spotted close by and our vessel slowly approached. There were a few lone adult males and a couple of lone subadult males or females (it was impossible to tell the difference between the latter as the dorsal fin is identical), as well as larger groups which typically comprised more than one adult male. We also saw that year's calves, probably born in the fall or early winter; one of the calves was swimming alongside an adult male for a prolonged time. Everyone agreed it was great way to welcome in 2018!
This new tour, which includes a 7-night cruise (an exclusive Naturetrek charter), begins and ends with flights to Tromso, an attractive city lying north of the Arctic Circle. This far north, at the end of December/early January, the sun does not rise above the horizon. However, twilight lasts for about 4 hours and the reflected light from the nearby snow-covered mountains creates more light than you might expect, particularly if the skies are clear and the moon is bright (as it was on this tour). Our itinerary will be kept deliberately flexible, allowing us to sail to locations where recent whale and dolphin sightings have been reported. Based on board an old schooner, there are also opportunities for those who wish to hoist the sails, all of which made our week-long cruise around the dramatic coastal scenery of northern Norway feel like a true adventure!

Our next 9-day Norway's Orcas, Humpbacks & Northern Lights – An Arctic Winter Cruise holiday (including a 7-night cruise) departs Friday 11th January 2019. For further information about this tour please call David Phillips on 01962 733051 or email This email address is being protected from spambots. You need JavaScript enabled to view it..