A customer travelled on our 'Sri Lanka - Blue Whales & Leopards' holiday and submitted this entry to our writing competition.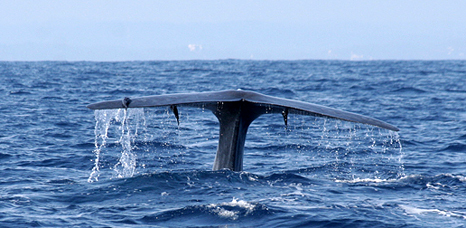 Blue Whale by Paul Cottis
Blue Whales, Sri Lanka
Down in the reception area of Mirissa Water Sports in southern Sri Lanka and the packed lunch and coffee we were receiving was prolonging my ambition to see Blue Whales. Ever since I had seen Fin Whales on Brittany Ferries Bay of Biscay crossings from Plymouth to Santander I had wanted to see the largest animal on Earth, and indeed that had ever lived!
Soon the waiting was over and we boarded the boat that was to take us out near the shipping lanes to the south. There was a calm, glassy sea as we headed out with the odd flying fish gliding by just above the surface. There were a couple of young local lads employed as lookouts on the upper deck and they were soon shouting excitedly that there was a pod of Spinner Dolphins heading towards us. Two minutes later and they were all around the boat splashing and leaping acrobatically from the water as they pursued their prey. They stayed with us for about 40 minutes or so, then came another shout from these lads with the laser eyes on the upper deck, as they spotted a couple of 'blows' further out.
We raced out towards these blows and, as we got fairly close, shouts came from these lads of 'Tail up!' as these leviathans had filled up with air and gracefully slid under the light choppy waves, leaving a 'footprint' of calm water. After a few minutes' wait a huge whale broke the surface and started to blow, the fine spray rising 30 feet up in the air, producing mini-rainbows. The sound that they made when blowing was reminiscent of a trumpeting elephant and this, and its size, will remain with me always.
This was the first of some 20 sightings on the first morning and, at one stage, seven of the leviathans were within sight of the boat and included a mother and calf. There was also the sighting of a Bryde's Whale that dived in the opposite direction of a Blue Whale just in front of the boat. In between sightings, Bridled Terns could be seen perched on floating coconuts.
The next two days saw the same procedure and on each of these days at least 30 sightings per day were enjoyed as well as a feeding frenzy of approximately 1,000 Spinner Dolphins and Yellow-finned Tuna.
The most amazing sighting was when a fully grown Blue Whale swam towards the boat, then dived and swam under the boat. It was then we realised the true length of these magnificent animals as this blue-grey shape first showed its head, then the pectoral fins, then the full body length and finally the tail flukes before swimming away and showing its flukes as it dived, bringing gasps of admiration from our party.
We stayed in the aptly named Paradise Beach Hotel and the itinerary was ideal. Dawn wake-ups, a few hours in the boats whale-watching, then back for lunch, an iced beer on the verandah, then a leisurely afternoon excursion to a nearby nature reserve.
After three nights and days at Mirissa we had a relaxing drive to Yala National Park to look for Leopards and Elephants. But that's another story ...
Read more about our 'Sri Lanka - Blue Whales & Leopards' holiday.