Western Sahara's Desert Wildlife

This email address is being protected from spambots. You need JavaScript enabled to view it.
The territory of Western Sahara may have a chequered history, but it is home to a remarkable collection of mouth-watering birds and mammals, many of which are almost impossible to see elsewhere, including Sand Cat and the near-mythical Golden Nightjar. On this adventurous new tour, we'll venture deep into these windswept north-west African deserts in search of their elusive wildlife.
We'll fly into the coastal town of Dakhla, where we'll stay in a comfortable tourist hotel. The shores of Dakhla Bay support abundant migrant waders, as well as Audouin's Gull and African Royal Tern, while the critically endangered Atlantic Humpback Dolphin can be seen further offshore. Weather permitting, we'll take a boat trip into the bay to look for birds and cetaceans.
Moving inland, we'll scour the deserts for such exciting birds as Crowned Sandgrouse, Cricket Warbler, Cream-coloured Courser and Dunn's Lark, while a flock of Desert Sparrows could contain one or two gorgeous Sudan Golden Sparrows. However, it's at night that the landscape truly comes alive; after darkness falls, we'll head out with spotlights in an attempt to find some of the Western Palaearctic's most rarely seen animals. Hoped for mammals will include Sand Cat, Ruppell's and Fennec Fox, African Golden Wolf, Saharan Striped Polecat, Desert Hedgehog and African Wildcat, while we will make an effort to locate nocturnal birds such as Pharaoh Eagle-Owl and the cryptically beautiful Golden Nightjar.
We'll base ourselves mostly in the small town of Aousserd, but there will also be an opportunity to camp out in the desert. This will not only take us closer to the wildlife, but will also provide an intimate experience of this vast landscape, and magnificent views of an unadulterated night sky.
If you'd like to register interest for 2020, please email This email address is being protected from spambots. You need JavaScript enabled to view it..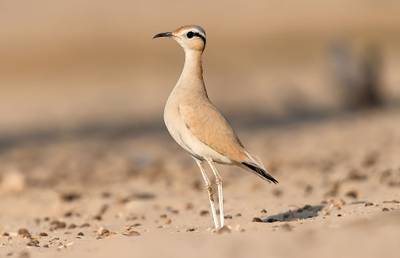 Cream-coloured Courser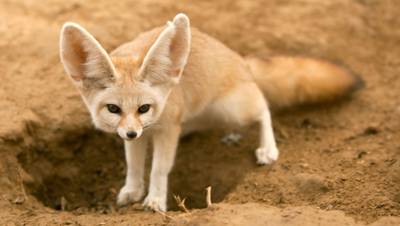 Fennec Fox