Jane in California's Inyo wilderness (left), Adam and Jane with Peter Dunn in Monterey Harbour (centre) and Adam in the Inyo wilderness (right)
Tour Leader Spotlight: Jane Dixon and Adam Dudley

This email address is being protected from spambots. You need JavaScript enabled to view it.
Partners Jane Dixon and Adam Dudley are Naturetrek tour leaders and ground agents in the USA. The idea of setting up their own business and working with Naturetrek first sparked when they met tour leader Peter Dunn as clients on the July 2018 'Spitsbergen – Realm of the Polar Bear' tour: 
"We were guests on this trip and Pete was one of the Naturetrek leaders. We got to know Pete over the course of the 10-day voyage. We told him about our life in the US and how we were volunteer field trip leaders for Sequoia Audubon Society in San Mateo County, California. Pete was interested in our own US travels and the wildlife we had seen over the 20 years we have lived in various states. He suggested that we should run some tours for Naturetrek, which ignited a little flicker of a plan. A few months later, Pete came to California to lead Naturetrek's 'Whales and Dolphins of Monterey Bay' tour, and he invited us to meet up with him and his guests for one of the weekends. The first day was a terrestrial excursion to look for local birds, Sierran Tree Frog, Western Pygmy Blue butterfly, and Sea Otter. Pete introduced us to his guests as "local experts"; I have to admit that I was a little nervous, but the day turned out really well! We found all the target species and Adam impressed with his knowledge of local bird calls. The following day, we joined the group's whale watching trip and had a marvellous day, with plenty of California Sealions, Humpback Whales and Risso's Dolphins. Over the course of the weekend, Pete encouraged us to draft a US wildlife tour itinerary and send it into the Naturetrek office. After a little thought and a few weeks of work, we submitted two draft itineraries: one to south-east Arizona's Sky Islands and a second to the Rio Grande Valley, Texas. We sent them to Kerrie, one of the Operations Managers, and the rest, as they say, is history! If it hadn't been for Pete's encouragement and confidence in us, we may never have embarked down this path to be Naturetrek tour leaders and ground agents in the US."
When and how did your interest in wildlife begin?
Jane: For me, it all began as a child while hiking with my parents in the north of England and Scotland. We would carry mini field guides to identify any new species we saw. I have many memories of flushing Red Grouse in the Yorkshire Moors and vividly remember seeing a Red Fox for the first time in Scotland. I think seeing wildlife made my day on some of the boring, damp hikes. I also looked forward to the arrival of The Country Companion magazine every week, which I would read and study enthusiastically – my mum may still have the collection in binders! We also had family membership of the RSPB, and I remember being thrilled to visit WWT Martin Mere, not far from where I was brought up, on a school trip.
In my 20s, I took up photography in order to capture the wildlife I was seeing. I am still a passionate wildlife photographer and am rarely without my camera, especially on hikes and wildlife walks. I post all my wildlife sightings to iNaturalist, and share with others via my website and social media.
Adam: When I was 12 years old, I used to love watching the children's programme 'Blue Peter'. One episode was dedicated to making a nest box for Blue Tits, which were declining at the time due to the popularity of semi-skimmed milk replacing full-cream milk on doorsteps. So, my dad and I built a nest box, and when we had our first family of Blue Tits, I was hooked! I used to love watching the parents come and go, feeding their chicks and making lots of noise. I started to record their calls and interactions on an old tape deck – so began my love of 'ear birding'!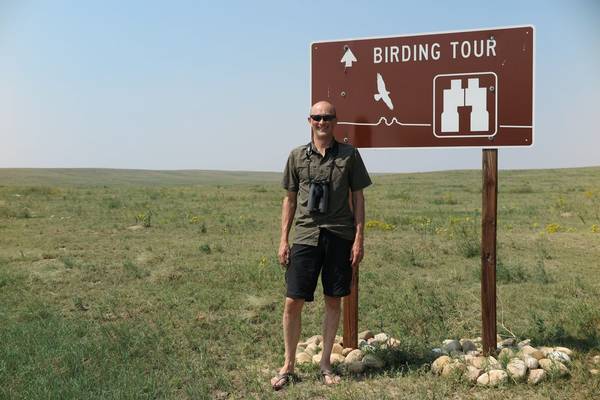 Adam in Colorado's Pawnee Grasslands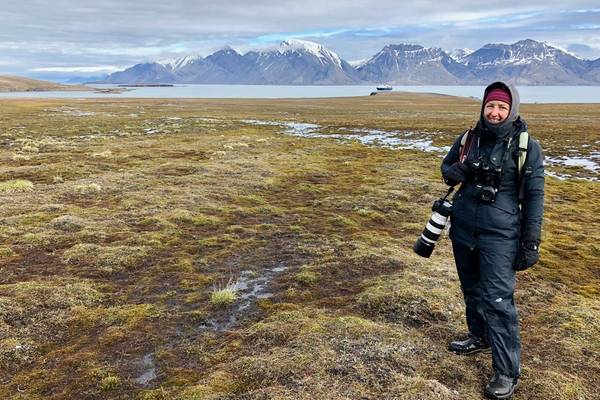 Jane in Svalbard
When and where was your first tour leading assignment for Naturetrek?
We led our first Naturetrek tour to the Sonoran Desert and Sky Islands of south-east Arizona (where we live) in August 2019. There are birds, butterflies, reptiles and mammals here that are found nowhere else in America; it's truly a unique and exciting place to visit! All went well, and it was exciting to share the many wonderful species we saw with our guests, including Black-tailed and Tiger Rattlesnakes, White-nosed Coati, Elegant Trogon, 11 species of hummingbird and Desert Brown Tarantula.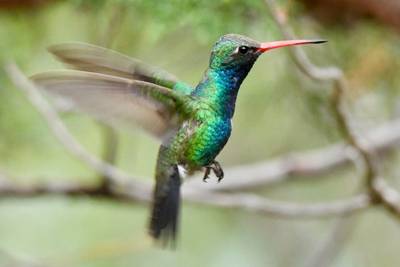 Broad-billed Hummingbird (Jane Dixon)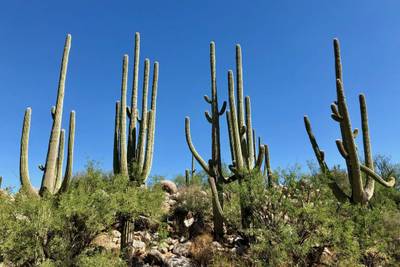 Saguaro Cacti (Jane Dixon)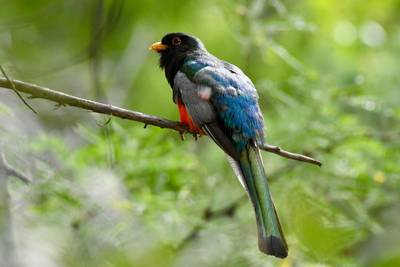 Elegant Trogon (Jane Dixon)
What are your 'day jobs'?
We are ground agents and tour leaders for Naturetrek, designing and leading multiple tours throughout the USA. We visit really diverse areas of this spectacular "continent of exploration", from California's mountains and Pacific Ocean, to the Badlands of the Dakotas and the Rio Grande along the Mexican border in Texas. It's a fabulous place to explore and see wildlife, and we're really lucky to be able to do this for a living!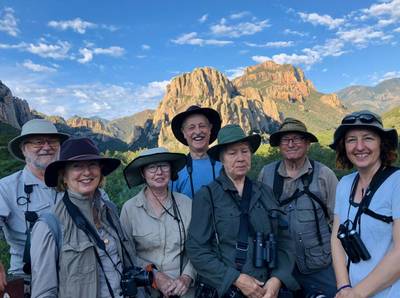 Arizona group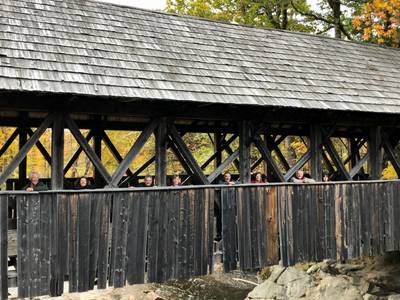 New England group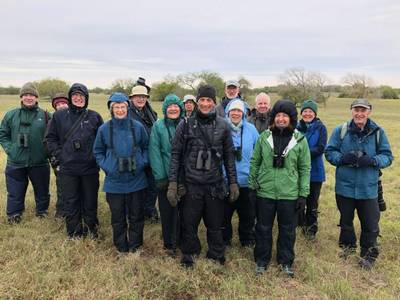 Texas group
What other interests do you have outside of wildlife?
Jane: Trail running, hiking, yoga, and gardening. As a lockdown project, we are currently creating a butterfly and hummingbird garden in our piece of the Sonoran Desert.
Adam: I am a keen walker and cyclist, and love exploring new places on foot or by bike. I enjoy travelling to different places around the world, experiencing different cultures, geographies and habitats. I really love to read and cook, and practise yoga as much as I can.
What current conservation projects or issues most interest or concern you?
Jane: Here in Arizona, there is an invasive grass introduced from Africa, called Buffelgrass (Cenchrus ciliaris). It was introduced in a variety of locations in southern Arizona from the 1930s to the early 1980s for erosion control and livestock forage. The rapid spread of Buffelgrass is transforming fire-resistant desert into flammable grassland. Buffelgrass also outcompetes native plants for space, water and nutrients, causing them to decrease in abundance. We regularly join groups of volunteers to remove these weeds from various locations around Tucson, where we live. We work off-trail, often on rough terrain and get to see areas of the Sonoran Desert that we otherwise couldn't visit. Plus it's a great power workout! We have also found hibernating Common Poorwill and Regal Horned Lizard (my favourite herp) under grass tufts, which we relocated to safer areas with native flora cover. Usually, the pulled weeds are piled on-site and secured with rocks to prevent seed dispersal. Finally, we throw native species seed bombs to kick start the regeneration of the cleared area.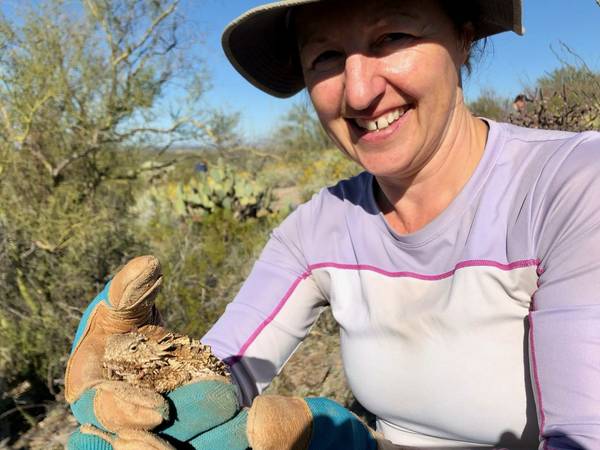 Jane with a Regal Horned Lizard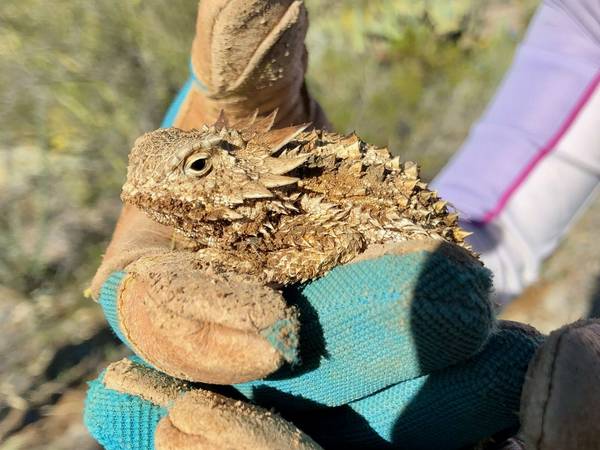 Regal Horned Lizard
Adam: Of course, global climate change is one of the most pressing issues of our time, with the potential to significantly impact both our own lives and those of the millions of species with which we share the planet. Of particular interest to me is the impact of climate change on habitat diversity and bird migration. Most of our knowledge regarding the migration of songbirds comes from birding observations made during the day, even though we now know much of the actual migration occurs at night. Here in Arizona, I run one of only a handful of stations in the western US that monitor nocturnal migration by detecting birds' flight calls – the night-time vocalisations made by migrants during flight. I hope that by contributing to this emerging dataset we can start to understand how climate change is affecting North American bird migration.
Do you have a favourite bird, mammal or plant?
Jane: The bird would have to be Osprey, because I think they are so majestic. As for my favourite mammal, I absolutely love rabbits, mostly because we kept them as pets when I was young; when we had nice weather, we even made a run for them that covered the whole garden. They were friendly, social, and all had different personalities, including Georgie who would come when his name was called. My favourite plant has to be the Creosote Bush for the smell it produces after it's been raining. I also love butterflies (especially hairstreaks), all other creepy crawlies, and herps. The list is very long!
Adam: This is a really difficult question. I'm so passionate about birds, and I love them all! But if I'm forced to choose, I think I would pick the Raven. They are incredibly intelligent, form amazing social bonds, are highly adaptable, live almost everywhere, are incredible communicators, use tools, and they can fly upside-down! What's not to love?
But if you'll allow me one more, then I have to say that I love owls! There's something incredibly special about owls, those denizens of the night. They are really hard to see, but when you do catch a glimpse, it can be truly spectacular! Arizona is one of the best places on the planet for night birds, with an incredible 18 species (including 13 owls).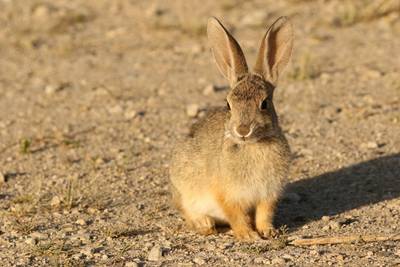 Desert Cottontail (Jane Dixon)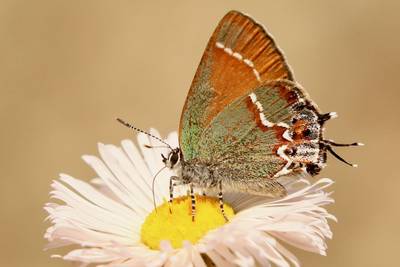 Juniper Hairstreak (Jane Dixon)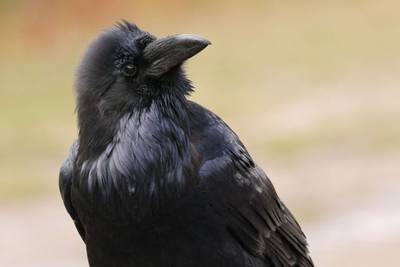 Raven (Jane Dixon)
What is your most memorable wildlife encounter to date?
We answered this question separately, but when we came to compare answers we realised we had both chosen different Mountain Lion sightings, occurring about two years apart! It just goes to show how memorable sightings are of this elusive feline – you never forget that moment when your breath pauses and the hairs on the back of your neck stand up!  
Jane: My number one moment has to be when I was hiking and birding with a friend in a California Open Space Preserve in San Mateo County. We had just set off from the car park and spotted a Coyote. A little further along the trail, we saw a tan shape by a bush a short distance away. Thinking it was a second coyote, I put my bins up only to find myself staring straight into the eyes of a Mountain Lion! The cat stayed sat down and was a healthy distance from us; it knew we were there, and it wasn't cornered, so no-one felt threatened. We came up with a back-up plan in case it approached, but it didn't, so we stayed watching in awe. After recovering from the initial elation, I remembered my camera and started taking shots. In all, we watched this amazing predator for about 15 minutes. Eventually, a couple of hikers came up behind, chatting enthusiastically, and the Mountain Lion melted away into the brush. We never saw it again, but the thrill lasted the rest of the week!
Adam: Jane and I were exploring an oak-lined trail in the mountains of the San Mateo Peninsula, south of San Francisco. While heading back towards the car, we found massive scratch marks in the leaf litter, evidence of Mountain Lion territorial activity. We carried on up the trail, chatting as we walked, when suddenly we heard this incredible snarling noise, very loud, repeated twice. Instantly the hairs stood up on the back of my neck, the adrenaline rushed, and my primeval instinct said "predator". Only a couple of seconds later, Jane and I saw what looked like a female Mountain Lion bounding away above us. We think we had approached too close to her resting place under a manzanita tree, and she had given us a verbal warning to let us know she was there. It was lucky she had had an escape route, otherwise the outcome could have been very different! We spent the next 20 minutes elated, loud, and watchfully making our way back to the car just in case she put in another appearance.

Mountain Lion (Jane Dixon)
What did you do before working for Naturetrek?
We both worked in the pharmaceutical industry for nearly 25 years, in the UK, the USA, and India. Adam developed drugs to treat diseases such as Alzheimer's Disease, multi-drug resistant bacterial infections, severe asthma, malaria, and macular degeneration, whereas I (Jane), was a scientific writer, authoring clinical research documents for pharmaceutical company submission to the Food and Drug Agency in the US and other regulatory authorities around the world. The most interesting assignment during that time was an 18-month stint in Mumbai, India, to coach and mentor new writers for an outsourcing project. A great perk was that I also got to do lots of travelling and wildlife trips!
What do you enjoy most about leading wildlife tours?
Sharing the excitement and thrill of discovery with others. The joy of seeing a client's face light up as they see or experience something new is just incredible. Every tour is different, and we really enjoy learning new things about the wildlife we see.
What new destination would you most like to travel to next?
Jane: I am on an extended mission to see and photograph as many cat species as I can, so it would have to be Borneo for Sunda Clouded Leopard or Brazil to see Jaguar.
Adam: I would like to visit Borneo's rainforests. Many of the lodges are fantastic supporters of conservation efforts, and they encourage sustainability through the employment of local people in ecotourism. This imperilled area offers remarkable biodiversity, stunning birdlife, and the chance to see some of the most secretive small cats on the planet.
What are you reading at the moment?
Jane: 'Becoming' by Michelle Obama, an autobiography by the former First Lady of the USA.
Adam: I'm reading an adventure novel by James Rollins called 'Sandstorm'.
Which three people would you invite to dinner?
Jane: Maggie Smith, P!nk, and Robert Reich. I have admired Maggie Smith since I first saw the film 'The Prime of Miss Jean Brodie' as a teenager. P!nk because she is cool and appears to have a down to earth approach to life, plus I think she would be so much fun. And Robert Reich because he is funny, a great storyteller, and can explain complex political topics so well.
Adam: I would invite Barack Obama, Brian May, and Meryl Streep. I think these three would have amazing stories, complement each other really well, and be really entertaining. Barack Obama could help us understand world affairs while telling a great joke or two. Brian May visits Tucson quite frequently to walk along Sabino Canyon and study the stars at Mt. Lemmon, and since I'm a lifetime Queen fan, his stories about the band and Freddie Mercury would be fantastic. Meryl Streep is one of my favourite actresses. She is incredibly intelligent, witty, and seems to have fun whatever she does.