Top 10 Wildlife Holidays for the Family

By

This email address is being protected from spambots. You need JavaScript enabled to view it.



Tailormade Manager
14st April 2019
After 33 years in operation, Naturetrek remains a family owned business, and in today's fast-paced world we understand that holidays can offer families unique opportunities to spend precious time together and to share lasting memories.
At Naturetrek Tailormade, we are experienced in ensuring that we offer the very best wildlife holidays for families of any age to enjoy. We believe that family wildlife holidays offer endless opportunities for children to learn from and be inspired by the world around them. Whether that be a toddler's first sight of a colourful Toucan straight out of their picture books, or a teenager discovering the complex culture of India during a Tiger tracking adventure. Wildlife holidays provide wonderful experiences for people of any age, and more often than not, will create memories that last a lifetime.
Below we suggest some of our favourite destinations that we think work particularly well for family holidays:
India is a land of mystery and intrigue and the perfect place to capture the imagination of youngsters. Tigers are the obvious draw here and the tension in the air as a deer or monkey barks in alarm in the near-presence of the big cat is an experience your children are unlikely to ever forget. Our trusted guides, many of whom we have worked with for well over 10 years, expertly encourage and enthuse the younger generation and will give your family every chance of seeing this infamous stripy predator.
There is also far more to India, of course, with a vast range of birds and mammals – as well as some of the most bustling and vibrant cities on Earth. We feel that it offers the perfect choice for a family holiday, and it was the destination of choice for Naturetrek's General Manager, Andy Tucker, when he recently took his four children aged 4 to 15 on a family holiday to Delhi, Agra and Kanha. They had this to say of their holiday: 'We would go back in a heartbeat! The sights, sounds, smells, wonderful hospitality and most of all encounters with Shere Khan and Baloo the bear, will live long in the memory.'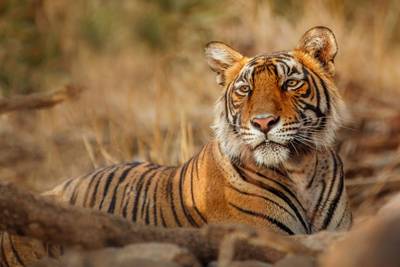 Bengal Tiger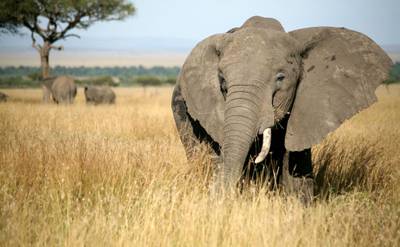 African Elephant
There can be few things more uplifting than seeing a child's face as they watch Lions, Elephants, Giraffes and Hippos running (or lazing, in the Lions' case) free. And arguably no place on Earth can compare with the number and variety of large mammals found in Kenya's Masai Mara National Park. Many of the lodges will arrange for children to take part in tailored activities, including bush crafts and guided nature walks. And by removing them from the distractions of technology, children are able to rediscover the beauty of the natural world around them.
Sweden isn't far away from the UK in distance, but it seems a world away in some respects! In a few hours you can be immersed in a family wildlife adventure within the enchanting forests of central Sweden; tracking Brown Bears, listening to howling Wolves, encountering an imposing Moose, or scouring the gentle waterways for the Eurasian Beaver. The lodges here are all set in remote and stunning locations, many overlooking lakes where swimming, kayaking and fishing are all possible, as well as the opportunity to soothe the soul in a traditional sauna.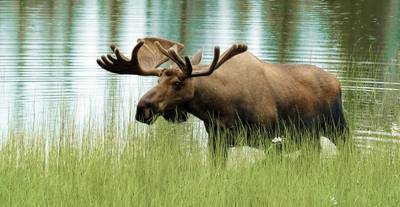 Moose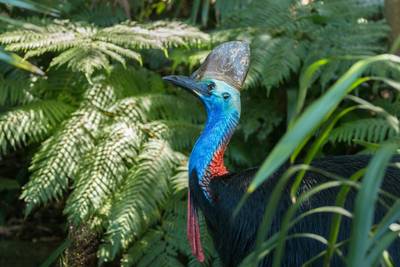 Southern Cassowary
Children's imagination will run wild, fuelled by the weird and wonderful wildlife of Australia. From Platypuses to parrots and Echidnas to Emus, the unique diversity of both species and habitats make Australia the perfect place for a family holiday. As well as the wonderful terrestrial wildlife, introduce your family to the Great Barrier Reef, the world's largest coral reef, and home to a kaleidoscope of colourful anemones, corals, Giant Clams, turtles and everyone's favourite clownfish. Many people choose to travel to Australia to visit friends or relatives, but when combined with a wildlife holiday, a visit to Australia promises the holiday of a lifetime.
Costa Rica ticks all the boxes for a wildlife-oriented family holiday: a safe and prosperous country; first-class accommodation; a lovely tropical climate; and, above all, wildlife that spills over into your consciousness. You'll never need to venture far from the lodge as you'll find iridescent hummingbirds bickering on the feeders whilst drinking your morning coffee, sloths and toucans perching on top of roadside trees, and flocks of parakeets flying over as your children splash around in the lodge pool. This is a small country which is easy and safe to travel around, and the opposite coasts of the Pacific and Caribbean offer a completely different wildlife experience.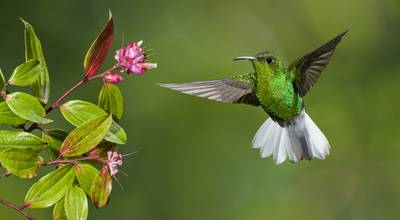 Coppery-headed Emerald hummingbird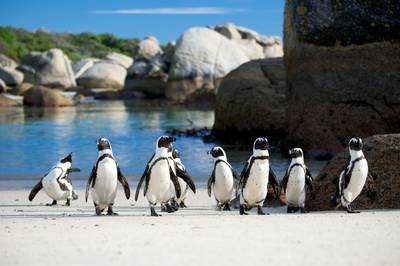 African Penguins
South Africa has a bit of everything! The enormous Kruger National Park, with its parade of famous animals such as Lions, Giraffes, White Rhinos and Wild Dogs is as good a safari location as anywhere on Earth. There's also a fantastic range of accommodation to choose from, from traditional luxury lodges, to large self-catering family units which are perfect for an extended family celebration.
The Cape also offers the chance to see tiny African Penguins, majestic Southern Right Whales and mighty Great White Sharks in the pounding crystal seas. Bursting with top class guides and lodges, South Africa is a dream destination for any adventurous family.
For families looking for something exotic and unusual, Borneo is a great choice. Children can enjoy the wonders of a true jungle setting and with our guides' help you are almost guaranteed to see the incomparable Orang-utan, as well as the bizarre Proboscis Monkey. Adventurous families might like to explore the Gomantong Caves to witness the exodus of millions of bats as they try to evade the waiting Peregrines and Bat Hawks. Other activities families may enjoy include swimming in the jungle waterfalls, exploring the canopy walkways and taking night safaris in search of nocturnal wildlife such as Colugos (Flying Lemurs), Slow Loris and Western Tarsier.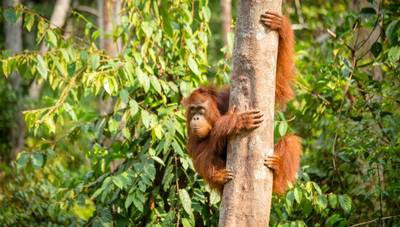 Orang-utan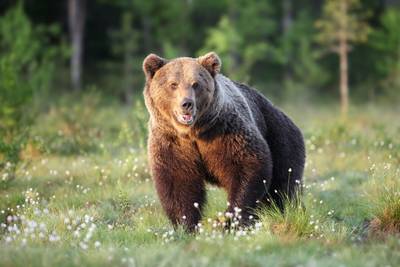 Brown Bear
In the words of the classic children's book – "We're going on a Bear Hunt." Come to Finland to repeat all those well-rehearsed phrases that are read to your children at bedtime: "It's a beautiful day. We're not scared..." but this time in search of the real thing! Brown Bears are formidable and impressive animals, and nothing quite touches the thrill of seeing them for the first time, especially from the rustic semi-comfort of a hide deep in the forest. During a short break in the summer holidays (4 days including travel) you will spend one night and one evening in the hide, making an encounter virtually certain.
This teardrop island to the south of India is teeming with opportunities for family adventures with its wild Indian Elephants, Leopards, Sloth Bears and Blue Whales, and that's just for starters! Sri Lanka has a superb range of national parks, many comfortable eco-lodges, and a definite charm all of its own which rubs off on visitors. It's not just about the wildlife though – with temples carved from cliffs and fortresses built out of boulders, the incredible history and scenery of Sri Lanka make it one of the most fascinating countries on the subcontinent for families of any age.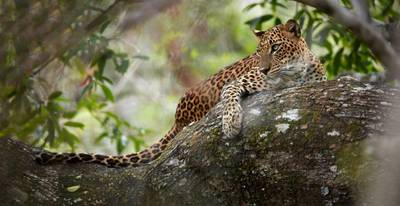 Leopard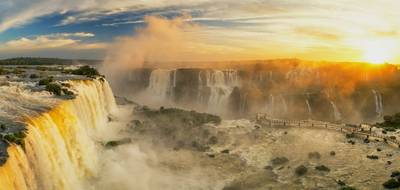 Iguazu Falls
What child will not be amazed by the scale and wildness of the Amazon? One of the world's most iconic destinations, it boasts the greatest biodiversity on Earth. This is real rainforest, with its extraordinary collection of strange and marvellous creatures, from monkeys to tarantulas! Equally amazing is Brazil's huge wetland, the Pantanal, south of Amazonia. It is the best place on Earth to see the Jaguar, often from a boat or a 'floating hotel'. Why not combine these two great experiences, and visit Iguazú Falls as well? What a way to make memories!
For a bespoke itinerary and quote for a family wildlife holiday to one of the above destinations, please call Georgie Head on 01962 733051, or email This email address is being protected from spambots. You need JavaScript enabled to view it..