The Naturetrek Reserve in Ecuador

By

This email address is being protected from spambots. You need JavaScript enabled to view it.



Operations Manager
17th May 2019
Here at Naturetrek we have been encouraging our customers to offset their carbon emissions from flights since 2000, and since 2007 we have been making contributions at our own expense. The World Land Trust and its Ecuadorian partner, Fundacion EcoMinga, use our funds to purchase and protect critically endangered cloudforest in the Ecuadorian Andes, and over the years we have slowly but surely built up our own 'Naturetrek Reserve', creating an invaluable forest corridor linking the Sangay and Llanganates National Parks. In 2018 our protected area reached 1,389 acres … twice the size of the City of London!
This threatened cloudforest corridor was classified by WWF as one of the 200 most important wildlife corridors in the world, due to its high levels of biodiversity. It is full of locally endemic plant species, and rich in Andean species such as Spectacled Bear, Mountain Tapir, Cock-of-the-Rock and Giant Antpitta. We are very excited that species new to science have been discovered within our reserve, including two new frogs!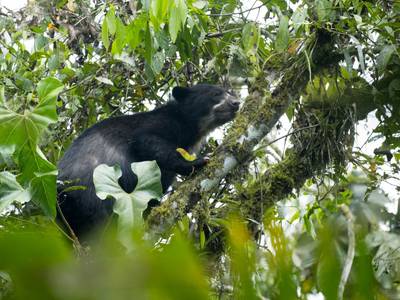 Spectacled Bear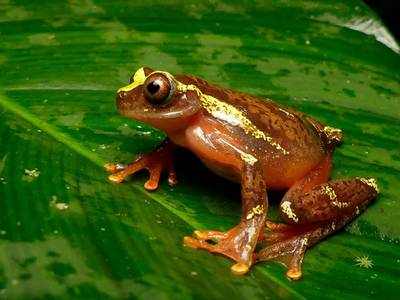 Dendropsophus sarayacuensi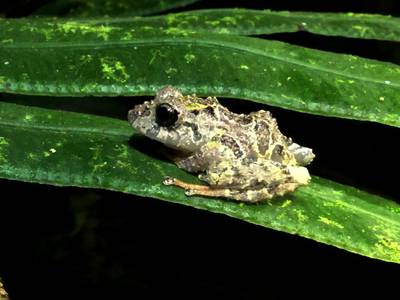 The Naturetrek Frog (Pristimantis sp.)
In 2019, we will be donating £15 for every long-haul flight and £5 for every short-haul flight booked by our customers to the World Land Trust. Over the year, we hope to generate £40,000, which will enable us to protect a further 200 acres of cloudforest. In addition, we have made this project our latest pledge as part of AITO's Project PROTECT, which you can see online here.
If you have booked a tour in the last month, our reservations team will have asked you if you'd like to match our donation to further reduce the environmental impact of your holiday and increase the size of our reserve. By matching our donation, you will be helping us to grow our reserve, both locking up carbon that would otherwise be released into the atmosphere, and preventing the national parks from becoming isolated cloudforest islands, thereby protecting this valuable, extremely biodiverse habitat and its endangered wildlife. If you offered to match our donation, we greatly appreciate your generosity, thank you!
To find out more about our reserve and our work with the World Land Trust and EcoMinga, please visit our dedicated webpage or email This email address is being protected from spambots. You need JavaScript enabled to view it..