An entry to our 2019 Writing Competition, Gill Burgess travelled on our 'The Falklands, South Georgia & Antarctica' tour.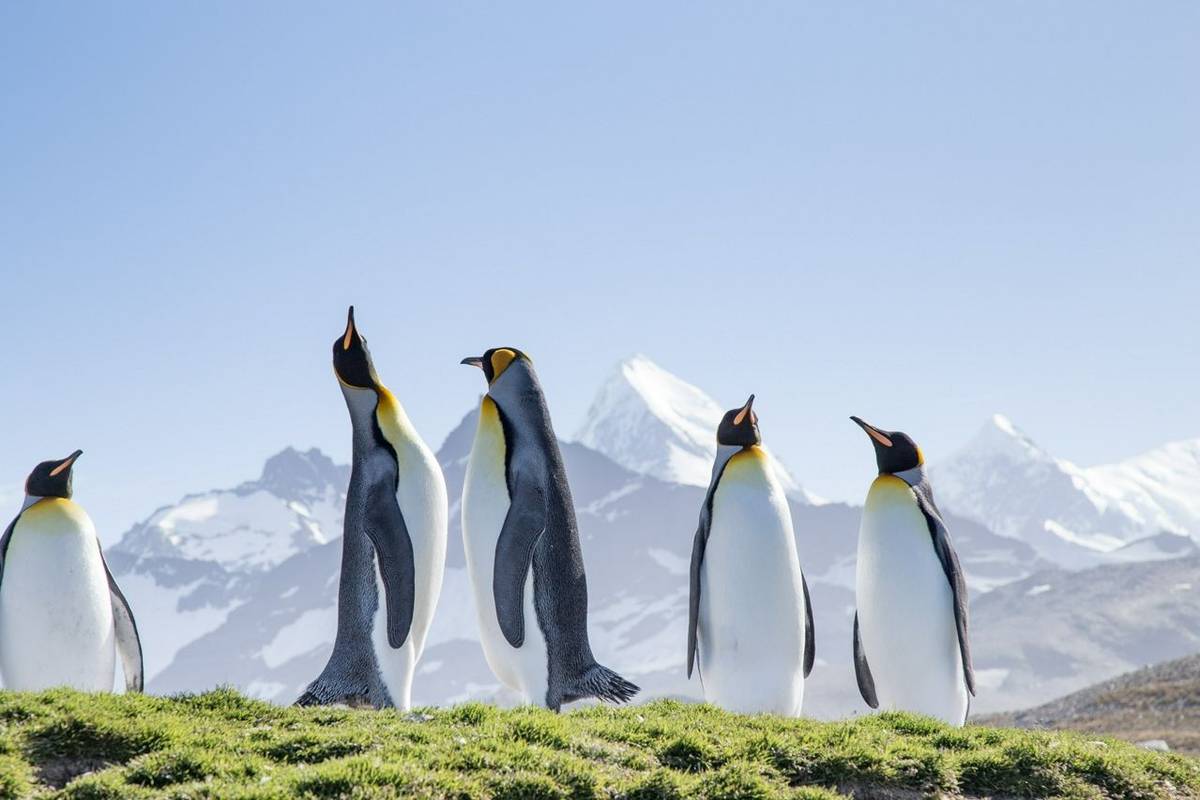 Early morning, a hint of sun behind the mountain ridge as our zodiac approaches the beach. It has become a familiar sight over the last few days – white dots as far as the eye can see become penguins as we approach, and King Penguins as we get closer still. The brown lumps on the beach we know will be fur seals, whilst the larger, lighter-coloured rocks will turn into young elephant seals, piled all around and on top of each other. As the zodiac beaches and we paddle through the shallows we are greeted by a pair of young bulls exercising their head muscles and flippers in a jousting display, the best we've seen yet, before they run out of energy and flop down again! The fur seal pups are doing their usual thing; to me they seem for all the world like baby lambs, "gambolling" around on their flippers, curious about everything in their brave new world, crashing into their friends and feeling the pure joy of this Antarctic summer morning; mum is close by if needed and, unusually, these females seem more curious than aggressive in this most beautiful of places.
At the end of the beach, the crossed red poles mark the extent of our permitted exploration, so we pause in front of the iconic vista – massed penguins (around 25,000 pairs?) as far as the eye can see and, above them, the huge hanging Bertrab Glacier coming down from the jagged peaks so typical of South Georgia. Later, someone takes our photo standing in front of this impressive sight.
Then, we wander slowly back along the beach, surrounded by families of King Penguins, occasionally curious about these strange-looking creatures who have appeared amongst them, but generally simply going about their normal business: into the sea to feed and wash, coming back to feed their growing chicks, socialising in various groups and striking the classic poses we have long been used to seeing on TV documentaries, photos and even greetings cards – or just resting to conserve energy during their long moult! We are lucky enough to spot both South Georgia Pintails and Pipits, recovering in numbers so spectacularly since the eradication of rats from the island. The giant petrels, clumsy on land, yet so graceful in flight, and the ever-present Subantarctic Skuas on the lookout for an easy meal complete the picture, along with the hordes of Snowy Sheathbills doing their unmentionable clean-up job with the penguin poo! We can only marvel at the privilege of being part of this, trying to blink away tears of emotion: sadness that we have to travel to the end of the earth to see Nature in such perfect harmony; fear that even this paradise may not be safe from human encroachment; knowledge that we may never again feel so blessed – and, above all, hope that we never forget this morning and this feeling!
The sight of our ship in the bay comes as a shock, but even so, it isn't a monster of a cruise ship; we could almost imagine we have landed with Scott, Shackleton or even the fur traders and whalers of the last century. It's only when back on the zodiac I realise that, not once, have I felt the need to use binoculars or a camera; today's memories will be stored in an altogether safer place.  
Read more about our 'The Falklands, South Georgia & Antarctica' holiday.