Cath Allwood travelled on our 'Spitsbergen - Realm of the Polar Bear' tour and submitted this entry to our writing competition.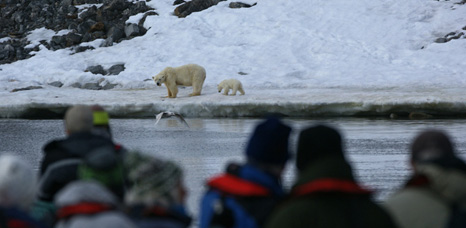 Mother & Cub by Cath Allwood
A couple of years ago, the only Svalbard we knew was the fictional home of the armoured bears in Philip Pullman's magical book Northern Lights - and suddenly here we were, setting foot in that mythical land. And the real Svalbard turned out to be much more wonderful.
"Big" birthdays demand big holidays so we plumped for a polar bear trip; we did our research and found Naturetrek's cruise. We left Heathrow on a hot summer's day in late June, carting our waterproofs, wellies and woollies, and set off for the Arctic. Flights to Tromso at the top of Norway and then on further north to Svalbard's capital, Longyearbyen, took most of the long summer day – we landed at 12.30am, dazzled by the bright clear rays of the midnight sun.
We tumbled into bed, too disorientated and excited to sleep much, joining our ship, 'Antarctic Dream', next day. We set sail and cruised out into the open water around the largest island, Spitsbergen. The air held a tinge of ice as we gathered on deck for lifeboat drill, clumsy in big orange lifejackets, struggling with tapes and zips. This was serious stuff; a couple of minutes in the freezing Arctic sea would finish you off.
Every day brought a magical experience. A cruise in small rubber Zodiac boats through satin smooth billows took us past a flotilla of eider ducks – including king eiders - and there was great excitement at our first sightings of grey phalaropes in their lovely rusty summer plumage, rummaging around on the shoreline.
Walruses are easy to find as they have regular haul-up beaches where they bask; we approached them cautiously in case we spooked them and caused a stampede which might crush the babies. They seemed very tranquil, gently burping and dozing in the 24-hour sunshine. We also met two as they surged about in the sea; it was an awe-inspiring moment as they swam over to have a look at these strange two-legged creatures invading their habitat. We stood, hardly daring to breathe, as they came closer and closer – two species checking each other out. They gave us a good inspection, puffing though their whiskers and blushing a delicate rose colour, and then were off with an effortless flip of a fin. Our guide, Tim, told us that they blush to cool themselves off when they emerge from the sea – although it seemed pretty chilly to us humans, unprotected by thick layers of lovely blubber!
A sunny morning saw us out in the Zodiacs again for a fun, noisy journey along the foot of basalt sea cliffs which are home to thousands of Brunnich's guillemots. As we approached, hundreds of them flew low overhead, calling their donkey brays to each other and the sky was full of little torpedo shapes; every shelf of rock was jostling with these cute little black and white auks. They seemed untroubled by our boat bobbing around on their doorstep, and the click-click-click of our cameras went unheard in the riotous squawking and honking of the seabirds.
As the day wore on, we were caught in a sea mist at the edge of a glacier where fantastic sculpted icebergs loomed suddenly out at us. The 'Dream' (our vessel) was out of sight, the only communication by staccato bursts of radio and we felt like castaways on the huge Arctic Ocean. Needless to say, our leaders knew exactly where we were and steered the Zodiacs nonchalantly back through the fog to safety and afternoon tea on board, but we still felt like intrepid explorers, giving our hot cuppas and biscuits a very special savour.
A walking expedition took us to where Sabine's gulls were nesting; these beautiful gulls have a distinctive black and white wave pattern on their wings. Arctic terns were everywhere, hovering like kestrels as they fished and, as it was nesting season, feistily dive-bombing anyone who strayed too close to their eggs, hard to spot amongst the pebbles of the beach!
And yes, we saw the polar bears: seven of these beauties over the week, including a mother with her new cub. She was sighted dining off a beached whale carcass on the edge of a fjord; we approached gingerly in the Zodiacs and then floated quietly with the engines off. The mother bear swam down to find meat for herself and the cub, shaking herself like a huge white dog when she emerged back on shore where the cub sat patiently waiting, surrounded by glaucous gulls nearly as big as he was. You could have heard a pin drop in the boats, everyone enraptured by seeing these wonderful animals in their own environment. Blue northern fulmars floated near us, Arctic terns hovered overhead and 80 human beings sat silently, hardly believing our good luck.
Read more about our 'Spitsbergen - Realm of the Polar Bear' holiday.