Lesser Spotted Woodpecker
Staff Day Trip: New Forest & Keyhaven
After months of cancelling tours, our morale has been lifted by the ongoing success of our Day Trips. We have operated over 350 individual dates so far this year to 79 different destinations across the UK and are delighted our Day Trips continue to be so warmly received, keeping us busy. Being a member of the reservations team, I have been occupied processing booking transfers, sending out joining instructions and feedback requests for our Day Trips, all of which look so inviting. So, when the office team were invited to join a local day trip, I jumped at the chance. The thought of a break from sitting at home on my own in front of a screen, to be amongst nature and friends from the office I hadn't physically seen for over a year, was not an offer I was going to turn down.
Our day was to follow exactly that which our clients would experience; as Byron was to be our leader our starting point was the New Forest. All of us were eager to get outdoors and we all arrived early and were all smiles, so pleased to see each other again. Byron, who I also hadn't seen for nearly two years, was the same enthusiastic, smiley self. It was so lovely how we all slotted back together again, as if we hadn't been apart.
The day was chilly to start but with the sun burning away that initial freshness we headed off into the New Forest. True to form, within 15 minutes Byron had introduced us to a Lesser Spotted Woodpecker – I've not seen one in the UK before – could the day get any better?

The heaths rewarded us with Dartford Warbler and Stonechat. In the distance, on what I believe to be a regular perch, was a distinct Buzzard showing its very pale breast, so easy to pick out against the immense blue of the sky.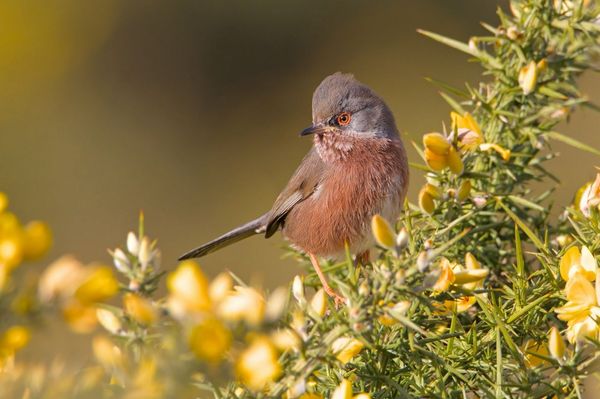 During our walk we also encountered the well-known New Forest ponies, a leech in a pool and something I've never seen before, strikingly bright Bog Beacon fungus. After watching a Common Lizard taking a snack of a rather large spider, this signalled the time for us too to have a break for lunch.

Back at the car park picnic site, we had a welcome sit-down, where after scrutinising each other's packed lunches, we ate and caught up on how we felt about the past year and what the future weeks and months might bring. Such a simple thing – socialising, whilst lunching together – has been greatly missed since working remotely. A quick use of the facilities and we headed off to the coast, away from the now busier forest.
After arriving at Keyhaven (approximately half an hour by car) we set off, walking along the Solent Way, amongst a cacophony of seabird calls, the sea to our right and the highly active marshes and pools on our left. On the seashore we got our first major spot, a Peregrine on a post – again a great start!
It was the pools and marshland that gave us the greater variety, with species such as Avocet, Snipe, Black-tailed Godwit, Ruff, Northern Pintail and Shelduck.
Before retracing our steps, we turned inland, where we glimpsed a Whitethroat in the short trees near the reedbeds, which themselves were bustling with Reed Bunting and Reed Warbler, whilst swooping overhead was a whirl of Sand Martins.

We returned along the shore and enjoyed great views of Curlew, Redshank and Oystercatcher amongst others. Back at the start Byron, in true expert style, checked his watch and said "a bit early for Marsh Harrier" then, about 10 minutes later, there it was, arching across the reedbeds, shortly followed by a Sparrowhawk! This brought my count of raptors for the day to five, if I include the now common sight of Red Kites overhead on my drive down.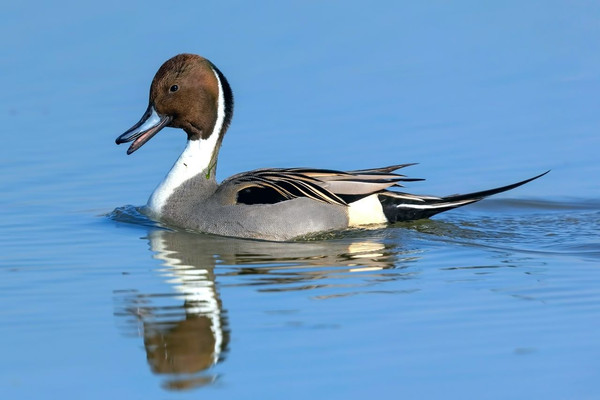 Throughout the day our group of six rotated around, so we all got to have a good catch up with everyone, and because it was a two-location day trip, it felt like we had experienced two days of practised birding with Byron rather than one (my legs felt like they'd walked for two days too – more used to sitting at a desk!).
The joy of being outdoors with the warmth of the sun, the bird song, the great views, terrific company and the expertise of Byron, was immeasurable. It gave us all a greater understanding of how our Day Trips operate and an appreciation of how we need to continue to help protect these areas of outstanding nature.