It's a balmy, pleasant morning and at 6.30am it's still no less than 20 degrees Celsius. As the waves crash onto the sandy beach, Carib Grackles are calling nearby while colourful Bananaquits are squeaking around the bar area waiting for their morning supply of sugar!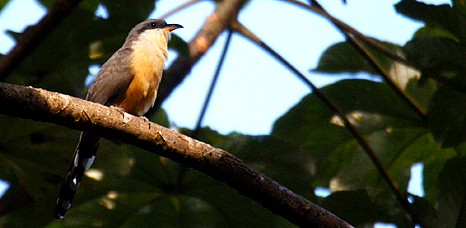 Mangrove Cuckoo (Ed Drewitt)
This week 10 clients, plus myself as tour leader, have been exploring the island of St Lucia in the Caribbean. We've been up into the rainforest searching for the island's endemic birds and we've managed to see at least 10 rare St Lucia Parrots, the bright yellow and silver-grey St Lucia Warbler, the St Lucia Oriole, the St Lucia Peewee and the St Lucia Black Finch.
Meanwhile, out at sea we met a school of 50 to 100 Pantropical Spotted Dolphins who came and joined us. As we dangled our feet over the bow the dolphins were only a metre away, while the odd Spinner Dolphin did just as its name suggests and jumped out of the water, spinning like a cork screw as it went! We also caught up with four species of gannet: Brown Booby, Masked Booby, Red-footed Booby and even a Northern Gannet, while the endangered Black-capped Petrel put in a brief appearance as it flew past the boat. Turtles have put in brief appearances including Green, Loggerhead and a possible Leatherback Turtle.
While the group has been relaxing in the afternoon heat, many have been snorkelling and finding an array of colourful fish from Blue Tangs to various parrot fish. Yesterday afternoon there was even a Green Turtle to snorkel with as it fed on the algae bed.
With just two days to go we're off to drive into a volcano today! ... followed by a visit to the botanical gardens. Tomorrow morning we have an early stroll behind the hotel to catch up with some more of the local specialities that St Lucia has to offer before we bid farewell.
To find out more about our 9-day St Lucia holiday please visit the tour webpage.