A customer travelled on our 'Sri Lanka's Elephants & other Wildlife' holiday and submitted this entry to our writing competition.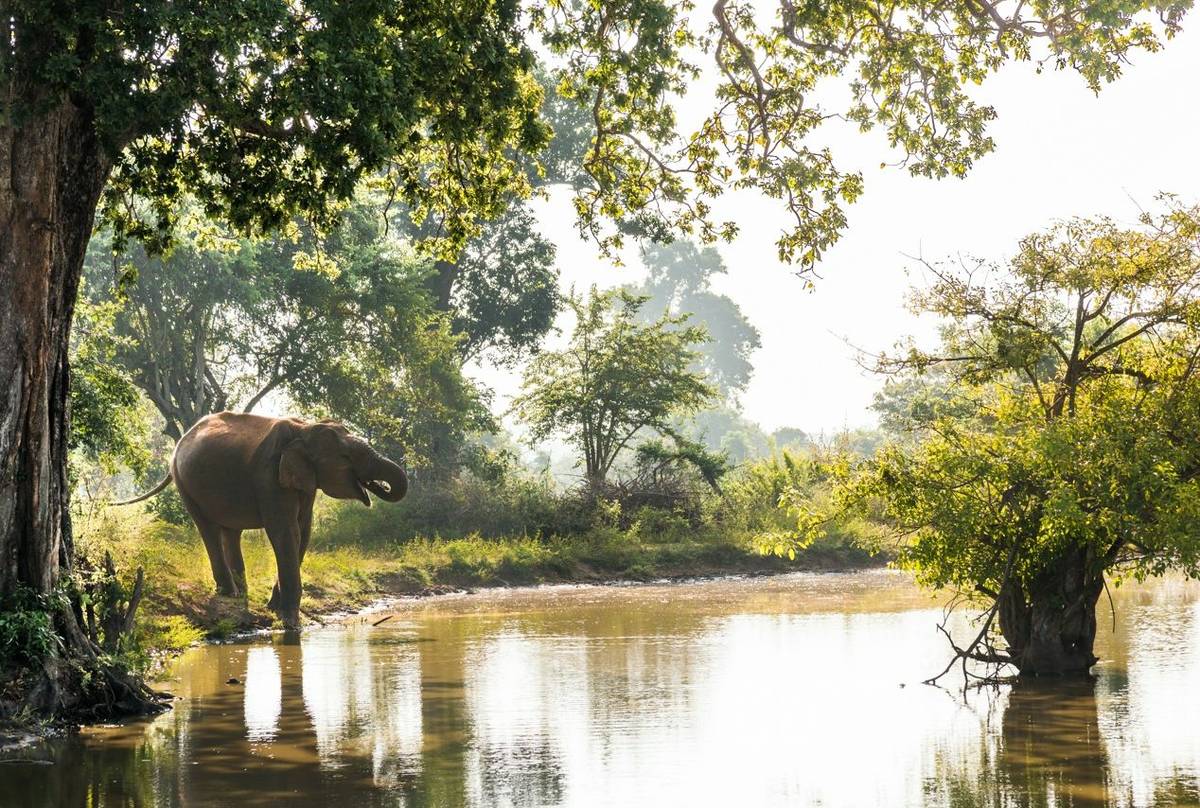 Elephant, Sri Lanka
As befits its name, the Wet Zone of the south-west quarter of Sri Lanka more than lived up to this title. The same cyclone that gave Chennai and the Coromandel coast a hard time at the end of October and beginning of November provided a new meaning to the word 'rain' over the three days we were staying at the Blue Magpie Lodge, situated at the edge of this incredible Biosphere Reserve. To be fair, the whole of Sri Lanka was subjected to a deluge of rain, in many places leading to flooding, but in Sinharaja we had more than 40cm in this short time. Undeterred, we and our excellent, unfazed leader fought through the heavenly stair rods with robust umbrellas and anti-leech socks and were rewarded with unbelievable scenery, biodiversity and endemism. The montane landscape, thickly cloaked in forest, much of it primary, contained a magnificent tree structure, 65% of which are endemic species (especially of the Dipterocarpaceae family), some in excess of 40m in height. Below this canopy there were smaller trees, a wonderful shrub layer both on the ground and growing epiphytically, a plethora of Pteridophytes, ranging from tree ferns to diaphanous filmy ferns, the latter growing on the boles of large trees.
On our first day we were greeted at 6am by the whistling call of the changeable hawk eagle only 20m from the dining area of our lodge. It seemed immune to the torrential rain, and its piercing cry penetrated the early morning gloom, before we actually saw the bird. On arrival at the Research Centre of the forest, we soon saw a pair of the exceptionally rare scaly thrushes only 4m away, who gave us a full 15 minutes of their time, demonstrating their forest floor foraging behaviour. Their evolved large eyes, for coping with the poor light in this habitat, were striking. Soon the powerful silence of the rainforest was punctured by a mixed feeding party of red-faced malkohas, Malabar trogons, black bulbuls, dark-fronted, orange-billed and Indian scimitar babblers and ashy-headed laughing thrushes, all orchestrated by crested drongos. This strategy of collective feeding is presumably biologically advantageous. Occasionally we would hear the low-pitched notes of purple leaf monkeys. The rain continued, at times intensifying and in places rendering the paths awash. To avoid the larger puddles, our downwards directed eyes revealed two interesting invertebrates. First a huge earthworm nearly 0.5m long, blue-grey and hoovering up forest floor detritus. The second creature was a freshwater crab crossing the path; it appeared somewhat incongruous at 1000m above sea level!
Thankfully the rain did ease at times allowing stunning butterflies to emerge such as the tree nymph and the rare red-spot duke. During the evening meal the rain exceeded its earlier vigour and within 10 minutes, clouds of winged termites appeared, attracted to the lights of the dining area. This kept the house geckos and several bats happy for half an hour.
Next day we saw five blue-winged magpies with their surrealistic bright blue and chestnut plumage and equally vivid scarlet bill and legs. These amazing birds alone made the trip worthwhile, although the botanical rivals for me were the 15cm deep pitchers of Nepenthes distillatoria. Large (6cm) snails were sometimes seen in groups attached to small trees, occasionally grazing on lichens.
After another excellent lunch at the lodge, we had a local very wet walk at the edge of the reserve and were rewarded with good views of a green-billed coucal and a spot-winged thrush. A splendid 16cm black and white millipede was most impressive.
A final walk gave four more endemic birds – Sri Lankan hanging parrot, Layard's parakeet, yellow-fronted barbet and Legge's flowerpecker. As we were returning to the lodge, a pair of black-rumped woodpeckers afforded us superb views by flying into a tree 15m in front of us.
The biological wealth of Sinharaja is almost overpowering and we felt both enriched and humbled by nature - including the rain and leeches!
Read more about our 'Sri Lanka's Elephants & other Wildlife' holiday.