Trevor Cherrett travelled on our 'Romania's Danube Delta & Carpathian Mountains'  tour and submitted this entry to our writing competition.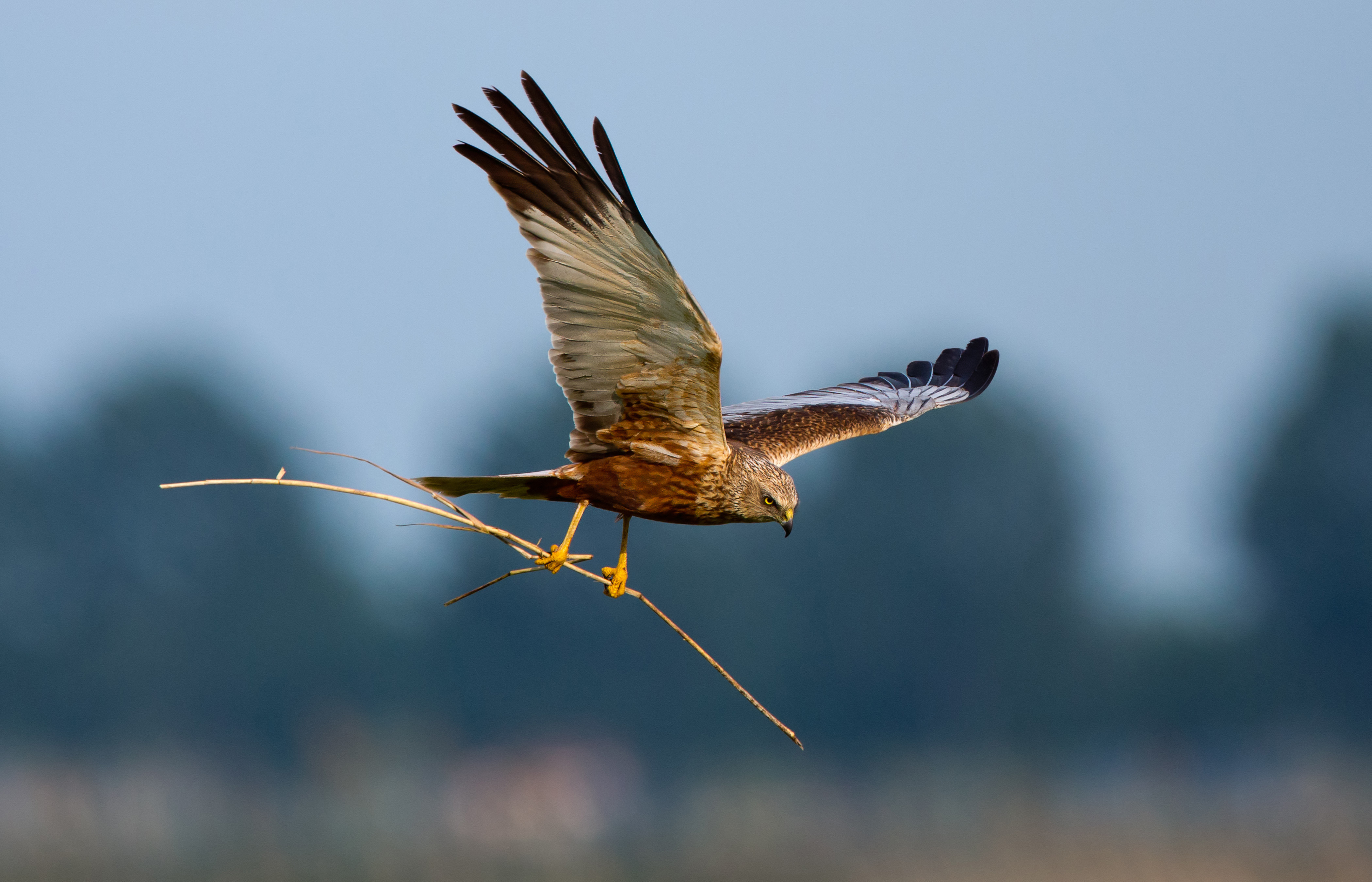 Marsh Harrier
It's not often I get to see a Red-backed Shrike, let alone one that flies towards you and sits up on a bush just 10 yards away; and I've never before seen a Wallcreeper, so busy feeding off the insects in the crevices of the limestone gorge that he ignores the birding paparazzi following his every move; nor a Little Bittern, also so engrossed in devouring a Marsh Frog that he seems oblivious of the 16 nature-watchers on the foredeck of the passing  boat …
I am on Naturetrek's 10-day Romanian tour, starting in the foothills of the Carpathian Mountains. On a cool, clear morning, light clouds tippling over the limestone crags, our sharp-eyed expert guides Jason and Laurentio point out White Wagtails, forming a regular chorus to a star line-up of Nutcrackers, Water Pipits, Whinchats, Eurasian Jays, Buzzards, the much esteemed Black Woodpecker, and many more.
But it's not all about the birds. A variety of Wall Browns and fritillaries dance by, while  eyes cast downwards pick out small lizards, toads, and long-horned beetles. Through the trees we spot a woollen-cloaked and hatted shepherd off the set of Sherlock Homes Meets Robin Hood, except that he has real guard dogs who gun for the two mongrel sheepdogs tagging along with us. They all yelp and roar off down the wooded slopes. Later, from a wooden hide reached by a rickety planked bridge over a stream, we watch Brown Bears feeding in a forest clearing. The spirit of Transylvania is further invoked by a visit to the hugely atmospheric Bran Castle, the inspirational location for Bram Stoker's Dracula – and for modern-day tourism of the more extreme kind!
Time to head down to the Danube Delta. At Tulcea port our boats await, with a chance to relax on deck with a beer before sundown and watch the Whiskered Terns patrolling the river. Tulcea is home to an extended fleet of houseboats, tour boats, tug boats, passenger boats, motor boats, fishing boats, rowing boats, and even an historic naval paddle boat, all hugging its long quay on an outside bend of the Danube. Meccano-like shipyard cranes keep a watch in the background, as does  the Romanian Navy further downstream.
Next morning the plan is to set off in the 'day-boat'. But when, half an hour later, the engine suddenly dies, Plan A looks uncertain. Spirited attacks in the engine room with wrenches, curses, and even blow torches are to no avail. As a motor boating enthusiast myself, this looks and sounds all too familiar. No matter, Plan B is soon put into place. The 'tug-boat' will tow us in the 'houseboat', and we will transfer later to the repaired day-boat. No problem.
And no problem it is. Back down the main Sulina Channel we go, spotting Red-footed Falcons, Marsh Harriers, a White-tailed Sea Eagle, and high flights of white Pelicans. After lunch we are back in the by-now repaired day-boat to explore the wider Delta, a vast maze of smaller channels and lakes flanked mostly by reeds and willows. The bird count is phenomenal. Squacco, Purple and Night Herons note our progress, and Pygmy Cormorants man the posts. Kingfishers zing blue along the banks. Caspian Terns, Spoonbills, and waders of all kinds feed or doze in the lakes.  A shy crake chick scurries over lily pads to avoid our prying binoculars and clicking cameras, scattering a small shoal of rosy-finned Rudd.
Fishermen are everywhere, zooming up and down the channels in overpowered boats, camping on the shore with lines of rods, or hunched up in rowing boats. On the off-chance, I have brought my little portable spinning rod. With a little help from our enthusiastic crew I manage to catch a couple of jack pike, despite the alarming attentions of a swimming Dice Snake which provokes a shriek from one of the cabin crew. But the pike provides a tasty supper, and I feel that I have captured the flavour of the Delta in more ways than one.
Finally we head southwards to the vast rolling hills of the Babadag Plateau, populated by new forests of wind farms as well as old forests of limes and chestnut trees, home to turtles and eagles. Paddling along the warm surf of the Black Sea shore we spot a rich variety of gulls, terns and waders.
Thanks to our brilliant guides we have, in less than 10 days, seen an astonishing array of species within three distinctly different landscapes, habitats and cultures. We have been very lucky, and we know it.