An entry to our 2019 Writing Competition, Jane Fenton travelled on our 'Brazilian Pantanal & Iguazu Falls' tour.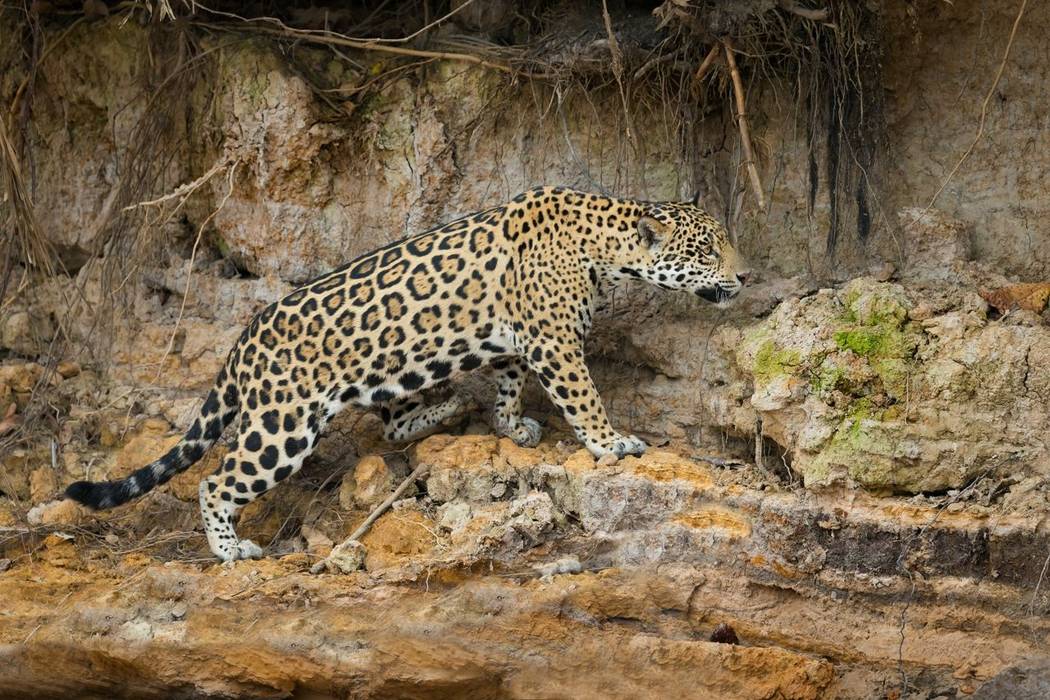 I am a much travelled octogenarian wildlife conservationist, independent by nature, but nevertheless somewhat apprehensive at travelling alone with an unknown group of 12 to the wilds of the vast Pantanal in Brazil, including a final visit to the magnificent Iguazú Falls at the tip of the country spilling over into the Argentine. I asked for assisted travel, which is a huge help for all those over 65, let alone 80.
The first invaluable assistance came through Naturetrek itself who took the trouble to put me in touch with a fellow passenger travelling on LATAM, the Latin American airline (the other 10 having chosen to fly with British Airways) which enabled us to find our way together through São Paulo for the onward flight to Cuiabá.
As I set off by coach from Cambridge to Heathrow on the afternoon of the 24th September, I spied two Magpies hopping around together, "one for sorrow, two for joy" as the saying goes, was the first good omen for what turned out to be one of the best trips of my life, and I have done many.
I managed to arrive with the help of assisted travel in a wheelchair (I prefer the buggies) without being noticed as I was embarrassed at the thought of horrifying the fellow passenger I was about to meet on the flight. He was sitting on the same aisle slightly in front of me and soon came over to introduce himself as Jon, from Norfolk. As he had already told me on the phone how old he was I was not surprised to see him reading a kindle and using an I-phone; I simply had a good book as I like turning pages, plus an unsophisticated mobile.
When we finally arrived at our destination the following morning, I managed to get off the flight before him and waved away the man waiting with a wheelchair for me, which turned out to be a near fatal mistake as we became totally lost at São Paulo airport trying to find our way. In the end poor Jon dashed off to find help and came back with a wheelchair which he had to push himself since they were short-staffed. Meanwhile I had been guarding our two suitcases, which were fortunately on four wheels, so I held on to them either side as he pushed me along. We certainly attracted a few strange looks, but did catch the right flight.
We were met by a bus covered in red dust which took us to the entrance for the Pantanal, where we transferred to an opened-sided vehicle with a roof for the long drive along the dead straight Transpantaneira Road to the SouthWild Pantanal Lodge. We were surprised that the rains had just started (first for the season) which dampened the red road so there was no dust – what a relief. We were already seeing new birds and mammals (I was enchanted by the beautiful Capped Heron soon followed by a pair of Capybaras with three adorable babies by a green pool of water). They are related to rats, but the size of a pig, and love to swim. We finally arrived at dusk, very weary, but thrilled with what we had seen so far.
My trustworthy alarm woke me at 5am and I immediately met our guide Miguel in the grounds who whispered to me to follow him round the corner to see a pair of the wonderfully symbolic Toco Toucans, made famous by the Guinness advertisements, perched in a tree close to the Lodge. It was the first of many more breathtaking moments and gave me a flying start to a good morning on the Pixiam River in two boats, picking up many more new birds, special stars the Agami Heron and the Sunbittern flying; but they are all gorgeous in their colourful ways, including the small black and white Amazon Kingfisher landing on our boat awaiting a tiny fish given to it by the boatman. He also occasionally threw a larger fish high into the air for a watchful heron and Great Black Hawk on either side of the river, but as they both zoomed down the cheeky little kingfisher invariably got there first.
We then moved on to look for our first Jaguar which sometimes appeared in an inlet off this river. We were very fortunate on arrival to have a spectacular view of it dragging its recently killed Capybara to a safer place out of view. We learned later that this particular Jaguar had cubs to feed. We were so lucky to experience this alone without the flotilla of boats we were later to see following Jaguars hunting along the banks and sometimes swimming too. Their unfortunate prey was most often the comical Capybara as they, too, like water. They are often seen in groups looking rather like a Parliament (!) but they are wary and we never witnessed another kill, which are instant since Jaguars have immensely strong jaws and are the only cats to jump on the back of their prey and bite them behind the head. We zoomed back to the Lodge drinking celebratory cans of beer watching the sun go down. It had been another long, hot, wonderful day.
The following morning, I was woken by the very noisy Chaco Chacalaca, which I nicknamed the 'talk-a-lot' bird. We were leaving today for the Flotel which entailed another drive along the dusty Transpantaneira Road and a boat ride. It was from here that we saw Jaguars every day, sometimes watched by as many as 20 boats, all of which they totally ignored. They are beautiful beasts, which are the main reason that thousands of visitors go to the Pantanal and will hopefully encourage the Brazilian government to look after this fantastic reserve. By now our guide had realised that we enjoyed peaceful encounters and we had one wonderful hour with a tropical Giant Otter family in a backwater, squealing and playing with each other.
There is so much more to tell, but I hope I have tempted you to make a visit to this unique place with so much to offer. We were looked after by brilliant guides throughout, ending up in an excellent hotel in the midst of a forest with every facility for weary travellers, including dinner served at the table and a luxurious swimming pool. This particular tour included a visit to the magnificent Iguazú Falls on the Argentinian border the day before we travelled home, which I thoroughly recommend. My final memory was the extraordinary sight of Great Dusky Swifts flying THROUGH the waterfall to their nests behind (the wiser ones went around the edge).
Thank you Naturetrek, it was worth every penny!                  
Read more about our 'Brazilian Pantanal & Iguazu Falls' holiday.