Doug Yelland travelled on our 'Chile - Just Pumas!' holiday and submitted this entry to our writing competition.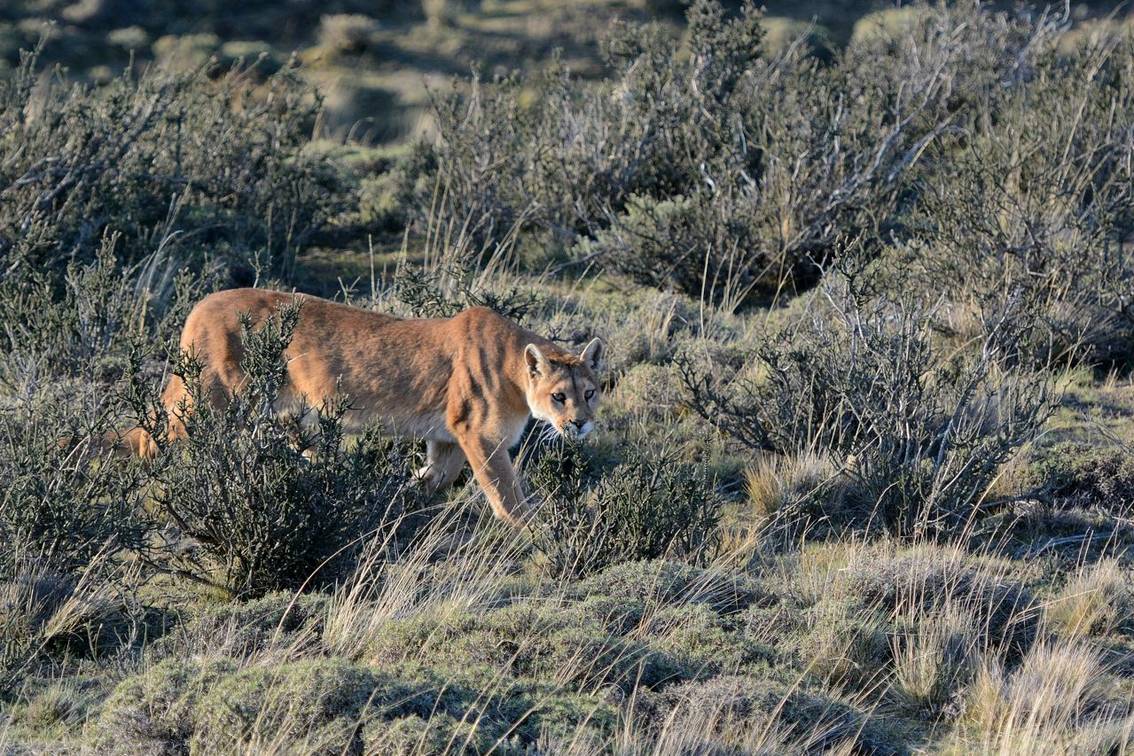 Puma, Torres Del Paine by Helen Pinchin
Late afternoon we set out across the Patagonian Steppe towards lake Sarmiento, with the usual snow-capped massif in the background. We set up scopes and cameras to view a large open area where it was thought possible that a puma might be leaving rocks and caves near the beach and heading for the hills. A mother and cub had been reported in the area. Once again the group set up with Roberto, while Enrique was checking other areas nearby. They were in radio contact.
No sooner had we set up than we were hurriedly called away by a radio message from Enrique. He had spotted a puma mother and small cub. We soon hurtled, slightly down hill, the 600m or so to join Enrique. There was a very stiff breeze coming off the lake and it was late afternoon light, but still quite bright. The two pumas were scoped at leisure for several minutes. No they weren't, we were shaking with excitement, but the pumas were sitting still, in good view at about 150m, down a slope and across a flat area towards the beach, sitting amongst vegetation equivalent to scattered gorse.
Enrique wasted no time in instructing us as to how we could effectively make a group approach to secure closer views. None of us was about to object to this proposal. The six, plus Enrique were to walk in Indian file, very close, and to slowly advance in a zig-zag line. The Puma was to be given only one object, the clumped seven, on which to keep its eye. This made good sense. The approach succeeded except for the fact that, as we dropped to the lower level, most of the mother and all the cub could not be seen because of the height of the vegetation. We must have already had visual contact for 15 minutes, when the pumas left their seated position and trotted along the rocks at the back of the beach. In the stiff wind, with white horses in abundance, it felt more like we were on an ocean beach than that of a lake. My Canon XM1 camcorder had several minutes earlier replaced my telescope on top of my tripod. It was difficult to make the necessary adjustments, but soon the mother puma was in full view on a 3m high rock step about 100m along the shore. It was a wildlife moment of moments. The cub was somewhere hidden amongst the rocks, not to be seen again.
Over the next 15 minutes, with the mother always in full view and looking relaxed, Enrique's approach method was deployed in two further stages. We were eventually viewing, filming and photographing the Puma from a range of 30-40m. Standing on uneven rocks in a very stiff breeze made filming very difficult even with a tripod. It needed holding down. So did we, such was the level of excitement! Self-control did the trick. The late afternoon light was turning into dim evening light. The Puma was in shade but not dark. We held this position for five minutes before our orderly withdrawal left the mother sitting near where she had been for the previous 15 minutes.
I need hardly say that elation was evident across all sections of the group as we got back to the minibus. We had experienced sustained full views of the type we had dreamed about before the trip but which, after what was now 2.9 days of very hard trying, we were beginning to think we might never get. We took some photos of the sunset and moved off in the bus.
Within five minutes of setting off a circular route home, not only had we first spot- lighted a South American Snipe flying alongside us and on the ground, but another mother puma with a much bigger cub was in the spotlight, on a bank 30m from the bus. They walked off over the brow, but not before Ian had captured a very decent photo of the two. Roberto was very adept with the spotlight and its power was effective. What a difference a couple of hours can make to a wildlife holiday!
Read more about our 'Chile - Just Pumas!' holiday.