Colin Brown travelled on our 'Wildlife of Kenya's Masai Mara' holiday and submitted this entry to our writing competition.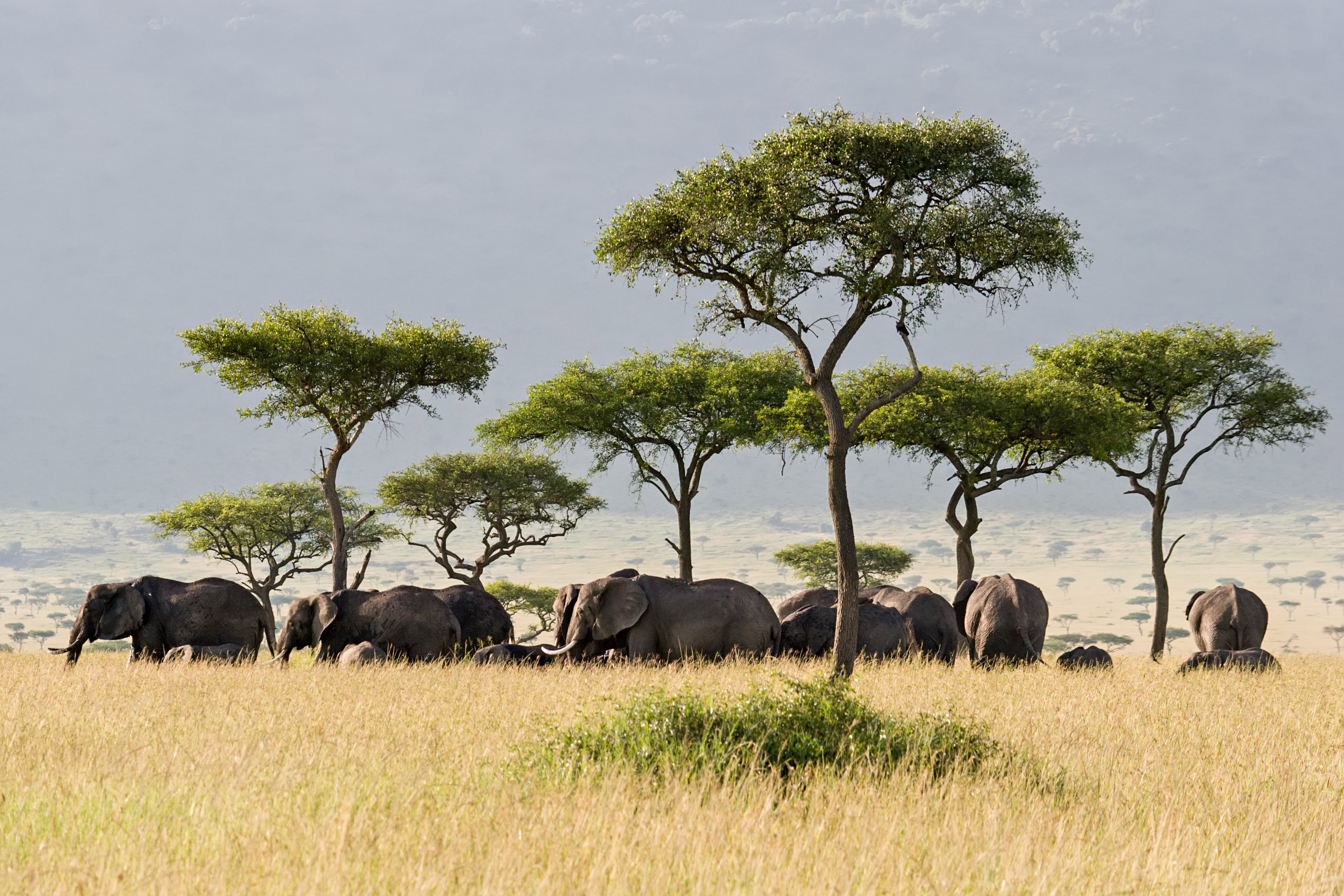 Elephants, Kenya
We were seduced by the apparently abundant wildlife. Low season suggested mass migrations over, rain possible, animals unobscured by undergrowth, fewer Land Cruisers? Naturetrek called this a 'Bargain Tour'. Well ...
We reached Nairobi after dark, stayed overnight making an early-morning start with our driver/naturalists, cool Davies and smiling Peter, both proving thoroughly expert. We climbed steadily, stopping at a viewpoint fringed with tiny shops and overlooking the magnificent Great Rift Valley. Undaunted by people and traffic, Speckled Mousebirds, Common Bulbul and Purple Grenadiers abounded.
Reaching the valley floor, the road threaded through countless villages housing schools, churches, minuscule shops and bars and (except for genuine Masai settlements) seemingly Kenya's polythene bag supply; passing arable, pastoral and horticultural farms, latterly with tantalising glimpses of Lake Naivasha. Eventually we entered Elsamere for lunch hosted by the resident wildlife in the magical grounds sloping down to the lake; 'Jambo' indeed. Our expert and enthusiastic guides, John and Douglas, joined us.
After settling into our very comfortable lakeside bungalow, we took our first Elsamere walk. Birdlife included Paradise and White-eyed Slaty Flycatchers, Streaky Seedeater, Weavers, Sunbirds, Giant and Pied Kingfishers and a Hammerkop. A sundog hung over the far side of the lake. After dark, Zebras, Giraffes and Hippos invaded the grounds.
Next morning, our walk featured Olive Baboons, Grey-headed Woodpecker, Black Crake, Hadada Ibis, and Squacco and Green-backed Herons, amongst others.
After breakfast, we sailed Lake Naivasha in aluminium canoes powered by intermittent outboards.    Despite waist-deep water, life-jackets were de rigueur. John refused, becoming 'Jacana John'; obviously he could walk on water. We entered a waterbird paradise amongst half-submerged fallen trees, surrounded by Giant and numerous Pied Kingfishers, Goliath and Squacco Herons, various Lapwings, Plovers and Teal, Yellow-billed Stork and Spoonbill. Further out were Pelicans, Flamingoes, Great Egrets and two Hippos. John whistled to some African Fish Eagles, throwing fish into the water prompting two to swoop down and take it; a superb photographic opportunity.    Another classic was a Black Heron hooding its wings to view its prey more clearly. Roadside fauna featured Burchell's Zebra, Eland, Impala, Masai Giraffe, Buffalo and Warthog, and an exquisite Klaas's Cuckoo like something from Fabergé.
Sadly, we left early next morning for the Mara, stopping at Narok braving wood-carving displays blockading the well-presented washroom. The road eventually degenerated to a rutted and pot-holed track - sound familiar? We entered the Mara through Sekanani Gate, resisting the brightly coloured wooden giraffes on offer. The abundance of game became obvious immediately. Around 1.30, we entered Ilkeliani Camp; traversing the River Talek on a pedestrian suspension-bridge we eventually learnt to cross without holding on. We were made very welcome but warned not to go out after dark unaccompanied in case of wild animals. Next came lunch and a chance to settle in before our first game drive at 4pm. Our tents were oases with all mod cons, framed pictures on the walls and views of the river. The first night, banging awoke us, seemingly just outside - thankfully just the wind making a picture-frame strike the bed-head.
Daily, we rose at 5.30, had coffee and cake in our tents, and drove off around 6-30. We took generous picnic breakfasts out on the Mara, returning to camp mid-morning, followed by rewarding pre-lunch birdwatching from our tent verandah. Neighbours also saw the resident Hippo and Crocodile. The comfortable viewing platform was next, until tea at 3.30 before the evening game drive. Once back, we had just enough time to review the day's snaps and take a quick shower before dinner. The excellent dinners were accompanied by bats hawking beneath the dining tent ridge for moths.
Every drive produced different treasures: Black-backed Jackals, Spotted Hyenas, Elephants, Masai Giraffes, Lions, Wildebeest, Gazelles and Antelopes, Hippos, a Crocodile, different eagles and vultures, various larks, swallows and lapwings; and Black-crowned Cranes - the Darcey Bussells of the Mara. We watched a disdainful female Cheetah feed a young Thomson's Gazelle to her family of six. One evening starred a second Fabergé refugee: an Usambiro Barbet. Another provided close-ups of Ostrich, Lilac-breasted Roller and Secretary Birds.
We took a morning walk along the river with a Masai guide wearing scarlet, many silver ornaments, and carrying a spear, 12-inch knife and small club. He explained how his people used chewed twigs for toothbrushes, flowers to treat cattle mastitis, bark for dye; and leaves for toilet- and sand-paper - lots of care needed there. Birds confusingly included a Silverbird and Grey-Headed Silverbills in quick succession!
Our final morning drive took us past Elephants and Buffalo until we stopped by trees with a limpid Leopardess draped across a branch. Apparently, her cub had died; she had eaten it and was now in mourning. Nearby, a Black Rhino was on show, then a pair of Lions appeared. Our guides were ecstatic, unable to remember seeing the Big Five on one drive. Very special.
Suddenly, sadly, time for home.
A 'Bargain Tour'? Absolutely, it exceeded all expectations.
PS. It rained for five minutes.
Read more about our 'Wildlife of Kenya's Masai Mara' holiday.