9th September 1969 to 19th October 2018
It was with great sadness that we learnt recently of the death of conservationist and Naturetrek tour leader, Roy Taylor. Roy was a regular, and immensely popular, tour leader who guided holidays for us to a wide variety of far-flung destinations from Poland and France to the Maldives and Madagascar. His enthusiasm for birds and other wildlife, and the care he showed everyone in his charge, was appreciated by all who travelled with him, as well as all of us here at Naturetrek HQ in Hampshire. Very sadly, Roy had to stop leading tours shortly after he was diagnosed with Motor Neurone Disease in 2013, although his passion for wildlife and dedication to conservation continued right to the end.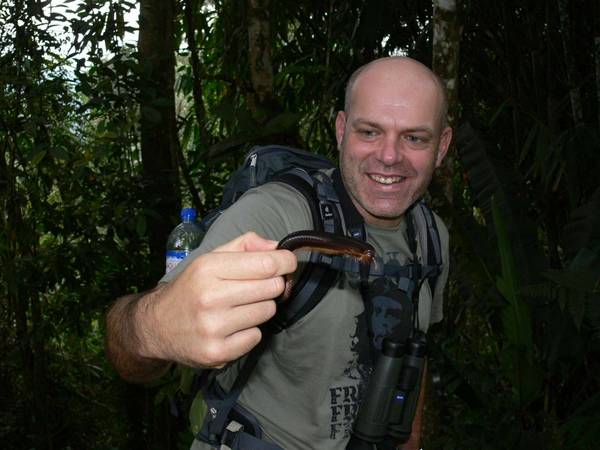 Roy Taylor With A Giant Millipede, Malaysia
Roy Taylor was born in Warrington in 1969 and developed a keen interest in birds at an early age, starting when his father – also called Roy – took him for a walk to nearby Woolston Eyes when he was just eight years old. His interest grew over the following years and as a young teenager Roy wrote a diary of his birding year at Woolston Eyes for which he was awarded the runner-up's position in the RSPB's 'Young Ornithologist of the Year' competition. After achieving a first in Geography at Sheffield University, Roy worked and travelled through America and then did an MSc in conservation at University College London. While visiting his parents in Warrington in 1997 he gave a talk to a RSPB local group about his work on Song Thrushes. To his annoyance the projector broke, but instead of calling the evening off or panicking, Roy ended up entertaining his audience all evening without any slides or prompts! Those present were so impressed that they helped him to get his first permanent RSPB posting as a conservation officer in the North of England. Roy stayed with the RSPB for the rest of his life, where he developed and ran a variety of important conservation projects, including one with United Utilities to sustainably manage their water catchment land. His selling point to the water company was that they would save money needed for cleaning water at the 'tap end' if they sorted out the degraded peatlands in the catchment. This resulted in the RSPB taking management of a huge area of degraded blanket bog at Dove Stone and a resultant rapid increase in the local Dunlin and Golden Plover populations. Amongst many other projects, Roy also brought the former opencast mine at St Aidan's near Leeds into RSPB management, which is today home to Bitterns, Bearded Tits and the UK's largest breeding population of Black-necked Grebes.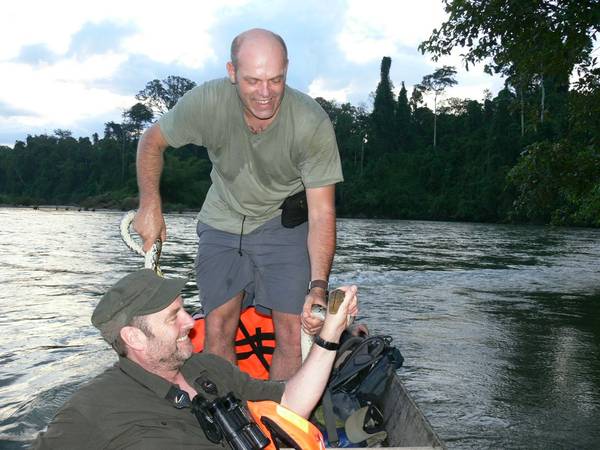 Roy Taylor Rescuing An Entangled Reticulated Python, Malaysia (With Kevin Bayes)
Roy married his wife Anna in 2009 and their son (whom they named Roy too) was born in 2014, the year after he was diagnosed with Motor Neurone Disease. For the last few years of his life Roy used a motorised wheelchair to move around, but he continued his work for the RSPB as well as campaigning to improve disabled access to the countryside. Typical of Roy, he undertook two sponsored wheelchair 'walks', one from the west coast to the east coast which covered 215 miles between Southport and Hornsea, and another along the full length of the Peak District. The idea of these challenges was not only to raise awareness of his campaign to make the countryside more accessible for the disabled, but to raise funds to improve facilities for wheelchair users at RSPB reserves in the north of England. Roy raised a total of £30,000 and we would like to thank all who generously contributed to the appeal. Very sadly, Roy Taylor passed away on the 19th October this year after a very brave, and inspirational, fight against Motor Neurone Disease. He will be missed by all who knew him.