Phil Nuttall travelled on our 'Nepal - A Birdwatching Tour' holiday and submitted this entry to our writing competition.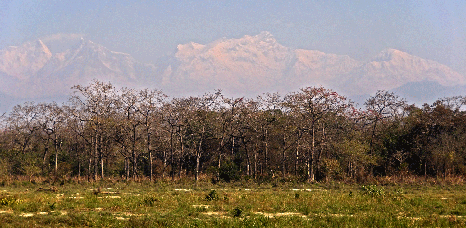 Himalaya, Nepal
I am now a wrinkled veteran of a fair number of overseas birding trips, so more and more memories are battling for storage space. Sadly, at the same time, the number of working memory cells appears to be declining - a result in part, perhaps, of consuming too much dodgy local hooch in far off places. This means that, although I still hugely enjoy my trips abroad, the memories quickly become part of an amorphous mass, with only a few specifics to distinguish them from other, similar, trips.
This is not true of Nepal in April 1999 - I still have many crystal clear mental images from that tour. I was fairly new to long-haul birding, so everything was exciting, but I think the trip was special because every element you need for that to be so came together over those few days.
The leader. The leader is crucial. Suchit was a great birder, a marvellous ambassador for his country and obviously cared at a personal level that we all had a good time. He had a wicked sense of humour and an infectious laugh. A couple of years later at the Birdfair (not having met in between) he saw me wandering down the marquee, and shouted 'Hey, Phil, how are you doing?' Impressive. We swot up on birds before a trip – do leaders swot up on clients afterwards?
The place. Nepal was fascinating, from the multi-ethnic bustle of Kathmandu to the centuries old lifestyles in the terai, to the great forest at Chitwan. The country itself was a significant contributor to our enjoyment. Any country that sports an airline called Yeti Airways (does it still exist?), and where you can look out of the terminal window to see a Great Spotted Eagle drifting over one of their parked planes just has to be worth visiting!
The tour party. A shared interest generally means that people get on OK; even if you have nothing else in common you can at least talk about trips taken and trips planned. This group, however, was exceptional. Some were more experienced than others, and some more serious than others, but we all pulled together to get everyone on good birds. My abiding memory, however, is just of laughing. L and D and W (we must protect the guilty) were crazy companions. Most nights I crawled into bed, stomach aching, not from the usual causes but from that laughter which becomes irresistibly infectious. Marvellous.
The local people. In some countries I would be uncomfortable without a guide or leader. Not so here. We stayed on in Kathmandu for a few days at the end of the trip, and Suchit was almost insulted when I asked him if we were OK to walk out at night, and if there were any areas to avoid. Go anywhere he said, you will be safe. We took him at his word, and we were. I hope it is still the same. People were so polite and friendly – even if you were rejecting their sales pitch: 'You want to buy special smoke?'.
The birds (and other wildlife): The birds were, of course, excellent. There were some we dipped on – Ibisbill, Wallcreeper and Cutia stand out, but there were many others which more than made up for those disappointments. The highlights for me are clear. Bengal Florican was special, as was a glowing, iridescent male Crimson Sunbird. Well 'scoped Painted Snipe at Koshi Tappu vied with Blue-throated Barbet for the best bird in camp. But the stand-out bird of the trip – and still in fact of my birding life – was Pied Harrier. We saw several at distance on the river trip, but then we had one close to the boat. A full adult male, he was drifting slowly upriver. He banked and wheeled in the bright sunshine, showing off his plumage to wonderful effect. He was in no hurry, and we enjoyed him to the full. He was quite simply one of the most beautiful things I have ever seen.
Rhinoceros, Wild Boar, Sambar and Spotted Deer have to be mentioned to prove that we are not completely bird-centric, as do the signs of big cat presence. Recent Tiger pugmarks and a Leopard kill gave our Chitwan walk (on foot, rangers armed with sticks!) a frisson of excitement. They were good, but the harrier was magnificent.
So, just a great, great trip.
Read more about our 'Nepal - A Birdwatching Tour' holiday.