Thermals. It was something of a last-minute notion, prompted by the weather forecast in the days before we were due to start our Naturetrek trip to the Levels. So, thermals bought and packed, we set off to Wells to meet our fellow travellers and our two guides, Charles and Ed.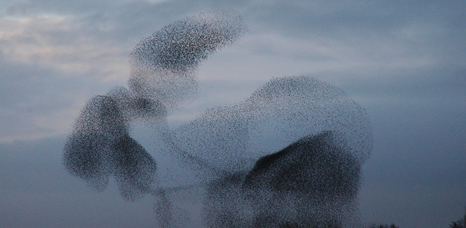 Starlings over the Somerset Levels (Catherine Strong)
Just how cold it was became clear at our second stop on Day One. As we scanned the terrain from the wonderful raised hide (complete with its own border collie) at Dewlands Farm Reserve, what looked to the naked eye like a patch of burnt rubbish became hundreds of shovelers, pintails and wigeon through the scope. Crammed together in the only ice-free stretch of water in the area, they were a mass of birds, occasionally lifting up in flickers of russet, blue and white when spooked.
Later, after a wonderful pub lunch (do not turn down Somerset Smokies if offered to you), we headed to Greylake Reserve and here the cold was a blessing. The freezing conditions meant that birds that would usually be more secretive were driven into the open to forage, and so we had amazing views of two water rails just on the other side of the hide's glass.
This was followed by a restorative hot chocolate to set us up for the day's final visit, - Ham Wall Reserve - and, hopefully, millions of starlings coming in to roost. The more whimsical among us were slightly disappointed to discover that Ed's earlier call to the starling hotline hadn't been to chat to actual starlings, but to get a human to tell him where the previous night's roost had been.
We were blessed with that incredible golden light unique to winter late afternoons and conditions boded well. Even before the starlings appeared we had lucked out with great white egrets, little egrets and a bittern, but then the starlings came. And kept on coming, and from all directions. As though deliberately giving us the most photogenic displays, some swirled in front of Glastonbury Tor, whilst below the Mendips, a thick, black seemingly endless stream of millions of birds moved in waves. Truly one of nature's most amazing spectacles! As we drove back to the hotel in Wells, all of us were still trying to take in what we had seen. And mightily glad to have invested in those thermals ...
Our second day dawned even colder and as we ventured out to Shapwick Heath Reserve, everything seemed frozen solid, but once again, bathed in glorious sunshine. We were lucky enough to be treated to a marsh harrier flyby and then settled into the hide to see an incredible eight great white egrets standing in a group, whilst a huffy gang of little egrets ignored them some distance away. Not that long ago these birds would have been truly exotic here, but they are becoming increasingly common.
Another superb lunch was followed by a visit to Catcott Lows in the hope of pintails. Alas, even after midday, there had been little or no thaw whatsoever and there was only enough ice-free water for a small group of chilly teal.
Undaunted, our final drive took us in search of a reported influx of short-eared owls in the area. After some meandering along country lanes, amazingly, with the help of some other birders, we struck gold. As we stood on the road and watched, seven or eight magnificent owls quartered the fields to either side of us. One obligingly perched up so we could look at him staring at us through the scope and, occasionally, when two birds got too near to each other, there would be a brief tussle of talons in mid-air. If I didn't know better, I would have sworn that Ed and Charles really had booked them in advance via some owl hiring agency, just to give us the perfect end to an already very successful trip.
Looking back it seems incredible that we did so much and saw so much in just two days in the stunning landscape that is the Levels.
Although, I don't think I'll ever go anywhere again without those thermals ...
For further information about our 2-night 'The Somerset Levels' breaks please visit the tour webpage.