Ann Mason travelled on our 'Dragonflies & Birds of the Camargue' holiday and submitted this entry to our writing competition.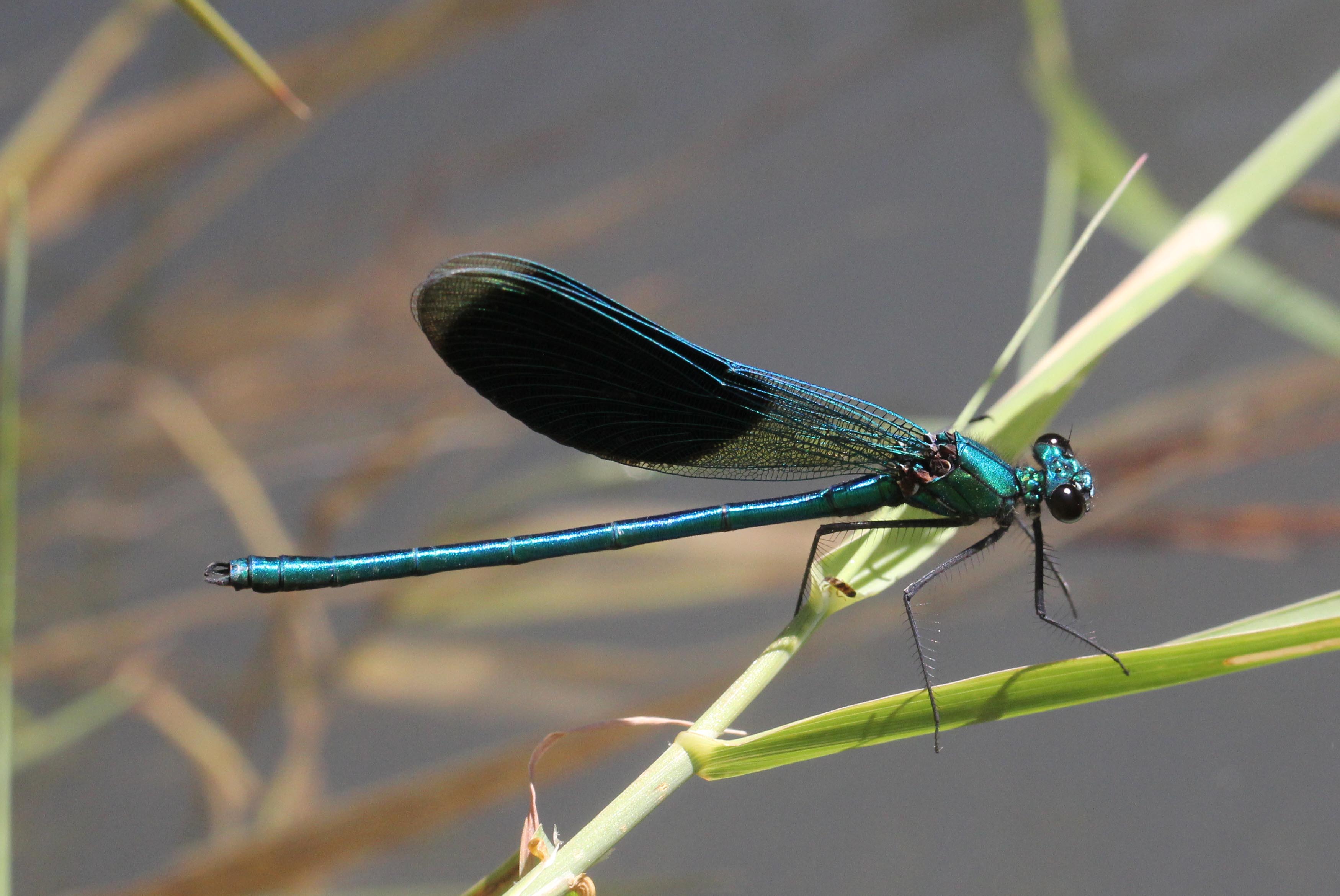 Banded Demoiselle
A Scarce Swallowtail fluttering towards my window as we land at Montpellier is a delightful welcome to the French Midi.
Driving to the hotel near Arles we notice clusters of small white snails high on fence-posts and tall stems, a sure sign of unbearably high temperatures, especially on the ground. From pine trees comes the same message, but now positive, because Cicadas love the heat. At 27 degrees they fling their throbbing net of sound over everything, including a dozen British palefaces who will soon fall under the spell of the Camargue, its dragons and damsels, beasts and beauties. Yesterday we were individuals, with varying amounts of knowledge. Today we are a Naturetrek group, more than the sum of its members.
'How do you find these places?' A good question, as Dave and Ian, our experienced leaders, take us to canals, lakesides, quiet lanes, wetland reserves and the occasional surprise. At cries of 'Raptor overhead!' or 'Willow Emerald!' we all focus on the same area of sky or branch. We're now diverted by a Large Pincertail and on the track ahead a Swallowtail is laying eggs on an umbellifer. A flutter of White Featherleg, then a Hummingbird Hawkmoth and a Clouded Yellow, in the same patch of sunlight, compete for attention. And everyone wants to see Dave's enormous green Saga pedo bush-cricket. Thus the morning advances towards the pleasure of a déjeuner sur l'herbe for which we have no responsibility, except to enjoy, the leaders having shopped earlier to be able to spread before us a French feast complete with fresh apricots, and wine of course. Like the Turtle Dove in the nearby fig tree, we purr.
A full afternoon later, back to the hotel for the bliss of ablutions and a happy half-hour on the terrace, with beer or G&T. Laptop pictures of the day's highlights – or not, if it's torn trousers (there are brambles even in paradise) – make for group bonding. Then 'À table!' for such edible works of art as 'Turban of Sole with Vegetable Watercolour'. As a digestif, we go through the species checklist and retire contented, anticipating the next day's discoveries.
The most extreme habitat, the plain of La Crau, is unexpected. Beside an extensive dry fossil delta, its ochre pebbles torn from the Alps by the prehistoric River Durance, we find a stream shimmering with dragonflies and damselflies darting, patrolling, catching the light, and eventually settling where we can appreciate them. It's hard to tear ourselves away.
More typical, the National Nature Reserve of Les Marais du Vigueirat greets us with shade for vehicles and picnics, and information boards detailing its 300 species of birds including Bittern and Purple Heron. The visitor centre has maps, leaflets, postcards and loos – a rare luxury! Here we can hope to see the full range of the Camargue's residents, from white horses and their brown foals via Greater Flamingoes, exquisite Wasp Spiders and Squacco Herons to resplendent Bee-eaters. After lunch we have a guided tour round some of the more specialised parts of this salt-dominated ecosystem. Our guide is telling us that 'July is the quietest month for bird movements except—' when the cry 'Montagu's Harrier!' breaks the group's concentration. The guide knows he's beaten, and we move on.
Canals prove very rewarding, with sightings of Coypu, a swimming snake and terrapins flashing their metallic armour. By northern roadsides several unfortunate dragons and damsels lie in the dust, an impressive Lesser Emperor among them. We admire the amazing eyes, the fragile neck. Luckily at our next stop, in the Vallée des Baux, the beautiful Violet Dropwing and the Orange-spotted Emerald are very much alive. Many lovely insects are seen here in the intense heat, and at the very last minute (some people already minibus-bound) the cry 'Pronged Clubtail!' has a dramatic effect in bringing everyone to look. This is one of our target species. Refreshments will be extra-celebratory tonight.
For the naming of these target species the more experienced help out the novices. Expertise in identification is a gift perfected over many years. Even those with no special natural history background enjoy the chance to explore and learn in a rich environment with nothing to lose except, occasionally, their dignity.
Group leaders tend to play down such 'incidentals' as driving unfamiliar vehicles full of individuals they've only just met, and catering for their unpredictabilities. Later, back on our less vibrant home turf, reflecting on where we've been, we will appreciate their skills in finding the best places, dragonfly-bright, cicada-loud. We'll remember the taste of those apricots. And the next selection of Naturetrek tours may already be in the post.
Read more about our'Dragonflies & Birds of the Camargue' holiday.