Mike Strickland travelled on our 'Birding Southern Morocco' holiday and submitted this entry to our writing competition.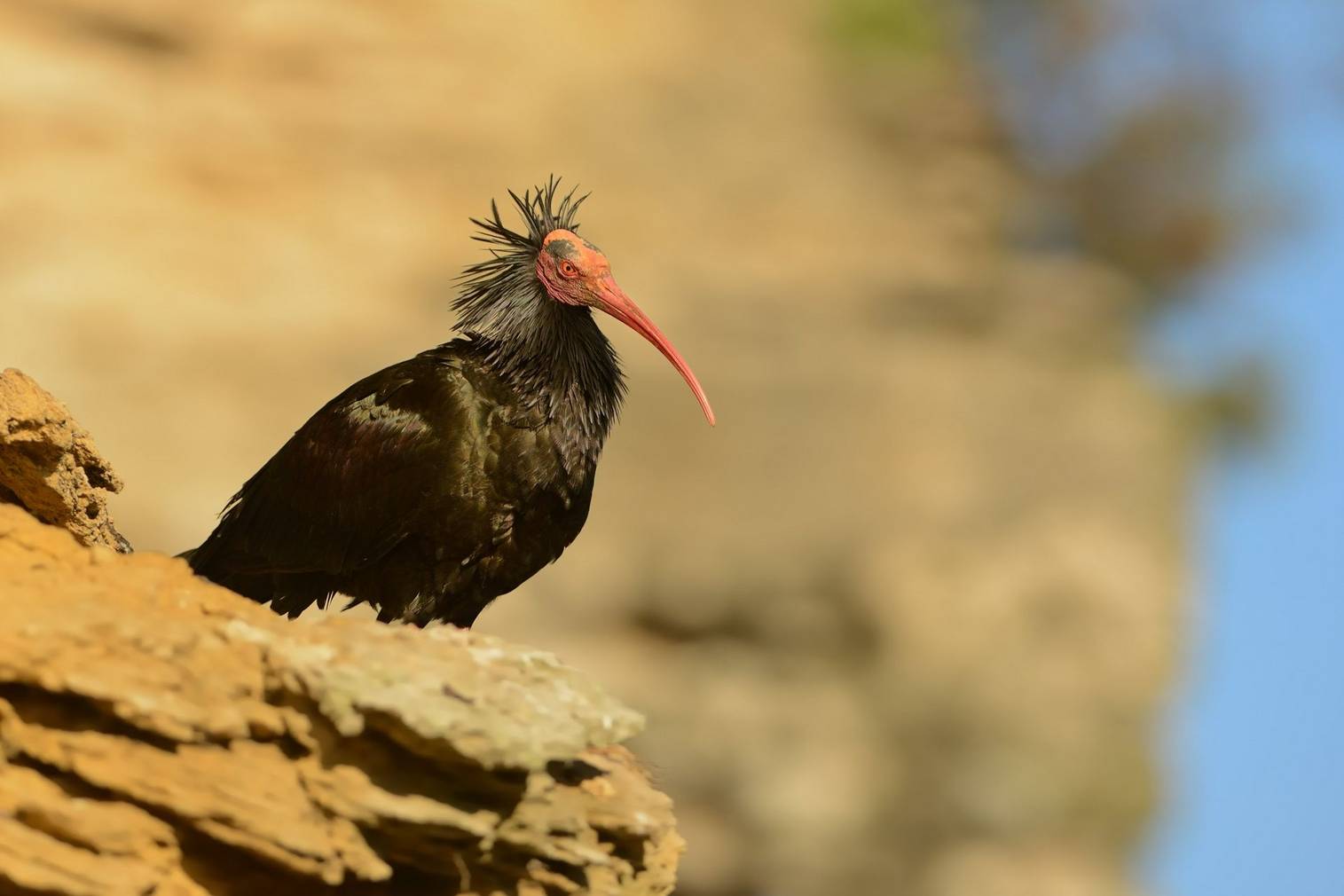 Bald Ibis
There are many countries where interest in birds – provided it is not of a destructive nature – needs to be encouraged. My spring visit with Naturetrek to southern Morocco was a timely reminder of this.
The Bald Ibis is probably one of the rarest species in the Palaearctic, and has seemed at times to be on the verge of extinction. Nesting on the coastal cliffs at Tamri, this is one of the few non-captive breeding sites that still remain active. The birds disperse to forage over a wide area of dry scrub and suitable agricultural habitat, and can be difficult to locate. Beside the road a couple of local lads, around 12 years of age, were doing a credible imitation of the birds, with splayed fingers and rhythmically moving arms to simulate flight. They knew just where the ibis were feeding that morning. As a result we had superb views of a dozen or more birds from close range, not just on the wing but also feeding, resting and preening. The boys collected a gratuity of about 70 dirhams – almost £5. There was plenty of competition amongst would-be ibis guides, so it might be days before they 'scored' again!
Many long miles to the east and the sun is rising over Erg Chebbi, a mighty dune system over 800 feet high, and a forerunner of the advancing Sahara sand sea. As dawn chases shadows from the recesses of the great dune, the Erg changes colour from the shades of night through rose-pink and orange to vibrant gold. Below it nestles the Café Jasmina, once a resting and watering place for camel trains crossing the Sahara. Nowadays the Jasmina is popular with birdwatchers – being one of the few locations where Desert Sparrows can still be easily seen in Morocco. As a small string of camels cross the dunes, our Berber hosts serve coffee in the cool and richly carpeted interior of the Jasmina Here there are springs that support a garden with shady trees. The owner hopes to use some of his water to create a 'scrape' that will attract sandgrouse and other birds. He also plans to open a few simply furnished rooms for guests, who will be able to enjoy the traditional food served at the Café Jasmina. The birds have created a 'niche' market that has been recognised by our enterprising Berber friend.
Abdul, one of our Moroccan drivers has had previous experience of birding parties. He already knows something of the species being sought and where best to locate them – no wise tour leader would fail to tap this source of knowledge. Leave a 'scope unattended and Abdul would be using it himself to spot the birds. He was most excited when loaned some Leica binoculars to view a circling Long-legged Buzzard. Silhouetted against the azure sky, the raptor clutched a 2-foot long snake that had been snatched from the desert, and the light showed perfectly the beautiful cinnamon-orange of the bird's almost translucent tail feathers. At the end of the holiday Abdul delivered us back to Marrakesh for out return flight home. He received a well-earned group tip, and one of our number – an RSPB reserve warden – presented him with a copy of the Collins guide to the birds of the region. Abdul could not have seemed more delighted if a gold nugget had been pressed into his hand!
The interest shown in birds by the 'Ibis boys', the owner of the Jasmina and Abdul the driver is as yet mainly of a financial nature – but this might well give way to something deeper. The boys might become fiercely protective towards 'their' ibises; and our Berber friend attract some interesting birds to his scrape – thereby further enhancing the location's reputation. Abdul may become even more aware of which wadi might hold regular Crowned Sandgrouse, and where to find the elusive Cream Courser.
Memorable highlights of this tour included the sight of over 40 Choughs soaring in the Atlas mountains with a Golden Eagle amongst them. Those picturesque terracotta villages surrounded by flowering almond orchards at the entrance to the dramatic Dades and Todra gorges. The 30 Marbled Duck seen near Ouazarzate. A Wild Boar with seven piglets driving a Bonelli's Eagle off its kill of a hapless Coot. 150 White Storks on the ground at Taroudant, and a Golden Jackal caught in our vehicle headlights at dusk etc! A fabulous trip enjoyed by all involved.
However, Morocco can be a harsh land where many live on the edge, and very existence is a challenge. Birdwatching is a luxury that will never be part of the lifestyle of say, the Berber goatherd, or struggling sardine fisherman of Tamri. But, there are those who could help spread the conservation message across this diverse and beautiful land. Yes, ecotourism could bring benefits to both the peoples and to the birds of Morocco.
Read more about our ''Birding Southern Morocco'' holiday.