Sightings at Mingledown in 2019

By

This email address is being protected from spambots. You need JavaScript enabled to view it.



Private Groups & Compliance Manager
8th November 2019
Since the beginning of the year we have enjoyed an interesting variety of wildlife in the fields and woodlands surrounding our offices here at Mingledown Barn, including several firsts for our sightings book.
The main wildlife highlight for us has been our pair of Little Owls. Last year we had a Barn Owl nesting box installed in one of our outbuildings, only for it to be occupied by Jackdaws. In late February of this year, however, a pair of Little Owls suddenly appeared and then followed a six week tussle between them and the Jackdaws over who would nest there. It was a full-on rollercoaster ride, far better than any soap drama, and we were all mightily pleased and relieved that the Little Owls prevailed in the face of some severe barracking and intimidation. Discretely checking the box revealed the female was sitting on three eggs, and by early June the chicks were peeking out of the box to see the world for the very first time. As they became more confident we were afforded wonderful views of all three chicks stretching and preening on the ledge outside the box in the summer sunshine, and then witnessed their first few 'test flights'. There was a real sense of pride in the office, as we had lived through the last few months with the entire family, and we are very much hoping and looking forward to more Little Owls, or any other owl returning next year.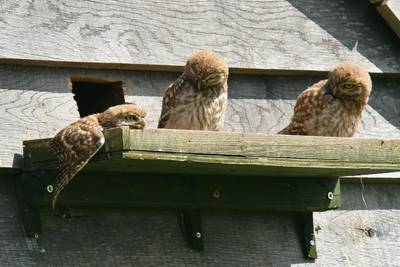 Little Owls (Simon Dicks)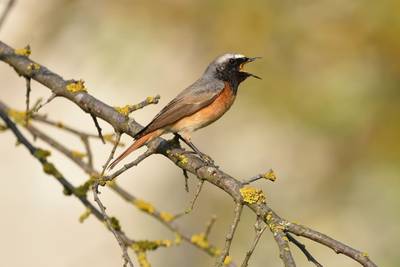 Common Redstart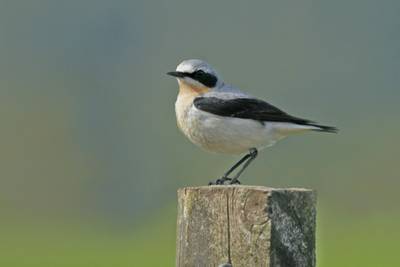 Northern Wheatear
Other birding highlights have included migrant Northern Wheatear, Common Redstart, Spotted Flycatcher and Whinchat, as well as sightings of Bullfinch, Brambling, Firecrest and Barn Owl amongst others, plus Sparrowhawk which occasionally shoot past the hedgerow in front of the kitchen to try their luck with the birds attracted to the feeders.
We have had some very exciting lepidoptera findings as well, with the discovery of several rare Brown Hairstreaks prospecting for egg-laying sites on a nearby Blackthorn – in addition to a couple of Purple Hairstreak on an adjacent Oak – and we will be keeping a close eye on this area next year hoping for greater numbers. Our regular overnight moth-trapping sessions struck gold in September with a Clifden Nonpareil, a much sought-after, and attractive, moth that became extinct in the 1960s as a UK breeding species, but one that has made a comeback in recent years. A piece of corrugated iron by our old fish pond was particularly fruitful, with the unusual sight of a Water Shrew beneath it in April, followed by three Grass Snakes intertwined with each other in May (no doubt trying to warm up on a cool spring day) and finally a Weasel taking refuge under it in June. Despite these sightings, our pond has become rather neglected, but we are embarking on a new project over the winter to restore it to its former glory and convert the whole area into an even more wildlife-friendly habitat. By making the pond deeper it should stop it freezing during the cold winter snaps, and we will create a shallow slope and bog garden to improve wildlife access. Next spring we will also seed the newly-created bank with native wild flowers and improve the hedgerows surrounding the pond too.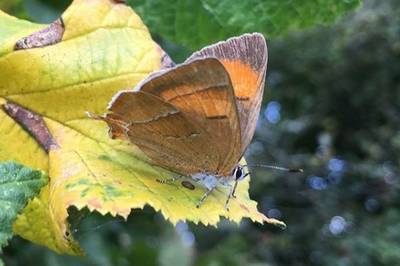 Brown Hairstreak (Tom Ambrose)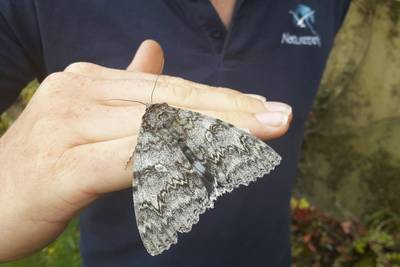 Clifden Nonpareil (David Phillips)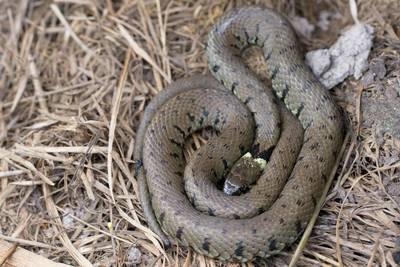 Grass Snake (Tom Ambrose)
In addition to the wildlife in our neck of the woods there are many other sites of interest in and around the picturesque village of Chawton to make a visit here worthwhile, such as Jane Austen's house museum where she did most of her prolific writing, and the magnificent Elizabethan manor, Chawton House, the former home of Jane Austen's brother, the squire Edward Austen Knight. A few miles to the south is the village of Selborne, made famous through the writings of its curate in the 18th century, the Reverend Gilbert White who wrote 'The Natural History of Selborne'.  
Upcoming Open Day Dates