Penny Pecorelli travelled on our 'Lesbos in Autumn' holiday and submitted this entry to our writing competition.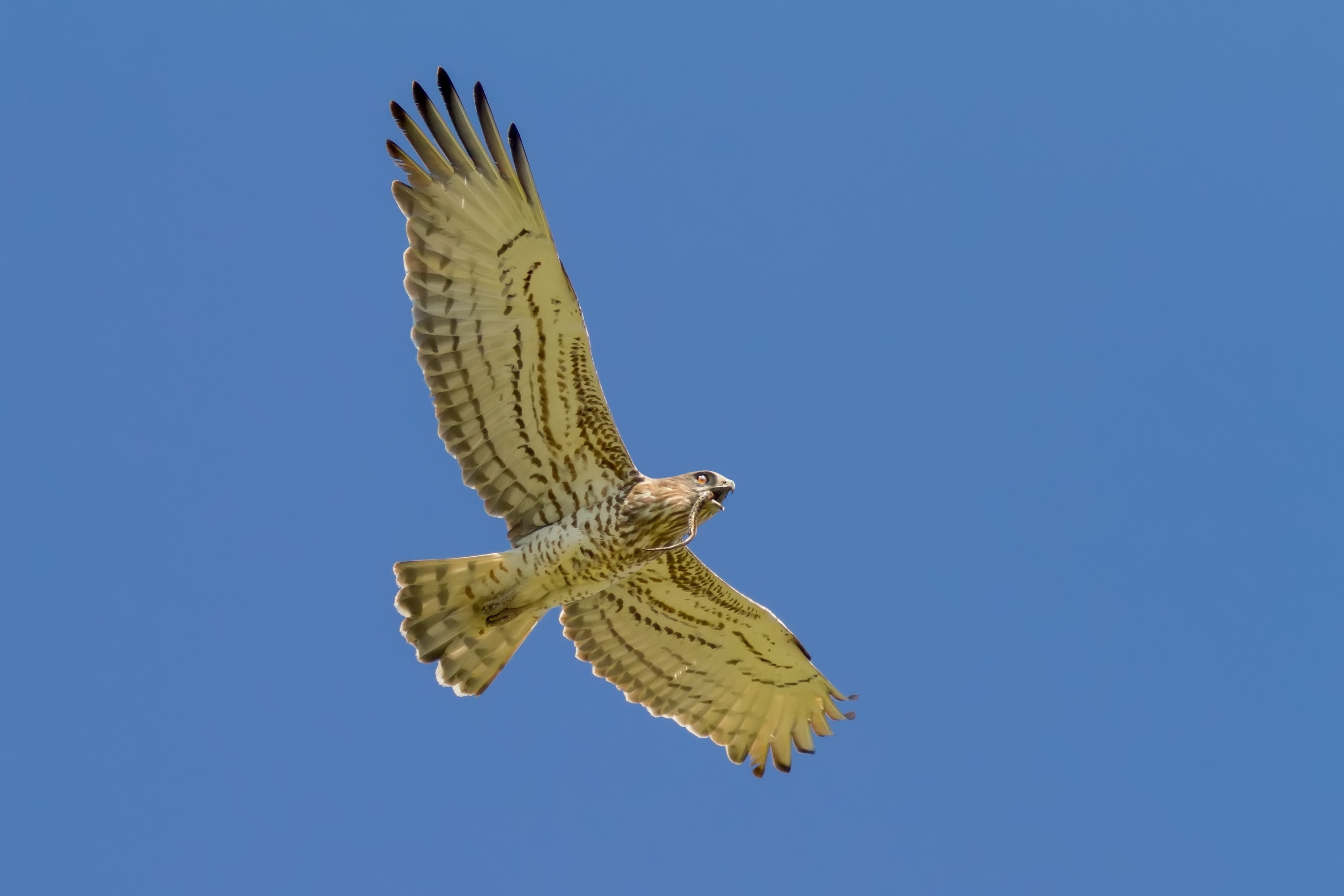 Short-toed Eagle 
The minibus came to an abrupt halt on the way to the airport. Chris, our eagle-eyed tour leader, leapt out with the cry: 'It's a lesser spotted cuckoo!' It was on its way to Africa via Lesbos on its autumn migration. Talk about the first cuckoo call of Spring! This was much more exciting!
We'd always been interested in birds but, I have to confess, we spent a lot of our time saying: 'What? What? Where? Where?' in the company of birdwatchers far more experienced than we were. How on earth could Chris identify an eagle flying high over the mountains a mile away in a cerulean blue sky or an LBJ hiding in a bush on the other side of a field? We discovered that Tree Creepers in Lesbos like to hide on the far side of tree trunks just to foil us and the elusive Kruper's Nuthatch, exclusive to the island, just won't pose to order … though it was a glorious moment when we actually did identify it.
What was magnificent though, and visible even to my husband and I, was the sight of more than a thousand flamingoes on the saltpans of Kalloni, or a similar number of Avocets, always my favourite bird, swirling in black and white glory over the water. Heaven! Wherever we looked there were Black-winged Stilts, Black Storks, grebes, plovers, Spoonbills, Curlews, Sandpipers, Great White Egrets, pelicans, Spoonbills, Greenshanks, Redshanks … a panoply of riches to delight us.
We found a discarded snake skin glittering in the sun and my clever friend quoted A Midsummer Night's Dream: 'And the snake throws her enamelled skin', to impress us all. Then there was the BLOB, a jelly-like substance in the mud. Did we ever identify that?
We leant over the parapets of bridges where swirling waters held hundreds of terrapins. There were Coots, Moorhens and exquisite kingfishers. There were butterflies and grasshoppers galore, beaches full of rare white daffodils; telephone poles with Middle Spotted Woodpeckers and lines of Linnets, shrikes and larks. We saw fields with flocks of Serin, buntings in bushes, finches and flycatchers, wagtails and warblers. There were views from the tops of mountains to die for, a petrified forest, picturesque monasteries, and more Greek salads than you could eat in a month of Sundays, not to mention the custard pies made by the local baker. Yum!
Every other taverna seemed to be run by a man named Costa where we ate delicious freshly caught fish … and more Greek salad. One meal was interrupted by the excitement of a view of a Barn Owl on a nearby roof. In Skala Kallonis the fishing boats were unloading their catches of sardines with greedy Yellow-legged Gulls waiting for the scraps. Black-clad old ladies took their elevenses and gossiped in the sun while old men played cards and did the same.
On our wanderings we were invited in for coffee or to admire gourds and wine presses. In one instance we were treated to a mime of a shower and hair wash (him no English, us no Greek) to indicate that what we were looking at were loofahs drying in the sun. Lovely hospitable people, the Greeks.
We were thrilled by a Scops Owl in a Eucalyptus tree, we picnicked (more custard pies) in the courtyard of a tiny chapel amidst the calling of Crested Larks. We passed a million olive trees waiting for the harvest, nets at the ready. We even ate figs scrumped from the trees.
Now we are back in rainy England, but more enthused than ever, and our senses sharpened to detect any movement of bird or beast, but still dreaming of Lesbos in the sun; and, guess what? Don't laugh! I've just seen a sparrow in the garden. It's a big event. We haven't seen a sparrow here in years!
Read more about our 'Lesbos in Autumn' holiday.