Su Elliot travelled on our 'Wildlife of Kenya's Masai Mara' tour and submitted this entry to our writing competition.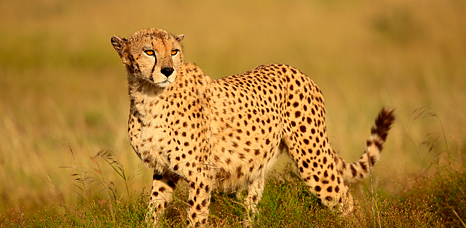 Cheetah by Bret Charman
A Kenyan Safari
No getting round it, travelling is exhausting, but a good night's sleep in a Nairobi hotel recharged the batteries. Just as well because the trek out to Elsamere was a not so gentle introduction to the state of Kenya's roads. 
Most people are aware of George and Joy Adamson and Elsa. Their pioneering work in conservation is well known and it continues today in the education centre. The small museum harks back to an era long gone. What a formidable woman Joy must have been. 
Elsamere is a birders' paradise. Sadly, I am not a birder ... 
It's not that I dislike birds; I just can't get very excited about most of them.
There are 572 birds on the Naturetrek list for this tour; common, short toed, crested, lesser, striped, broad-billed ... and the birders amongst us saw a fair few hundred.
There are subspecies of subspecies … all very good for people who know (and can actually see) something in a tree, but not so much fun for those of us who are in need of direction. By the time you've trained binoculars up a main branch, along the one to the right where you can, or not, see a cluster of leaves and then up a bit more, the bird has long gone. 
There are only three categories of birds: 
Large - instantly recognizable by their size and actually quite interesting because they can be easily seen … ostrich, guinea fowl, flamingo, stork, ibis, pelican, eagle, hornbill, secretary bird, vulture, etc
Pretty - anything that isn't brown, a carmine bee-eater comes to mind and a black and white one that has a Zorro mask, no idea what it is but I've got some great photos!
Little brown jobs 
However, the Lake Naivasha boat trip is not to be missed - even a non-birder can't fail to be excited at the sight of kingfishers, pelicans, cormorants and fish eagles.
If Elsamere was the warm up, the Masai Mara was most definitely the main event. 
For those not sure about sleeping under canvas, Ilkeliani Camp is on a different scale. After a dusty day, there's nothing better than coming back to an en suite hot shower, a loo that flushes and a proper bed. The catering was superb. Every morning, a hot drink, delivered to your tent at 5.30am was the signal to get up, no excuse for tardiness. Our group was always ready and keen to get going, knowing there was a packed breakfast to enjoy later on. All we had to do was cross a rope bridge to the minivans and the day started. No long trip to get into the reserve. 
Until you experience it yourself, it's well nigh impossible to describe the vastness of the Masai Mara - awesome in the true sense of the word. Then there's the added childish glee of standing on a van seat with your head stuck above the pop-up roof, desperately trying to spot something before the guides! A 'well spotted' from a guide is like being top of the class and compensates for all those occasions when you've egg on your face for mistaking a warthog for a hippo (and daring to argue) or spotting big cats and elephants that turn out to be rocks! 
All the usual suspects are there on the plain ... 
It's Catch 22 with the big stuff. Whenever radio activity heralds a change in direction and speed, you know you're going to see something special. Unfortunately, so does everyone else, so a bit of the magic is lost when you're jostling for position with another dozen minibuses full of tourists. It goes with the territory and I wouldn't have missed it but the image of a solitary, vulnerable Black Rhino surrounded on all sides was unsettling. 
Lions and Cheetahs, on the other hand, don't seem to mind an audience; they've got relaxation down to a fine art and aren't the least bit concerned with onlookers. Oh, to see them in action! 
You never know what you're going to see to from one day to the next and it's not all about mammals and birds. The Masai are a beautiful, graceful people trying to retain their culture and way of life in an ever-changing, encroaching world - a delicate balancing act. Every evening a red-cloaked warrior with spear and sword would escort us to and from the dining tent. A pity about the wellies which spoilt the effect somewhat, but you can't have it all! 
Brownie points to our guides, Davies, Peter and Ken, who were fantastic. Nothing seemed too much trouble and they really know their stuff. Seeing animals in their natural setting is a privilege. Feel it. 
'We do not remember days, we remember moments.' Cesare Pavese. 
Read more about our 'Wildlife of Kenya's Masai Mara' holiday.