Graham Brace travelled on our 'Brazil - Just Jaguars' holiday and submitted this entry to our writing competition.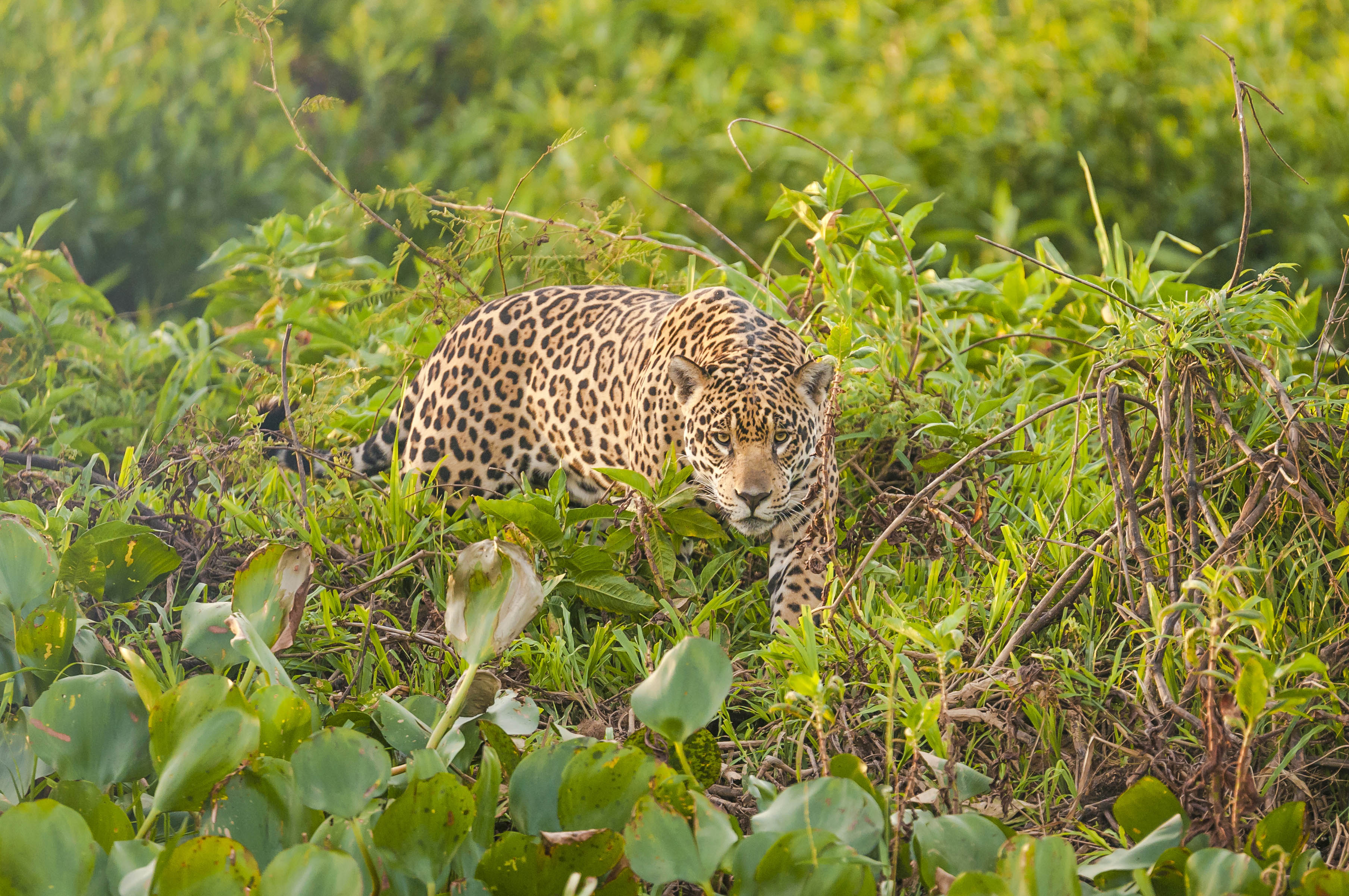 Jaguar, Brazil
Of course we were just a little sceptical. Even having read tour reports of Jaguar sightings it would still have to be an experience of a lifetime if we were to see these magnificent creatures in the wild … we don't 'do' zoos!  Anyway, a certain Mr Dan Free convinced us that we were as likely to see Jaguars with Naturetrek in the South Pantanal as with anyone else or anywhere else, so we booked and the rest, as they say, is … Natural History.
The overnight 11.5-hour flight from LHR is not for the faint-hearted, but the 2-hour flight from São Paulo was quite bearable – we were getting closer.  As the temperature seemingly accelerated up to 40 degrees, as we got off the plane at Cuiabá, it set the scene for the last stage of our journey in to the wilds. Once we were on the open-sided truck and the gravel track that is the Transpanateira, our adventure really began. There was a continual stream of birds and mammals to view, from storks, ibises, kingfishers and hawks, to caiman and capybaras by the score. We felt like royalty driving slowly along, with local inhabitants welcoming us in to their world; they all seemed totally unfazed by us and happy to pose for photographs … this was almost unreal.
Our initial stop in Pouso Alegre was our first introduction to Hyacinth Macaws, and yes, they were as blue and as big as the photos we had seen. Our wonderful guide, Marcos, introduced us to many of the other 'locals', both human and animal: they were all his friends. The next journey was on to Porto Jofre and the Cuiabá River, and the Flotel. Our first impression was the sheer size and width of the river: up to 300 metres across in parts, and obviously very densely fringed with trees and undergrowth. How on earth would we find a Jaguar here? But that is what they said on the tin!
The Flotel itself is, of course, eponymous: it is a floating hotel that provides very spacious en suite accommodation and excellent food. It was quite a revelation to see how well it provided for us in all respects, considering its remoteness. The deal is: a 4-hour boat trip early morning and, similarly, late afternoon, every day for four days. Maybe just one glimpse of those fabled creatures, we thought. From the relatively smooth cruising speed whilst trying to scan every inch of the banksides, to 'Jaguar speed' where you hold on to your hats, the front of the boat rears up with the sudden acceleration, and the adrenaline starts to pump, you think: this must be it!!
Of course we were not to be disappointed. From first sighting to the twelfth, we were in awe of these wonderful cats that are stunningly beautiful and, equally, immensely strong. Most people had seen the video, or at least heard of the Jaguar that killed a caiman, but we actually witnessed and photographed a similar occurrence. What a spectacle! Words fail you, but you quickly realise why the Jaguar is at the top of the food chain, especially when we had previously see a caiman kill an anaconda. Now that's another story!
Just cruising around this maze of waterways is an unforgettable experience in itself. Jaguars laced with Giant River Otters, caiman, deer, tapir, even a night-time Ocelot, and an overwhelming number of bird species (was it 120 different ones?). It makes you think the whole place is a paradise, almost a Garden of Eden, where you are able to share just a little time with fellow inhabitants who are not frightened of you … that was indeed very humbling and a rare privilege.
Read more about our 'Brazil - Just Jaguars' holiday.