Richard Stewart on our 'Brazil - Just Jaguars' tour and submitted this entry to our writing competition.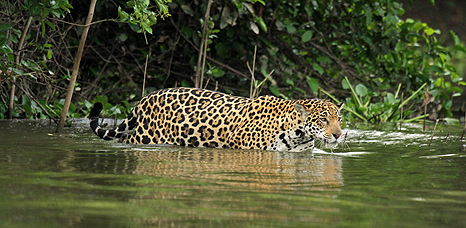 Jaguar by Andrew Lapworth
Edwardo lifted the empty gourd to his lips and called again. We stood quietly, listening. There was no answer, just the flicker of fireflies through the darkness and splashes from the nearby water where we had seen giant river otters hunting at dusk. For a third time Edwardo called and suddenly, as if from the very edge of Brazil's vast Pantanal, a Jaguar coughed in response. The stillness intensified as we knew Edwardo had once called a Jaguar to within a few feet ... but not this time. 
They were tantalisingly close. On early morning truck safaris I had often looked back along the track, hoping to see one suddenly appear through our dust clouds, conjured up as if I were an ancient shaman. But we had to be content with fresh prints and the skull of a crippled bull that a Jaguar had killed and then dragged to the forest edge, where Edwardo had disturbed its feasting. 
There had, however, been many compensations. Hyacinth Macaws visited the trees outside our rooms and spotlighting had revealed Marsh Deer, Crab-eating Foxes and raccoons, a motionless potoo imitating a tree stump and a long view of a Tapir crossing an open stretch of grassland. At every one of the trestle bridges we clattered over along the Transpantanal highway there were bronzed caiman lining the banks, white egrets, large multi-coloured kingfishers, both Green and Black Herons, and sometimes the massive Jabiru Stork: all drawn to the diminishing waterways in the Pantanal's dry season. 
Porto Jofre, with a growing reputation for Jaguar sightings along its extensive waterways, was the final chance. Mario, our leader, arranged a full day's boat trip and early on we saw more Giant River Otters, capuchin and howler monkeys and towards dusk we passed roosting egrets and cormorants, with large Long-nosed Fruit Bats hunting close to the water. At each bend and along every quiet backwater we explored, our hopes grew. But there were still no sightings.
Wisely, a morning siesta followed, though fellow participants Paul, Clair and I were out early, in nearby forest. Again we saw no Jaguars but returned for breakfast with an increased respect for Capybaras. Their presence so close to the road had suggested they were literally easy meat for Jaguars, but the family group just ahead of us moved in a sudden synchronised flow into a nearby ditch covered in vegetation, so silently and so quickly that on reaching the spot we could detect no ripples betraying their submerged presence. 
That afternoon we headed in the other direction along the Cuiaba river and, with about half an hour of daylight left, entered a tributary, the Negrillo. Thankfully, initial dark canopy gave way to an open sunlit stretch and then Mateus, our normally quiet boatman, suddenly became very excited, pointing ahead. There it was at last, a swimming male Jaguar, already close to the far bank and quickly hauling itself out before slipping away into the shadows. I watched it through binoculars, seeing the large black-edged rosettes on the visible part of its mainly submerged body and being conscious of its large size compared to recent sightings of Ocelot and Margay. 
One of my lifetime ambitions had been achieved. At last, for a few fleeting but magical seconds, the multi-layered symbolism of the glyphs and stone carvings seen at jungle-surrounded Mayan sites like Tikal, Yaxchilan and Xunantunich had become flesh and blood. 
But more was to come. Suddenly his mate entered the river ahead of us, in front of a deep bed of water hyacinths. Mateus instinctively moved our boat forward but she turned back to the bank and we feared the moment had gone. We waited, as Mateus and Mario had a whispered conversation. The boat stayed still and suddenly the Jaguar was back in the water. Mateus looked towards Mario but he gave no signal until the Jaguar was halfway across. Then we moved forward and as I watched her there was no visible sign of alarm, no increase in the pace of her swimming. She reached the bank, climbed up its slope then amazingly turned towards us with a long backward stare before melting into the growing darkness. 
Suddenly the tension snapped. Clair at the front of the boat gave me a photographic thumbs up and I leaned forward to give Mario a big hug. I can only vaguely remember the journey back. Someone tried to talk to me and the elegant Scissor-tailed Nightjars were hawking around us. But in truth my mind was elsewhere, as if for a precious moment in time I had entered the supernatural world of the shamans, the spirit world of Jaguars, shape-shifters, eaters of souls. 
Read more about our 'Brazil- Just Jaguars!' holiday.