An entry to our 2019 Writing Competition, Heather Edwards travelled on our 'Just Tigers!' tour.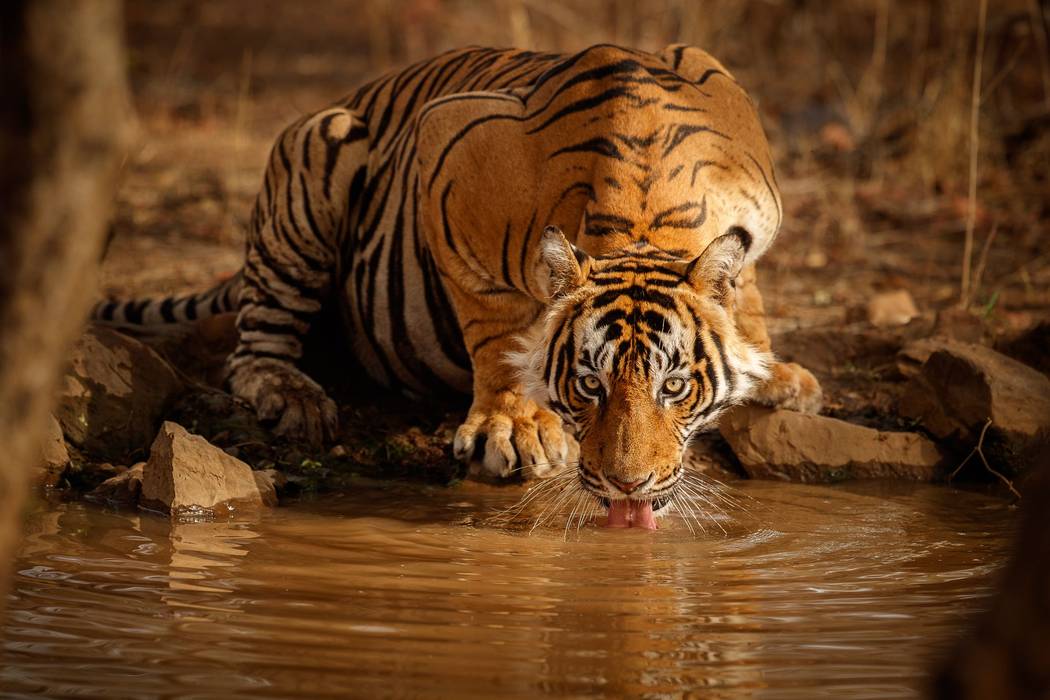 The anticipation is building. There is a buzz in the air from conversations about what might be to come. I sit alongside my jeep companions and amongst all the other jeeps waiting in the light just before dawn. This is India. It is not hot and humid. It is cold and I am wrapped up in gloves, coat and hat but the thrill of it all make me unaware of the temperature. Then, the gate raises and we are off – on our drive through the Kanha Reserve.
Gradually, the light changes and the sun comes up and we spot our first birds of the day – maybe a roller or a lapwing or something more exotic perhaps. Some birds were regulars whilst others were a gift to be spotted and photographed. However, everyone was listening and watching for that elusive Tiger viewing that surely this drive, this day would bring.
The first drive brought sightings of lots of great birds and deer for us to discuss over dinner.
Day two brought other fabulous birds but it also brought a Sloth Bear crossing the road in front of the jeep and then alarm calls – there was a Tiger nearby!
The guides make judgements of the best place to be. Then we see her, a young Tigress, probably just on her own and hiding as best she could. The undergrowth and shrubs, very green and lush after the monsoon, gave her the advantage and she moved along a river bed and into the forest but I had seen her. With my eyes and through binoculars and what a sight. She turned to face me directly as I looked at her and she was such a beautiful sight to behold. She went on and the jeeps followed cautiously and with care. And, as luck sometimes has it, she came to the road ready to cross. But she was nervous, she growled and then – in two bounds she leapt across the road and was gone. I had my camera ready, took loads of images and what did I get? Great pictures of the dirt track. However, the advantage of travelling in a group is that others with greater camera skills did get wonderful pictures of her actually leaping across the path.
The days continued with great sights such as Scops Owls in holes in trees, Cotton Pigmy Geese, vultures, fabulous eagles, fantastically colourful kingfishers, bee-eaters, woodpeckers and so many more.                          
We heard the alarm calls again and again, even on one occasion sitting directly with the langurs as they shouted but only one glimpse of a Tiger far in the distance marking his territory. However, there were also great huge Gaur to see plus jackals and a mongoose and others even saw a wild cat.
The park was surreally beautiful. Great views of the forest and tracks could be glimpsed in the sunshine. Each corner promised some new sight and each time it delivered. As the sun climbed so the earth sparkled just as if a fairy had flown over the park and sprinkled it with fairy dust. I was told later that there is Mica in the soil which glints but I much prefer my version of the wonderful glimmering forest. Orchids grow on trees everywhere; what would it be like when they were in flower I wonder. The early morning mist, especially over the lakes and grassy areas, gave everywhere a mystical quality that I shall never forget.
The last day dawned sad for us all as the magic would soon end. But, as in all wildlife documentaries, this was the day it would happen. A special and brilliant Tiger viewing.
Almost immediately, the alarm calls came from deer this time. Where was that elusive Tiger? The jeeps were positioned by the expert drivers and guides and we held our breath.
And then, there she was. An older Tigress who knew her territory and was confident in herself. She came out of the undergrowth and stood for some seconds unknowingly (or perhaps knowingly) being photographed. The cameras clicked trying to capture her image before she too would go back into the forest. But no, she didn't disappear. She turned and walked towards and alongside the jeeps down the track. She paid no heed to us but gave all of us the show of a lifetime as she wandered slowly down the lane. Some cried afterwards when she finally went from view. It was so emotional.
I could say that I ticked an item off my bucket list on this holiday but that would not do it justice. It would not explain the beauty or the experience or the learning or the 'just being there' feelings or the magic of the place and the majesty of the Tiger.
Read more about our 'Just Tigers!' holiday.