Back in December I suggested to my brother Ken that we take our annual 'winter break' on a cruise along the Norwegian coast. In recent years we have indulged in a little seasonal migration around February - to escape the English winter and pursue  various interests. Noticing the temperatures in northern Norway in February, Ken did not seem terribly enthusiastic.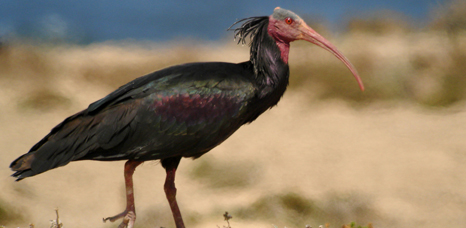 Bald Ibis
So, rifling through the Naturetrek brochure, I spotted a short break in southern Morocco where the daytime temperatures were near the '70s and you could watch birds from the hotel terrace. Ken's email reply was so fast I thought that he had discovered one of those neutrinos …
Which is how we came to be searching for the Bald Ibis rather than the Northern Lights. And, although we are not serious birdwatching experts or twitchers, we have some form. As boys we had roamed the marshes of Christchurch Harbour in a punt, spotting heron, Shelduck and oystercatchers through a brass telescope. More like Nelson's midshipmen than serious birdwatchers, but it got us started.
So off we flew from Gatwick on a freezing February morning. England's green landscape of neatly crafted fields, hedges and farms gave way eventually to Morocco's ochre table-top mountains ringed by jagged edges and ridges, and dry rock-strewn valleys; later the Atlantic's sandy coast loomed into view, backed by rough scrub. And the sky was blue ...
It was easy to spot the rest of the group at the airport, waiting for our guide. The plane was early but  Mohammed was not, so there was time to exchange the  first hellos: always a slightly uncertain time, especially when there are only six of you. However, first impressions looked encouraging.
Soon Mohammed did arrive with a big welcome smile and we were off - to the Oued Sousse river estuary where flamingoes, storks and stilts appeared obligingly. Bulbuls, Spotless Starlings and Moroccan Magpies said hello. We were already entering bird heaven. Sadly, this particular paradise was rather undermined by whiffs of sewage and scattered rubbish in the form of plastic bags, discarded footwear, and sundry flotsam; however, out in the country the rubbish mostly disappeared. Big flocks of sheep grazed in the rough pastures, tended by shepherds and dogs before heading back up to the Atlas Mountains for the summer. Over the week we spotted Dorcas Gazelles, handsome striped Barbary Squirrels, and an Agama Lizard. Crested Larks abounded, swifts and swallows soared over the skies, while Peregrine Falcons and Kestrels took up positions on electricity poles. Little Owls watched us from the roof-top corners of village houses. There was always something to spot (even if in my case it was only  mullet in the river).
Meanwhile, the group had settled down. Our seating arrangement in the minibus told the story. Experts at the front – Mohammed, our intrepid Berber guide, Chris from Northamptonshire - a deep  source of knowledge and advice, and his wife Janet, who although claiming to have 'come for the ride' was sharply observant; Ruth and Pip from Devon, experienced farmers, fruit growers and gardeners with a sharp sense of humour which took no prisoners - the 'Levellers'. And bringing up the  rear, the 'Lightweights' ...
It was a mixed bag of people, but very congenial. Meanwhile, whether driving across the arid bush country or walking along the shore and lagoon, Mohammed was always seeking out more birds to spot, sometimes helped by local people working in the fields - for example, pointing us to an irrigated pasture favoured by redshanks, plovers and stilts. We soon clocked up over 100 species, with the Black-Shouldered Kite, Moussier's Redstart, and the noisy but elusive Cetti's Warbler standing out.
But where on earth was the Bald Ibis? Plenty of handsome Glossy Ibis were populating the lagoon, but the headline star was missing. Perhaps the exotic comforts of our quiet, beautiful hotel had diverted some of our attention: bowlfuls of harira and bisara soups; rich tagines of chicken and lamb; steaming plates of fresh tuna; kefta kebabs; filo pastry pastillas, and couscous all served by friendly staff, along with fresh coffee and mint tea under shaded terraces looking out over the sea. And then of course there was the Hammam massage room ...
All too soon it was time to leave - for a final sightseeing weekend in Marrakesh. But as we set off Mohammed was busy on his mobile and the minibus seemed to be taking a strange route back to the coast. And there  they were! A flock of Bald Ibis, circling and settling just 100 yards from our bus. Mission accomplished! And for me a mission definitely to be repeated - not only for the wonderful wildlife but also for the very different landscapes, people and cultures of Morocco.
For further details about our relaxing 5-day 'Morocco - A Bald Ibis Break!' please visit the tour webpage.