A customer travelled on our 'Iceland in Autumn - Glaciers, Icebergs & Waterfalls' holiday and submitted this entry to our writing competition.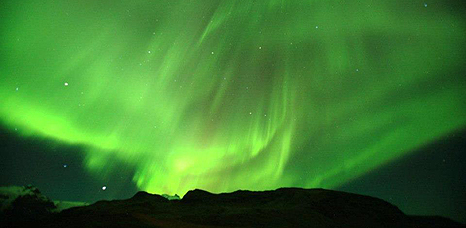 Northern Lights, Iceland
As our minibus sped along the southern coast road in Iceland, Malcolm Stott our Naturetrek leader said, 'Humour me; keep your eyes closed until I tell you to open them.' A short pause, 'Open now!' Wow! What an incredible sight: shining blue, green-blue and sparkling white ice sculptures, some black candy striped, many shapes, drifting around the ice lagoon. Vatnajokull, Europe's biggest glacier acted as a majestic, overwhelming backdrop to this amazing Icelandic sight.
As we looked down from the car park, I noticed an amphibious vehicle pottering around the lagoon letting visitors have a closer look at the icebergs; it appeared tiny, dwarfed by the enormous sculptures. Our guide explained why the ice was blue, in the simplest of terms; it is so blue because the dense ice of the glacier absorbs more red than blue light, so when the light returns to the surface it is lacking red light, making it appear blue.
The black striations within the icebergs were the result of volcanic ash that had fallen on the glacier and been folded in with the movement of the ice, a bit like folding a chocolate layer into a giant cake.
We were so lucky, as the sun was shining; we had just a few white puffy clouds streaking a crystal, clear blue sky. Ideal conditions for photography, cameras were clicking merrily around the craft. But it was just wonderful to stand back and absorb this spectacle. It is no wonder that a 'James Bond' picture has been filmed here, it certainly looks like a fantasy.
Four guillemots bobbed around the lagoon joined by a lone common seal. A call that a snow bunting had been seen sent us searching along the banks of the river. We walked down the edge of the river to the mouth of Jokulsarlon, no luck in finding the snow bunting, but an eider was swimming close to the road bridge. Large chunks of ice drifted from the glacier out toward the sea. Here was another great photo opportunity, to capture the waves crashing over the icebergs, shedding their reflections in the black lava sands - quite a challenge without getting our feet wet!
We returned to the ice lagoon after dark later that night as Malcolm thought that it would make the most spectacular backdrop should the Aurora Borealis make an appearance. There was a very slight green glow in the sky, giving us hope that we would be lucky. But the Aurora is a 'tricky lady' and an hour passed, but instead of the lights becoming brighter, clouds started to blot out what light there was. Keeping warm in the vehicle, we had popped out to get a few test photos and I was pleased that I had managed one shot with green between the clouds and a hint of green reflected in the icy water. Malcolm said we might have a better chance back at the hotel, so all aboard and back we flew to see wisps of the Aurora playing, lighting up the sky as we raced up the hill behind the hotel to get a better look.
Iceland has so much to offer: fantastic scenery, great opportunities for photography, a botanist's paradise for alpine species, fascinating geological phenomenon, thunderous waterfalls and great for birds. Iceland is an island of intrigue and fascination, but she does not reveal her secrets easily or in one go. It's a country that beckons you back several times a year as most months reveal a new delight. Whatever time of year there should be something to enthral; Iceland is a wondrous place. 
Read more about our 'Iceland in Autumn - Glaciers, Icebergs & Waterfalls' holiday.