Tadoba, currently one of our most productive of Indian national parks when it comes to mammal sightings, adds Ratel (Honey Badgers) to its list of recent highlights. We've received some interesting photos of Ratel and other mammals from our favoured lodge in Tadoba taken by camera-traps mounted on game trails and waterholes in the 100 acres of land surrounding the lodge.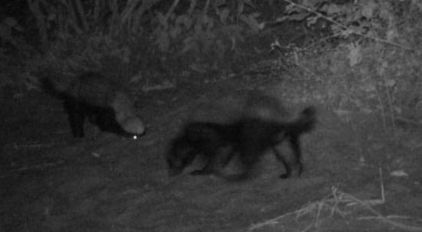 Honey Badgers, Tadoba
As well as Honey Badger, which is rarely seen in the Indian subcontinent (unlike in southern Africa), mammals seen in the lodge grounds include Crested Porcupine, Jungle Cat, Common Palm Civet, Small Indian Civet, Caracal, Pangolin, various species of deer, Gaur, Tigers (including Tigress with cubs), Dhole and Sloth Bear.
Tigers:
Our 2012 India season has got off to a superb start with Tiger sightings at Tadoba as well. Naturetrek's first Tiger Direct! trip of 2012 broke all records in their morning game drive at Tadoba on the 4th Jan: the group saw seven different Tigers during their morning game drive at Tadoba, including a mother with cubs.
You can visit Tadoba National Park on the pre-tour extension to our 'India - Tiger Direct!' holiday and also on our 'Unknown India - Tadoba & Satpura' tour.