Grey Seal mother with pup
Grey Seal Numbers Are on the Rise in Norfolk

This email address is being protected from spambots. You need JavaScript enabled to view it.
British and Irish waters support around 40% of the global population of Grey Seals and the colonies around the coasts of Norfolk and Lincolnshire, notably the colony at Blakeney Point in Norfolk, have seen a rapid population increase since the first Grey Seal pup was recorded in 1988. Last year at Blakeney the first pup was spotted at the end of October and although monitoring was cut short by travel restrictions, local rangers were anticipating around 4,000 to be born before the close of the season.
In fact, not only is it Blakeney that has shown this positive trend in seal numbers, but all three of the established seal colony sites in Lincolnshire and Norfolk, namely Donna Nook (Lincolnshire) and Horsey and Blakeney (both in Norfolk), have seen relatively greater reproductive success and increase in seal population in the past two decades than established colonies further north, including those in Northumberland and Scotland.
One of the reasons the Norfolk/Lincolnshire seal colonies are showing such rapid growth relative to their northern cousins may be explained because these are newer colonies. New seal colonies tend to see initial rapid growth due to there simply being fewer seals to share resources, resulting in greater pup survival rates, which then leads to more adults going on to reproduce each year. The older colonies further north are close to their maximum population size (carrying capacity) so competition for resources is greater, leading to fewer pups being born and then surviving to produce pups of their own.

An issue which had, until recently, been a problem at Horsey was the behaviour of uncontrolled domestic dogs. These pets, when let off their leads, were unfortunately disturbing the colony and even attacking individual seals. Our guide Mike Crewe, who guided day trips for Naturetrek last November and December, has reported to us that this problem has been addressed by the introduction of wardens and volunteers at Horsey to help educate dog owners about the effects of their pets' behaviour on the seals. Since the introduction of the wardens there has been a decrease in the number of dog attacks at Horsey and an increase in seal numbers.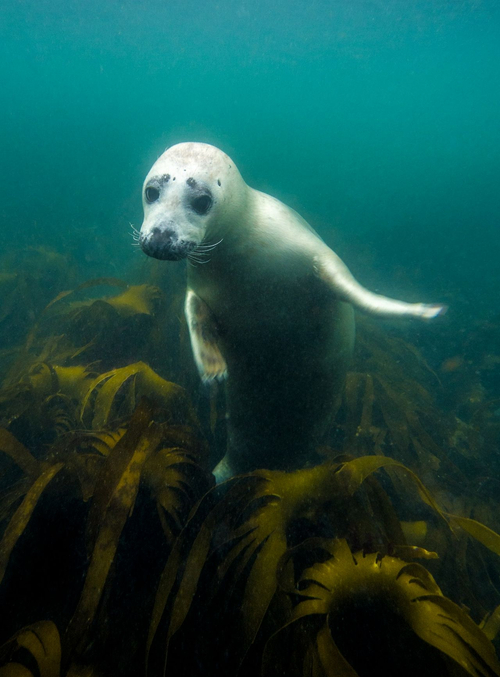 Lincolnshire and Norfolk both have long-held reputations as great counties for birdwatching, and now the sight of hundreds of Grey Seals and their pups along the coastline each autumn provides another spectacle for the naturalist to enjoy.