An entry to our 2019 Writing Competition, Kate Rattray travelled on our 'Ecuador and the Galapagos Islands' tour.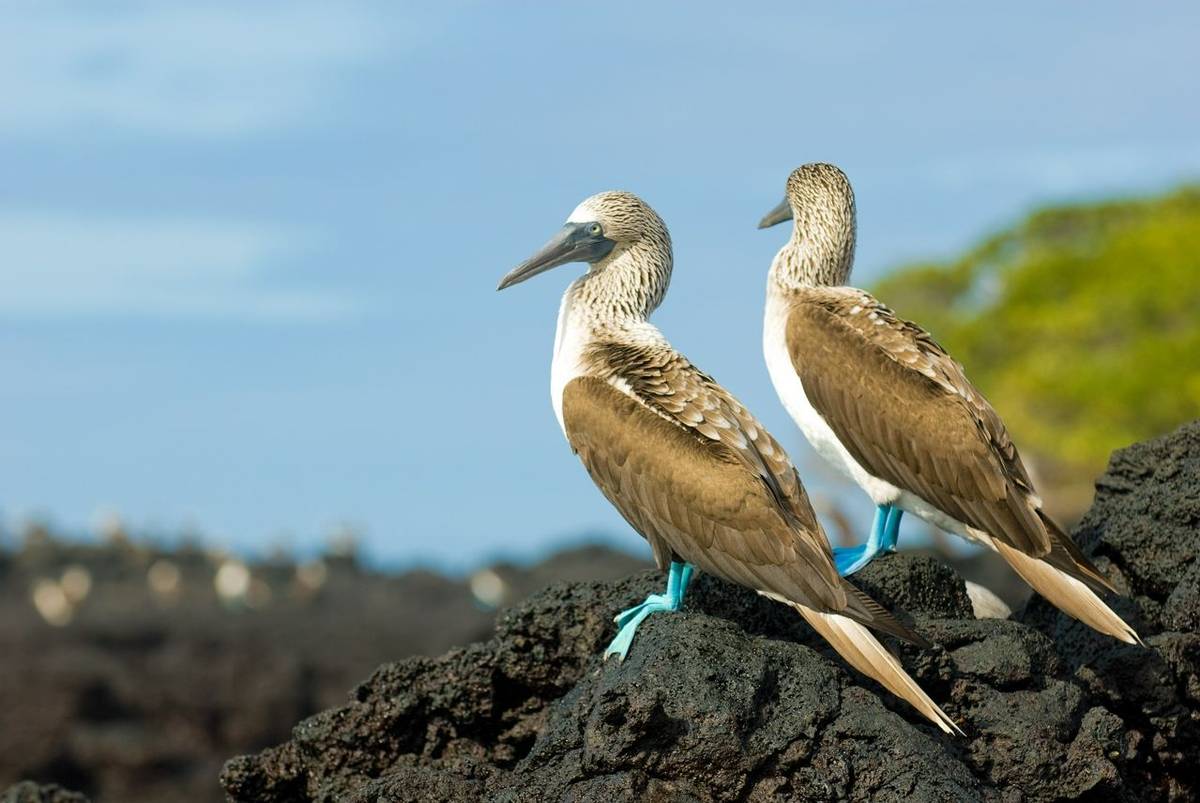 Day 12 of our Galápagos cruise. Floreana. Punta Cormorant. Another glorious morning, the sun already strong in the blue sky, despite the early hour. A wet landing onto the brown-sanded shell-strewn beach, complete with the tantalising tracks of turtles looking for suitable nesting sites. The brief dip of our feet in the picture-perfect comparatively cool water was a welcome respite. I'm Scottish so not really designed for sunshine! One of our first spots was a colourful sea worm stranded on the sand, still alive at that point. I desperately wanted to return it to the ocean, but our wonderful guide, Juan, would not allow it, as even this small action would be interfering with the natural ecosystem. The worm would probably become breakfast for one of the many shorebirds around. This is an excellent example of how passionate people are about conserving the Galápagos, and of how the wildlife takes precedence.
We continued our walk, spotting various waders, a roosting pelican, a juvenile Blue-footed Booby and several flamingoes in delicate hues of pale pink, amongst others. There was plenty of lush greenery, due to the fact that it was apparently the rainy season, although we hadn't seen much evidence of that. The parched and cracked earth surrounding the lagoon paid testament to the lack of rain. Looping back, we came across the same juvenile booby carefully guarding the path. Tourists are told to stay two metres away from the animals. Nobody tells the animals to stay two metres away from the tourists! This little guy decided he liked the look of my tattooed legs and wandered over to scrutinise them more closely, letting out a squawk or three as he did so. Evidently he thought they might be edible, as he then pecked at them. He took some persuading that no, I wasn't his mummy and no, we didn't have anything for him to eat. This allowed for some fabulous close-up photos and video of him and his striking plumage, and I was sorely tempted to bring him home to add to my menagerie. What a fantastic experience. I left the Galápagos feeling that a visit there is a privilege, and it is incidents like this that fuel my belief. My day was made and it wasn't even 9am!
Onwards to another bay, where we'd been told we 'might see rays on the beach'. We took this to mean that there was a chance of a glimpse of rays, possibly washed up on the sand. Strolling past Lava Lizards, iguana burrows and fascinating flora, we were afforded a view of the flamingoes from a different angle. Skin glistening with sweat under the baking heat of the unforgiving equatorial sun, we arrived at a wide expanse of pale beach, complete with an enormous piece of stunningly intricate driftwood. A Yellow-crowned Night Heron greeted us, and the sand was crisscrossed with hundreds of bird footprints. Unfortunately a fair bit of litter had washed up, so while we explored Juan collected up as much of this as he could. It was surprising to see, as the Galápagos is so pristine and lacking in plastic pollution, thanks to local environmental policies. Swimming was off the menu, because of the rays, so we paddled in the sparkling warmth of the shallows instead. Hang on, what's that peeking through the foam and swirling sand? Let's play 'stone or ray?' YES, it's a ray! Rays are amongst my very favourite creatures, and I am always elated to see one. It never ever gets old. Look, there's another. And another. Oh my goodness, they're everywhere. We were surrounded by a multitude of Long-tailed Stingrays. Taking a step meant almost tripping over them, so we shuffled instead. Waves would wash them up against our legs and with one flick of their undulating wings they shot off again. Such beauty. Such grace. Overawed, I could have wet myself with the excitement bubbling and exploding inside me. In heaven, I snapped photo after photo, wanting to record this magical moment forever, and filmed videos that watching back would remind me that perfection does exist. I could cheerfully have stayed there all day, oblivious to the resulting burn and dehydration.
Wait, that's not a ray. Blow me, it's a turtle! My cup runneth over. Turtles and tortoises also feature in my top animals list, so to see rays AND turtles at the same time was incredible. Was this real? Should I pinch myself, check I'm not having one of my weird and vivid dreams? Nope, it's definitely happening. I am actually standing in the Pacific Ocean watching numerous rays frolic with a Green Sea Turtle. Oh. My. God. Words fail me at this point but it's probably obvious how thrilled and amazed I was. The most enormous grin was spread across my face, and I even took a selfie, which I don't like doing, to capture my happiness. I love the resulting photo, and that's a rare thing indeed.
All too soon we had to leave this paradise. Maybe it seems strange to be so enthusiastic about rays, when people are usually eager to see more 'traditional' fauna, such as dolphins or monkeys. I have always been different, so it's little surprise that my wildlife tastes follow suit. The encounter left me feeling blessed and exuberant with joy for the first time in a long while. I was fortunate enough to see a shoal of Golden Cowrays and have both a close encounter with some Eagle Rays and a slightly more distant view of another swimming in the depths during various snorkelling trips throughout the expedition (snorkelling tropical oceans being a treasured pastime, as well as my happy place), and we were treated to not only a group of cowrays on our final early morning panga ride the day we reluctantly waved goodbye to the islands, but also to a pair of them mating beside the jetty as we waited for our bus to the airport.
The entire holiday was a once in a lifetime experience that there are not enough superlatives to describe, and I would be hard pressed to pick an individual 'best bit', but Floreana's rays definitely stand out. I'd always planned to visit the Galápagos for my 40th birthday, and my trip not only lived up to my expectations, it far surpassed them in so many ways. Long may the islands remain protected and preserved.
Read more about our 'Ecuador & the Galapagos Islands' holiday.