A customer travelled on our 'Bulgaria's Dragonflies' holiday and submitted this entry to our writing competition.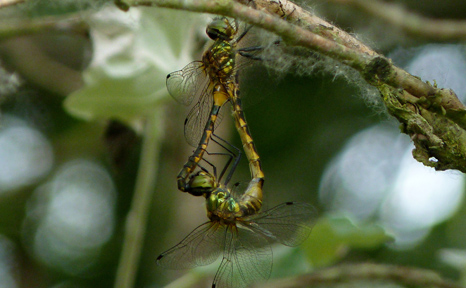 Yellow-spotted Emerald pair
A circuit of central and southern Bulgaria gives a great insight into both the exceptional dragonfly fauna and the abundant other wildlife of the region. After visiting rivers and streams in the Sredna Gora Mountains, we moved south-east to the River Maritsa, where River Clubtail and Green Snaketail were good finds. In the low mountains of the biodiversity-rich Eastern Rhodope, we spent two days searching in a variety of habitats and recorded a good range of dragonflies and other insects, including the extraordinary Odalisque – a damselfly that looks rather like a dragonfly.
Our next two days were spent in the higher Western Rhodope Mountains, where we found a select range of dragonflies, including large numbers of Spearhead (Northern) Bluets at their southernmost locality in the world. At the spectacular Trigrad Gorge we were treated to prolonged and close views of a Wallcreeper, while near the Greek border next day we discovered a mating pair of Yellow-spotted Emeralds, the first Bulgarian record of the species since 1970.
At Rupite Hot Springs, in the already hot enough south-east of the country, we were greeted by a small group of Eleonora's Falcons, while the climax to a superb trip was seeing Black Pennant again at one of its two known current locations in Bulgaria. The group saw the unprecedented trip total of 52 species of dragonflies, no doubt helped by lots of hot, sunny weather.
Other trip totals included 76 butterflies and 125 birds, not to mention a wide range of other animals and plants that the combined talents of the group helped to find and identify.
Read more about our 'Bulgaria's Dragonflies' holiday.