A customer travelled on our 'Wallcreepers & Cranes in Northern Spain' holiday and submitted this entry to our writing competition.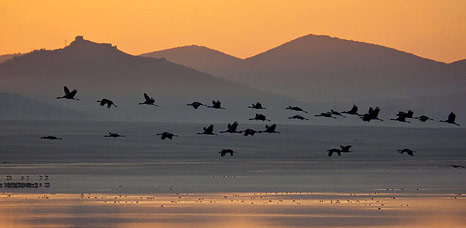 Cranes at Dawn by John Willsher
Eighteen Thousand Cranes Before Breakfast!
It was Day 5, Thursday 1st March 2012, of our Naturetrek holiday entitled, 'Wallcreepers and Cranes in Northern Spain'. It was also our first full day at Gallocanta Lagoon and we had an early morning wake-up call to see the cranes. This land-locked lagoon is about 10km long by 2km wide and is a key 'stopping off', resting and feeding location for the European (or Common) Crane (Grus grus) when on migration. Indeed, our visit was planned to coincide with their spring migration northwards after wintering in Portugal and southern Spain. In all, about a quarter of a million Common Cranes winter in the Iberian Peninsular.
The lagoon is located in a large area of high plateau in a broad shallow basin surrounded by hills. Its adjacent land is a patchwork of reedbed, rough grassland and arable fields, ideal for many bird species. When we were there about two thirds of the lagoon was covered by a very shallow draft of water. Because there is no water flow out of the lagoon it has become saline over thousands of years and, in fact, one could discern a faint white sheen of salt on the mudflats. All told, the whole area had just a faint echo of the salt lakes of the altiplano of the Andes.
At 6.40am, in the dark, we boarded our two-people carriers outside our hotel, Hotel Secaiza near the village of Berrueco, for our short drive to a viewing hide beside the Lagoon. A final check, was everyone present? Yes. Had everyone got everything? Whoops! Not quite ... a quick dash back to a room for a camera and we were off.  We were all well wrapped up. The weather was clear but bracing with a temperature of -7 degrees Celcius. Although in Spain we were, after all, at about 1,000m in very early spring.
Our drive took us, initially, to the village of Gallocanta, after which the Lagoon is named, where we collected our local guide and crane expert Javier Manas. We then drove along a rough track to the viewing hide which was raised up on stilts so one could see the lagoon over the surrounding reedbeds.
As we disembarked from our two vehicles, the cold pre-dawn air was completely filled with the sounds of trumpeting and calling cranes. Ascending the steps to the viewing platform in the dark, one could faintly make out what seemed like a vast array of protruding pillars dotted all over the lagoon. However, as the dawn slowly broke with the sun just peeping above the surrounding hills, these 'pillars', now clearly moving around, steadily transformed themselves into cranes.
With the sun now fully above the horizon, the sight of over 18,000 cranes (Javier's estimate) calling to each other in the low morning sun was a true natural wonder. White Storks were also present in some numbers. As the daylight increased, groups of the cranes started flying from the safety of the lagoon to feed in the surrounding fields. A bonus was had when we saw a Wild Boar trotting across the mudflats of the lagoon with the cranes completely unperturbed. At this stage, and beginning to feel a bit cold, we too felt it was time to 'take off' back to our hotel for a hot coffee and breakfast.
After breakfast we again drove back to the village of Gallocanta. As the temperature continued to slowly rise in the morning sun, we saw groups of most of the 18,000 cranes taking off and slowly flying around, always gently spiralling upwards to catch the thermals that were now starting to form. With such a wildlife spectacle, the cameras were working overtime, constantly clicking, with the next photo always promising to be better than the previous. Once the birds had gained sufficient height they would come together in 'V' formations to resume their 2,000-mile epic northward journey. Over the next few hours 'squadron after squadron' departed, one bird slip streaming behind the one in front, with the lead bird charting the route. All the time the birds were calling and trumpeting to each other, probably in family groups, with the higher pitched calls of the younger, brown-headed birds sometimes audible. As they departed one could not help but wish them well and a very 'bon voyage' on their long journey to countries like Norway, Sweden, Finland, Germany and Poland.
That morning, nature had shown us one of its truly great spectacles, that of the mystery of migration on a grand scale and one which will never to be forgotten by all those who were present on this Naturetrek holiday. 
Read more about our 'Wallcreepers & Cranes in Northern Spain' holiday.