A customer travelled on our 'Bhutan's Bumthang Valley' holiday and submitted this entry to our writing competition.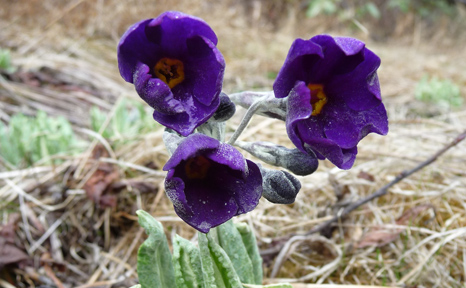 Primula calderiana, Rodong La, Bhutan
It was dark when we crossed the Bhutanese border but the contrast, between the hustle and bustle, the litter-strewn roads and the general disarray in India with the peace and quiet serenity of Bhutan, was already evident. Later, heading further east, we seemed drawn into a time warp.
Arriving at our very comfortable, homely, Paro hotel, we were greeted with refreshing ginger tea. The following morning, well rested, our tour began with an auspicious start - close up sightings of four Ibisbill along the nearby river. Our initial challenge, in preparation for our trek, was the steep but steady climb to the Tiger's Nest monastery. Spurred on by the spectacular views and new floral discoveries from minute gentians to our first rhododendrons, we reached the viewpoint to peer at the monastery clinging alongside pines to the otherwise bare cliff-face.
This trip was so much more than just a botanical tour. Naturetrek's David Tattersfield is an amazing botanist with an encyclopaedic knowledge extending also to birds, geology and local culture. We soon understood why he enthused so much about Bhutan. Travelling along the limited road network, we saw steep-sided valleys with vast unexplored tracts of impenetrable forest. Photographs cannot accurately convey the spectacular panoramas of hillsides covered with flowering rhododendrons, pieris, daphnes, viburnums, cherries, huge magnolias and other fabulous spring blossoms. Everywhere locals took pride in their traditional dress and fiercely maintained their cultural heritage. Small villages retained well-tended vegetable plots, rice terraces and orchards. We visited several unique fortress-like dzongs, the most impressive being Punakha Dzong set between two rivers and surrounded by the emerging purple haze of Jacaranda trees. Here, wildlife was always present: nesting Choughs alongside wild beehives and noisy Assam Macaques.
We walked in meadows amongst drumstick primulas blooming as far as the eye could see. There were anemones, trilliums and weird-looking arisaemas. Shrikes were as common as sparrows. Whistling and laughing thrushes broke the silence, brilliantly coloured minivets and sunbirds flitted around the forests; Dippers and Water Redstarts hopped beside the clear rivers; Himalayan Griffons, Black Eagles and Snow Pigeons flew high above, and secretive Blood Pheasants scurried past as dusk neared.
There were unique cultural elements too. Simple pleasures persist. In Thimpu we watched the accuracy of archers using traditional bows hitting a target we could barely make out. We enjoyed a school visit meeting smiling, polite, well-disciplined children, and encountered yak herders in the high pastures. On a farmhouse tour we sampled freshly cooked buckwheat pancakes and butter and were given a loom weaving demonstration. One evening, despite torrential rain, resourceful villagers constructed a canopied area so we should not miss a promised traditional dancing performance.
There were many local characters but my abiding memory is of the unforgettable joy of the deaf and dumb craftsman who grinned constantly after selling us his entire stock of hand-carved wooden spatulas!
David's enthusiasm for the natural world was infectious. While Jatsho, our cultural guide, expanded his ornithological knowledge, Tshering, our personable bus driver, concentrated on the flora. Tshering was so keen to learn he joined us on what was his first trek and delighted in pointing out the newly learned rhododendron names to assist the slower learners in our party - oh for a young memory! He caused great amusement by donning a lichen beard to become 'Bhutanese David'. He and David were photographed like twin Father Christmases - little did we know that a more magical treat was to follow!
We camped at remote Phokphey (3,680 metres) to prepare for the next day's ascent to the highest point of our six-day trek, the Rodang La pass. We awoke to sunshine and a picture postcard scene of Christmas colours - dark green Eastern Himalayan Silver Firs and red bauble-like rhododendron flowers covered in glistening snow. My memories of this magical trip highlight remain as that. I had foolishly forgotten to keep my camera batteries warm overnight and, despite having four, all refused to function until the snow had melted later that day.
As we commenced the climb the group's camaraderie helped providing encouragement to continue upwards to reach the pass. It was not difficult but tiring due to the decreased oxygen levels. We all succeeded, each in our own time, stopping periodically to admire the Himalayas and spot plants emerging as the snow melted.  These included dwarf rhododendrons and David's dark purple 'brussel sprout' primula (Primula calderiana).
Spring's progress, as we returned to Paro, provided an insight into the next floral spectacle to appear – mecanopsis, gentians and more. We had braved the snow, endured a night of torrential rain and, like the early plant hunters, we fought our way through dense bamboo but none of these could dampen the experience of visiting this wonderful last 'Shangri-La'. 
Read more about our 'Bhutan's Bumthang Valley' holiday.