Pam Manfield travelled on our 'India - Tiger Marathon' holiday and submitted this entry to our writing competition.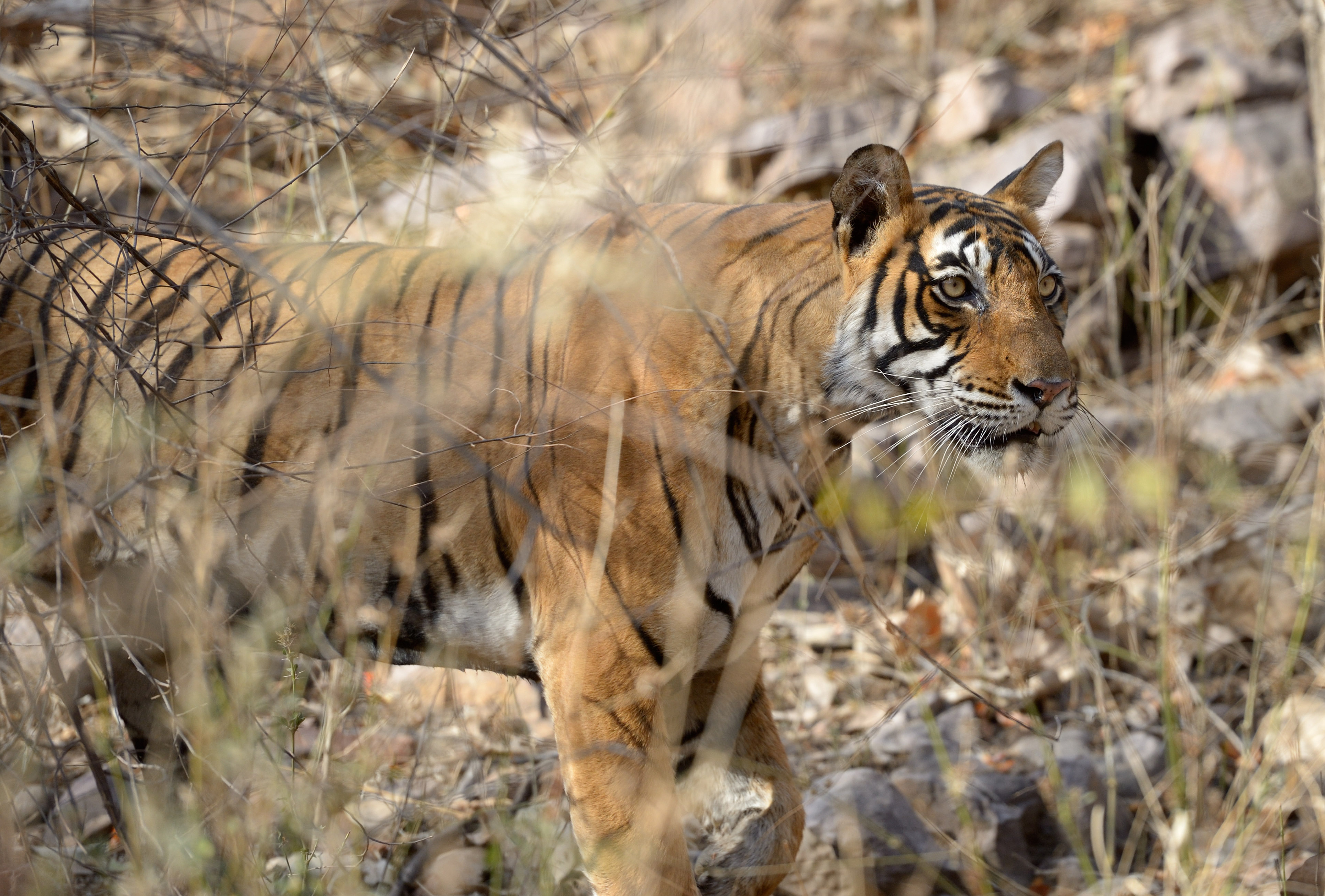 Tiger, India
Up at 5 am, a quick cup of tea and a biscuit and we are off on our first jeep trip in the hope of seeing a Tiger. We register at the park gate, pick up our park guide and set off as a large orange sun rises slowly over the trees. We jolt over rough tracks, past muddy pools where Sambar are wallowing, through teak forests with raucous Indian Grey Hornbills calling and the occasional iridescent blue flash as an Indian Roller flies past. We move out into grassy areas where delicately spotted deer with large, liquid brown eyes and wet noses watch us curiously. Wild Boar trot past in the distance and eagles soar overhead.  Lots of wildlife - but no Tigers. We stop for breakfast: boiled eggs, sandwiches and tea, which taste so good in the cold morning air.
We carry on interspersing forest with grassland, seeing so many more birds and animals.  We stop and question the guide of each jeep we pass. No one has seen a Tiger. There are large pugmarks in the dust on several tracks, but no sign of an animal. We return to the lodge for lunch and a rest.
In the afternoon, we return to the park: even more birds, lots more Spotted Deer, the excitement of a fast-moving mongoose dashing through the scrub. Plants, birds, animals, all are new and fascinating. We have resigned ourselves to not seeing a Tiger - and, faced with all these wonders, it doesn't seem to matter. Then, half-way down a quiet track our guide gestures to the driver to stop, puts his finger to his lips and points to a scrub patch about 20 yards away on the left.
Partially screened by straggly lantana bushes, a large, orange and black-striped shape emerges. A huge male Tiger. He knows he is being watched, but walks slowly, majestically, parallel to the jeep and then crosses the track behind us. He moves effortlessly, taking huge strides with his giant paws. His colour is breathtaking, from his calm, whiskered face to his upturned black-tipped tail. He moves quietly into the forest on the right and disappears in a few steps, giving us a last wonderful view of the brilliant white markings behind each ear.
I had not expected to be so overwhelmed with emotion at the sight of this animal. There are tears in my eyes and those of some of my companions in the jeep. Majestic is an over-used word, but not for Tigers. Over the years, I have been fortunate enough to see many wonderful wild animals close up: Lions, elephants, rhino and buffalo in Africa and Bison and Black Bears in the United States, but this Tiger is in a different class. He exudes power and beauty and the essence of wildness.
If we hadn't seen a Tiger, the trip would still have been an amazing experience. So many new birds and mammals, plus pythons and crocodiles, a tree cascading with orchids, and Gaur and cobras. I could go on and on. But, above all, we saw a wild Tiger in his own habitat, relatively close, and unworried by people. It reinforced my inability to understand how greedy people can want to kill a creature this majestic for the supposed medicinal properties of its bones. This holiday has convinced me even more of the need to fight to protect our rare wild creatures, so that future generations will be able to see an animal in its own habitat and not just in zoos.
Read more about our 'India - Tiger Marathon' holiday.