An entry to our 2019 Writing Competition, Duncan McNab travelled on our 'Botswana's Desert and Delta' tour.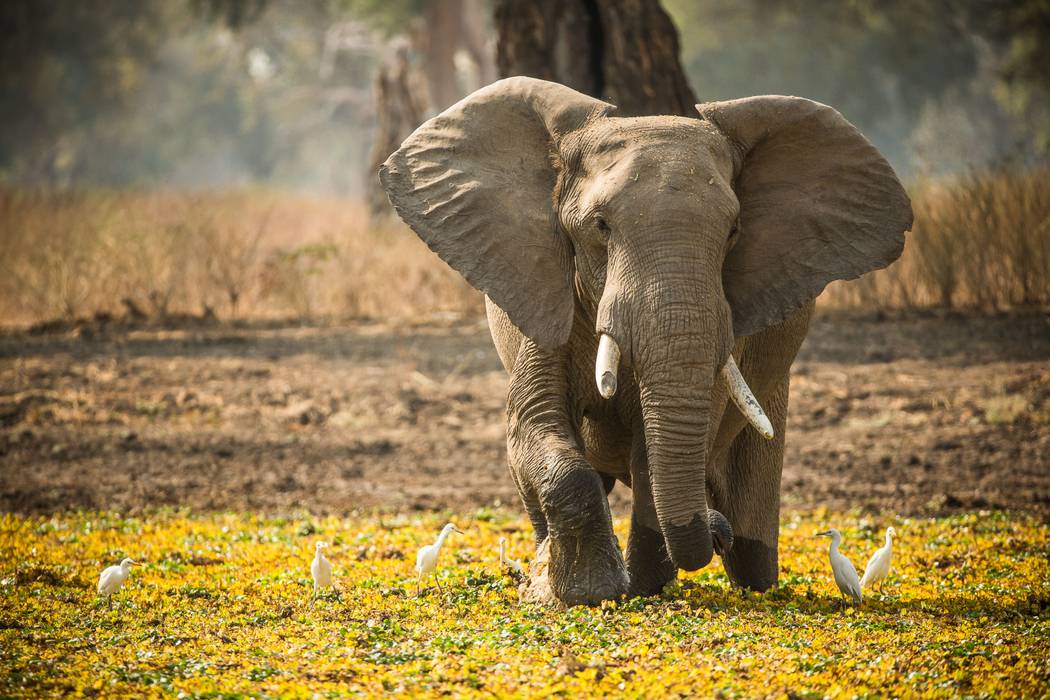 Dear Naturetrek,
I had high expectations for my September camping safari in the Okavango Delta, but at the end of the trip I was left despondent and disheartened.
I wish to complain about the work load this safari has caused me. I now find myself sorting through some 3,000 images and three and a half hours of video footage. Have you any idea of how long that is going to take me? There are so many species of mammals, birds, reptiles and plants, I barely know where to start.
It was also very distracting trying to eat in the dining tent with Warthogs, Waterbuck and 50+ Elephants cavorting in the river just yards away from the table. How would you like someone taking a mud bath or suckling a 500lb baby next to you as you eat your midday meal?
If it wasn't bad enough having all this activity at lunch-time, we had to put up with a pride of 13 Lions making an appearance at dusk just across from the dining tent on the other side of the river. They are such noisy drinkers! How is one supposed to enjoy a glass of red wine with one's evening meal with all that slurping going on?
The Lions then, with no respect for those who need to sleep, had the temerity to kill a Buffalo a short distance from our camp. If they had done it quietly, they would not have attracted every hyena from miles around. But oh no… the still of the night was shattered by the commotion. And can I just point out that hyenas are also no respecters of the peace and quiet of the night. They hooped and hollered into the small hours until there was enough of them to steal the Buffalo kill from the poor Lions. The sounds of that night will not be easily forgotten.
I had hoped to capture some cute photographs of the hyena cubs at their den. But that was yet another disaster. Before we even got to the den, we encountered the hyenas out in force devouring a baby Elephant they had killed an hour or so before. The dynamic interactions between those fighting for the tasty bits and the left-over bits was an assault on the eyes, nose and ears. We were right in the thick of the action as hyenas charged about us carrying various body parts and creating clouds of dust swirling up into the golden early morning light. These were not the gentle cute photographs I had hoped for.
As for our guide, Mr Ace, he left me feeling utterly inadequate with his ability to see creatures in the landscape that were completely invisible to myself and the other guests. I ask you, how is it possible for someone to spot the tiny twitch of a sleeping Lioness's ear in long lion-coloured grass from 100 metres away whilst driving a vehicle? I'm also sure he was wearing some hearing amplification device. He could tell the age, sex, weight and species of an animal by the sound it made standing on and breaking a twig half a mile away.
Oh, and then there were the Leopards. Granted, he did find us a healthy male Leopard, but it only had three legs. Who ever heard of a three-legged Leopard? I certainly hadn't. But there it was, minus its left rear leg. Mr Ace did go on to find another Leopard for us, and thankfully this one had all its limbs. Not only did she have a full complement of legs, she also had a cub and a freshly killed male Impala. She was not the smartest Leopard in the delta as she had killed an Impala that was too big for her to carry up into a tree. She did try to hide her kill by dragging it under the uprooted base of a fallen tree. The hyenas in the area were not the smartest either. They never found the now stinking carcass through the night, and when we returned to the scene the next day, we watched the mother and cub take it in turns to feed on the Impala. Because Mr Ace got our vehicle positioned in such a way as to give us a good view of the gruesome dining habits of these cats, we inadvertently were treated to the smell of rotting guts and the sound of crunching bone.
On the subject of dining, I would also like to complain about the weight I put on during the course of the safari. Our chef not only prepared wonderful food, he always invited me up for second helpings. Well, it would have been rude to refuse. But it is his fault that I arrived home heavier than when I set off.
But my principal complaint is this. The quality of the guide, the sightings and the overall experience were so spectacular that they have ruined any plans I might have to safari again. For surely, any safari I undertake in the future is destined to disappoint and could never live up to this one.
I hope you will treat my complaints with the seriousness they deserve.
Yours,
Duncan McNab
Read more about our 'Botswana's Desert and Delta' holiday.