A customer travelled on our 'Sri Lanka - Blue Whales & Leopards' holiday and submitted this entry to our writing competition.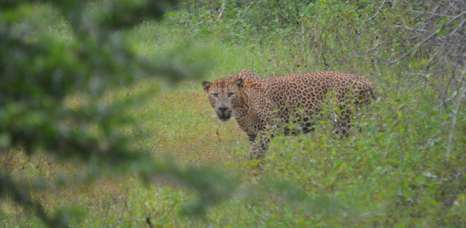 Leopard by Andy Smith
My eyes constantly interrogated the thick scrub as our jeep negotiated the rough track. We were running out of time and the light seemed to be fading. Light drizzle began to fall and the realisation that our goal might be missed was now becoming a distinct possibility. I contemplated the evening spent in quiet anguish with only a final morning game drive left.
But this was Yala National park in southern Sri Lanka. A place reputed to have one of the world's highest concentrations of this big cat that was so high on my wish list. The park is dissected by tracks, between which are dense areas of of forest and scrub, the domain of Panthera pardus kotiya. The Leopards in Yala have large undisturbed areas in which to hunt and tall, large limbed trees in which to doze away the heat of the midday sun. Jeeps keep to the tracks and there is no doubt which mammal struts his stuff here.
I tried to put my day into some realistic context. We had already seen over 90 species of birds. Highlights had been the globally threatened Lesser Adjutant, a crazy looking bird with a punk hair style. A pair of magnificent Black Eagles had buoyantly circled over our heads, and now my new favourite bird, an exquisitely coloured Indian Pitta had graced a forest glade.
With all these gems why was I feeling so unfulfilled? We had also been blessed with a group of three Golden Jackal that frolicked on the edge of a marsh and to cap it all our lunch stop produced one of the hardest to see mammals of Yala. While we tucked into our sandwiches one of the guides was still working. Scanning the distant granite inselberg (Tor) that loomed above us he had spotted a fine adult Sloth Bear. To have seen this creature so well was something I had not expected.
We were now driving to a view point and seemingly not hunting our quarry. This seemed like wasted time and desperation was mounting. It turned out to be the best vantage point from which to view a huge granite Tor that uncannily resembled an elephant. Well we are here, so I might as well photograph it, and as an afterthought, maybe it will bring good luck.
We drove on, still searching. The drizzle stopped and the light improved, surely a good omen. As we rounded a bend another jeep approached and stopped. A Leopard had just been seen crossing the road. We now hastily made for the other side of the block of forest, our aim to intercept the Leopard. Our problem was how to spot such a well camouflaged creature in its natural habitat.
Where to look was my predicament. I felt inadequate in this alien landscape, so different to my local patch. As we waited the expectancy was palpable and then I saw a movement. A long curved vine-shaped tail moved between the dense scrub. My mind tried to rapidly compute what I was seeing. At moments like this everything is so vivid and time stands still. You are witnessing an event that will remain in your memory for ever, but you are also trying to avoid making a fool of yourself. What other animal had such a tail? Not a deer or boar, a langur, yes, but this seemed so cat like. At last I had sorted out my thoughts and I shouted, 'Leopard!'.
Our guide was quickly on to it, and exclaimed, 'Good spot!'. The jeep moved so that on his chosen path he would have to cross a gap in the scrub. Seconds later my camera was firing away, my fingers desperately trying to set the manual focus. This was my chance. This was the moment. The large male Leopard majestically strode across the open space and momentarily hesitated to glance in our direction. He then moved into denser vegetation and looked up into the trees. My camera continued to fire as my heart pounded. Eventually he lay down and rested. We changed position on the track, trying to anticipate his next move. Then he was gone. Slipped away like a phantom.
Wow, what an encounter. An incredible reward and far exceeding what I had imagined. I cannot begin to describe the wonderful warm glow that filled my heart as we drove back through the rapidly failing light.
That evening I nervously reviewed my photos. Considering the range and obscured view, I had some great shots. When the photos were played back it was like a video, capturing the languid movement of this splendid carnivore. So - my dream realised and images that would live long in the memory. Even a shot of that first image, a Leopard's Tail!
Read more about our 'Sri Lanka - Blue Whales & Leopards' holiday.