Gill Starling travelled on our 'The Camargue in Spring' holiday and submitted this entry to our writing competition.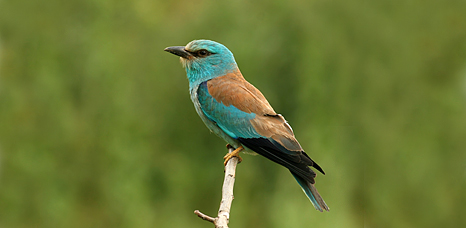 European Roller
Birdwatching Holiday for Beginners in France's Camargue wetland
Despite having the surname of 'Starling', I am not the usual 'birdie' person - in fact I have a phobia about being in confined spaces with birds. So this may not seem a natural holiday for me. However, we set out for the Camargue on a bright Sunday afternoon and arrived in Montpellier less than two hours later. We met up with our group and, just on the way to the hotel, we saw Little Egret, Glossy Ibis, Black Kite and a Hoopoe - not the species we would normally see back in East Anglia. With the day rounded off with a wonderful Provencal meal and washed down with a very decent Cote du Rhone, I could tell this was going to be a good holiday even for a non-birder like myself.
We woke the next morning to bright sunlight and some of our group took the opportunity to do some early morning birdwatching. After a hearty French breakfast, we set off for the Parc Ornithologique at Pont De Gau, seeing a plethora of birds on the way including Hobby, Honey Buzzard, Roller, Bee-eaters, Squacco Heron, Red-created Pochard, Great White Egret, Grey and Purple Herons, Stone Curlew, and Common and Greater Spotted Cukoos. Arriving at the Parc we enjoyed a delicious picnic lunch with the only issue being the heat of the sun (the UK was having snow at this point I believe!). The Parc and its reserve areas are home to numerous flamingoes and storks; Black-winged Stilts and another Hoopoe were also spotted. A combination of lunch, the heat, walking and birdwatching led to many of us contentedly dozing on the journey back to our hotel. That evening, after yet another wonderful meal, we piled back into the minibuses and set off in search of an Eagle Owl. We didn't appreciated that it was the 13th day of the month and the year 2013 plus the 13th time that one of our guides, Ian, had gone Eagle Owl spotting in the area. There had been only one occasion when he had not had success and this made the second. It just went to prove that you cannot book nature to perform. A glass or two of red wine back at the hotel and a long day of birdwatching set us up perfectly for a good night's sleep.
The next day we set off for St-Martin-de-Crau stopping first at the desert area that is the Crau Plain reserve. The original plan had been to do this trip tomorrow but it was brought forward in view of wet weather being forecast. We saw Southern Grey Shrike and another Stone Curlew plus more Honey Buzzards. The area is a great attraction for dragon and damsel flies and we spotted Copper Damoiselle and Blue-tailed Dragonfly. By this time it was starting to warm up, so off to St-Martin-de-Crau for a comfort/coffee/beer stop then up into the mountains for a picnic lunch, during which we were visited by a Crested Tit. We walked off lunch by going up a short track to magnificent mountain views and sightings of Alpine Swifts and an Egyptian Vulture. The trip home took in a place known as 'Roller Bridge'. No Rollers today but we saw butterflies, Egret, Kingfisher and a Coypu. Then back to the hotel to write up our group viewing notes over a cold beer.
Our last full day in the Camarque. As forecast, rain came and went during the day. While stopping at an observation platform at La Vaccer's National Reserve, a fox was spotted walking along the shoreline. A visit to the coast produced sightings of Dunlin, Knot, Curlew Sandpiper and a variety of terns. Star sightings were Short-toed Eagles and a Slender-billed Gull. A surprise visitor was a black swan. A further surprise awaited us when we arrived back at the hotel: a very welcoming cup of tea and cake. As we broke up to go to our respective rooms that evening, a Stripeless Tree Frog put in an appearance.
Day five, and time to go home, but not before a brief spell of birdwatching. Aside from the (now usual) flamingoes we had good views of Bee-eaters, and added Caspian Tern to our sightings list. We then started to go our separate ways; it seemed odd that, only five days ago, we had been complete strangers. The enthusiasm of our guides and the other group members rubbed off on me to the extent that, back in our home village, I am finding myself trying to spot birds far more than I was a week ago. I must confess, though, that I would still not wish to be shut in a room with one!!
Read more about our 'The Camargue in Spring' holiday.