Wildlife Highlights from the Naturetrek Office

This email address is being protected from spambots. You need JavaScript enabled to view it.
Over the past month, our staff at Mingledown Barn have been treated to a plethora of Brown Hairstreak sightings. In late July, a male Brown Hairstreak was discovered nectaring on the bramble flower just off our land, with subsequent visits finding another male in the same fashion. Further visits into August revealed the presence of two females – these brighter specimens were even observed egg-laying, giving hope for an even better show of this rare butterfly next year. In addition to the hairstreak, 21 species of butterfly have also been recorded this August, including second generations of Small Copper, Holly Blue, Small Heath and Common Blue.
Additional Lepidoptera highlights came from several overnight moth-traps. The highlight by far was the Clifden Nonpareil, representing only the second record of this large, rare moth for the barn. Also called the Blue Underwing, this moth is a local resident, but sightings are sparse, although this scarce immigrant is slowly spreading north from southern England. Other notable sightings amongst the 60+ species trapped comprised a Canary-shouldered Thorn, a Feathered Gothic, a Lesser Swallow Prominent and the striking Four-spotted Footman.

August is prime time for autumn bird migration and our land has proved to be an excellent site for passerines, with the likes of Whinchats, Redstarts, Yellow Wagtails, and best of all, a Wryneck! This cryptic species (which is in the family of woodpeckers) is highly sought after each autumn by seasoned birders, but to find one away from the coastline is rare, marking this as one of the ornithological highlights at Naturetrek HQ. Despite its elusive nature, members of staff, and the general public alike, were thrilled to watch this shy bird probing for ants along the driveway.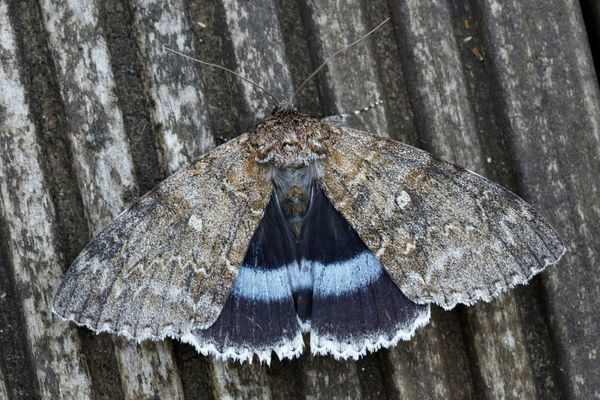 Clifden Nonpareil (Matt Eade)
The creation of our new pond in the early spring period has been hugely beneficial for Odonata, with seven species already logged. Common Darters have been most abundant and will continue flying into October, if conditions suit. Lastly, excursions into our nearby woodland have found the rare Yellow Bird's-nest – these beautiful perennial plants are local in Hampshire, but are considered scarce in the rest of the UK.
Naturetrek Pond (Sara Frost)