Josh Phangurha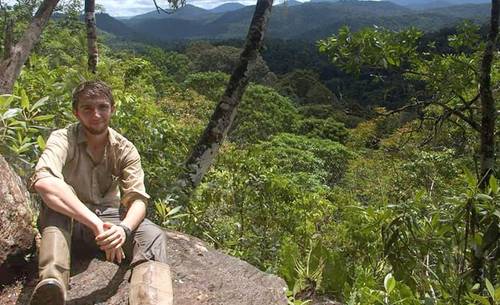 Josh has been passionate about wildlife as far back as he can remember. His mother has told him stories about his inquisitive behaviour towards nature even before he could walk, such as how he would crawl after insects on the ground as a baby. His first love was spiders and he held large collections of native and exotic spiders around the house as a child, and would collect orb web spiders on his way home from school to study during autumn. Since then he has developed a broader fascination into the world of herpetology and entomology, as well as becoming a keen birdwatcher and fungi finder!
This passion for the natural world spurred Josh on to study Zoology at Bangor University and then to study spider web-building ecology at the University of Bristol for his master's project. While studying, Josh assisted in the conservation research of the critically endangered Utila Spiny-Tailed Iguana (Ctenosaura bakeri) with a non-governmental organization (NGO) off the northern coast of Honduras and he later volunteered as a research assistant in Guyana with the NGO Operation Wallacea.
As part of his undergraduate degree, he travelled to Arizona to complete a field course based on the ecology of herpetofauna in the Southwestern United States, where he would return to the following year to guide the new students through the course. Since graduating from both of these universities, he has been an expedition herpetologist for Operation Wallacea to survey reptiles & amphibians on Buton Island, Sulawesi and in the Calakmul Biosphere Reserve, Mexico.
Josh regularly likes to get involved in local conservation projects and he is on the committee of the Hampshire and Isle of Wight Amphibian and Reptile Group (HIWARG), a charity that aims to conserve British herpetofauna in Hampshire. His knowledge was recently called upon from a HIWARG member who had reported green lizards in a busy urban area of Southampton; Josh identified these lizards as European Wall Lizard (Podarcis muralis) and helped to confirm a new population of this non-native species, which was previously unknown to science.
He is currently employed by the Hampshire and Isle of Wight Wildlife Trust in an ecology role, a job in which he aims to continue to develop his knowledge of botany and freshwater fauna and flora while working on ecological projects around Hampshire. Josh is keen on engaging the public with nature and has presented talks about his expeditions to the Southampton Natural History Society and assisted in wildlife identification during 'bioblitz' events. Josh enjoys giving presentations about native reptiles and amphibians to schools, science fairs and natural history groups - he believes that the next generation of conservationists are created through this type of engagement.
Josh's main aim is to show people the little-known and currently less 'popular' species around world to raise awareness about their remarkable biology and the importance of protecting them.
Upcoming tours with Josh Phangurha...
Date
Tour
Availability
Sharing
Price